139: Employee Name Changes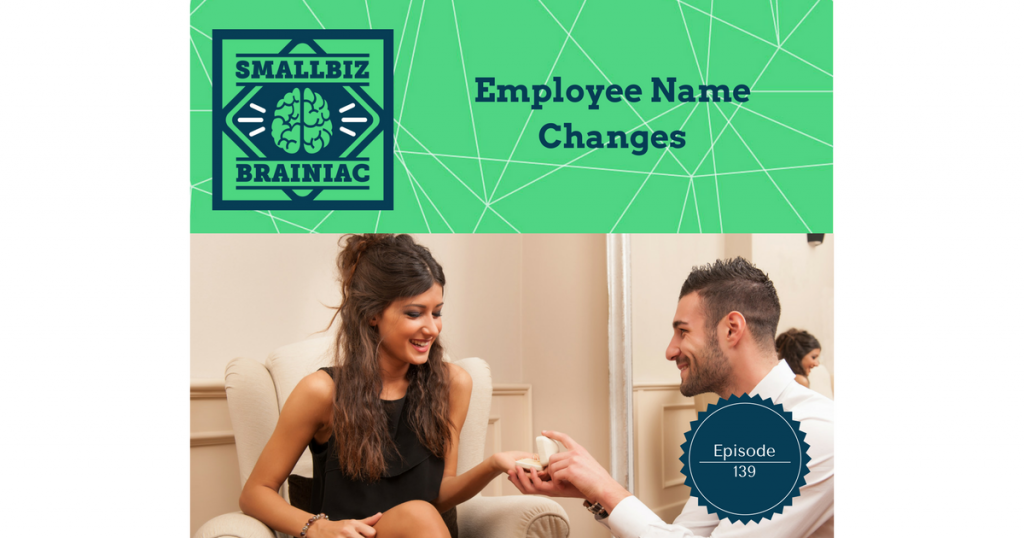 Updating employee name changes with the Social Security Administration is priority number one.
Today we're going to go over what is involved for your HR and payroll team when an employee decides to change their name. Why on earth would someone change their name? Well, there are a variety of reasons why a name change could occur.
There's the obvious and probably most common reason, marriage. Or perhaps the opposite of marriage, divorce. Maybe someone changes their name for protection. Maybe they are trying to hide from some event in their past and want to make themselves hard to find. Or perhaps a person changes their name simply because they didn't like their given name. Maybe they were embarrassed by their name and they'd rather be known by a much cooler name such as Max Powers (Simpsons,) or Jesus Shuttlesworth (He got game.)
Whatever the reason is for the name change, there is action that needs to be taken by the Human Resources department to ensure proper documentation and maintenance of the employees personnel file.
Social Security Administration:
What are the proper steps that should be followed to make sure all of the necessary documentation is taken care of when you become aware of a name change?
First off, you'll want to make sure the change gets made as soon as reasonably possible. You don't want it to linger on to the point where you or the employee has forgotten about it. This only creates more work down the road if W-2's get issued to the wrong name. When the employee notifies you of the name change, you should first instruct them to notify the Social Security Administration.
This is the name of record as far as payroll taxes is concerned, so updating the name with the Social Security Administration is priority number one. Generally the employee will need to go to the nearest Social Security office in person and complete a name change application. They will need to take with them any legal documentation supporting the name change, such as the marriage license if that was the reason for the change.
The Social Security Administration will process the application and mail a new card to the employee within 10 days. This does not change their Social Security Number. It only changes their name on the Social Security card.
Please note that Social Security office hours are generally only Monday through Friday so there is a good chance that you may need to grant time off for the employee to get this taken care of.
Update Your Records:
Now that the employee has updated their information with the Social Security Administration, it is time for you to update your employee file records.
After the employee has provided you with a copy of the corrected Social Security Card, you should have the employee complete a new Form W-4 showing the employees new name. Also, this is a good time to have the employee re-evaluate their tax settings on the Form W-4. If there was a change due to marriage or divorce, this could affect their tax liabilities.
Remember however, that you are not a financial adviser and should steer clear of offering any financial or tax advice. Instead refer them to their CPA or tax preparer if they have questions about their proper allowances.
Next you will want to update your HR and Payroll system to make sure the new name is reflected on future paychecks and W-2 forms. Also, any other software applications that your company uses to run the business where employee names are stored should be changed.
This is also a good time to verify additional information with the employee in case it has changed since their hire date. Has their address or emergency contact information changed since they were hired?
You may also want to inquire at this time if there is a need to update any banking information. In the case of a marriage often times the newly married couple will join bank accounts. Or in the case of a divorce, they will separate bank accounts which could mean you need to update your system so future direct deposits go to a new account.
Believe me, the last thing you want to be in the middle of is an employees paycheck that was direct deposited into a joint account after a divorce. Good luck getting that money back. You may think its not your problem, but when you have an employee not focused on their job because now they are having financial issues, it becomes your problem.
You may also want to re-verify Form I-9 at this time. There are currently no requirements to re-verify Form I-9 after a name change, however industry experts claim that this is a best practice measure. Section 3 of the I-9 allows for re-verification of an existing employee without obtaining all new documentation. You can simply enter the employees new name on the existing Form I-9 in their file.
Benefits:
Another area that you don't want to overlook is with the employees benefits. Once an employee has signed up for benefits through your companies insurance plan, changes to that employees benefits are generally forbidden until the next plan year unless of course the employee experiences what is known as a "life event."
A name change due to marriage or divorce qualifies as one of these so called "life events." It's really the marriage or divorce, and not so much the name change that is the life event in this case, but you get the point. This will allow the employee to make changes to their coverage mid-year and not have to wait until the next plan year.
Spouses and children can be added or removed at this point in time as well as changing to a higher or lower deductible if applicable or the employee may even elect to waive coverage altogether.