14: Minimum Wage Run-Down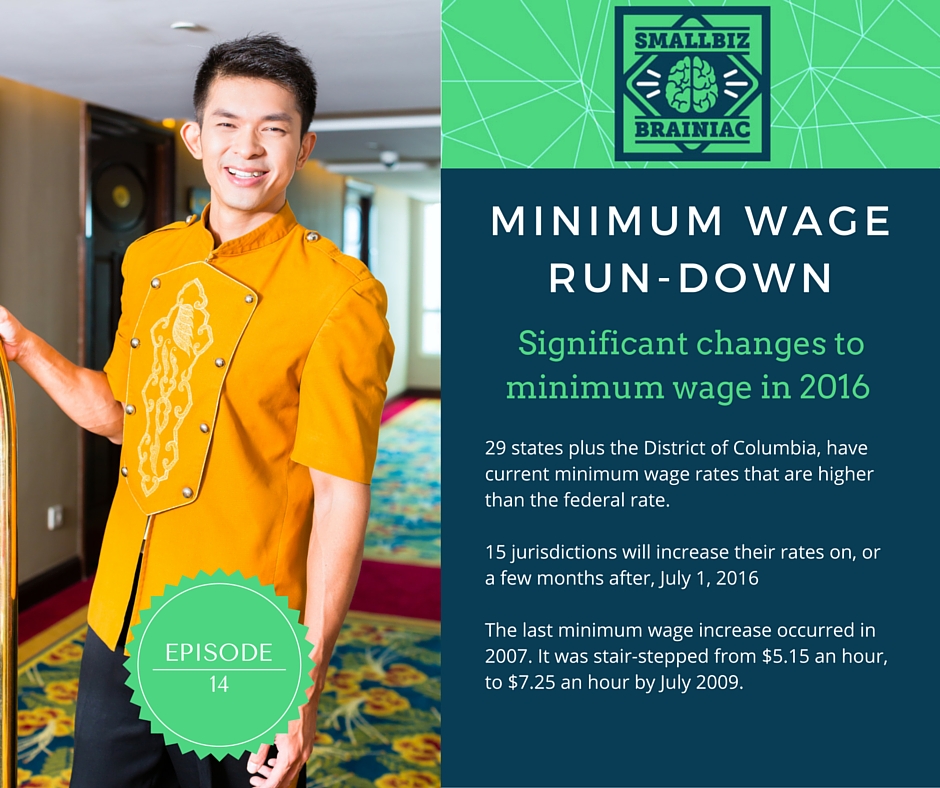 What's the latest trend in minimum wage?
There are significant changes in the minimum wage at both the state and local level in 2016.
Fast Facts
Minimum wage was established 1938 as part of the Fair Labor Standards Act (FLSA). Back then, the rate was 25 cents an hour.
The last minimum wage increase occurred in 2007. It was stair-stepped from $5.15 an hour, to $7.25 an hour by July 2009.
Since the last increase to $7.25 an hour, the minimum wage has actually lost 8.1% of it's purchasing power, according to the Pew Research Center.
This means that since 2009, minimum wage employees have had a pay cut of 59 cents per hour.
29 states plus the District of Columbia, have current minimum wage rates that are higher than the federal rate.
15 jurisdictions will increase their rates on, or a few months after, July 1, 2016
But the latest trend is happening at the city level. 
Emeryville California has established a minimum wage of $14.44 going to $14.82 on July 1, 2016 – but only for employers with 56 or more employees.
Seattle's minimum wage is currently between $10.50 and $13.00, depending on your employee size, and weather or not you pay towards benefits. ….but, it is set to increase to $15.00 on January 1, 2017.
Exceptions to the minimum wage for:
Student-Learners.
Full-Time Students in retail or service establishments, agriculture or colleges and universities.
Young Workers.
Physically or Mentally Impaired.
Exemptions to the minimum wage
Executives
Teachers
Outside Sales Persons
Babysitters
What can happen if you violate the minimum wage?
The Department of Labor may recover back wages either administratively or through court action
Violations may result in civil or criminal action.
Assessed civil penalties may be assessed up to $1,100 for each willful or repeated violation of the minimum wage.
It is illegal to ship goods in interstate commerce which were produced in violation of the minimum wage laws.
Resources
Minimum Wage by Jurisdiction
https://www.laborlawyers.com/minimum-wage-to-increase-for-many-in-2016
MIT Living Wage Calculator
http://livingwage.mit.edu
Exceptions to the minimum wage
http://www.dol.gov/whd/minwage/q-a.htm
Exemptions from the minimum wage
http://webapps.dol.gov/elaws/whd/flsa/screen75.asp