15: Ten Small Business Pitfalls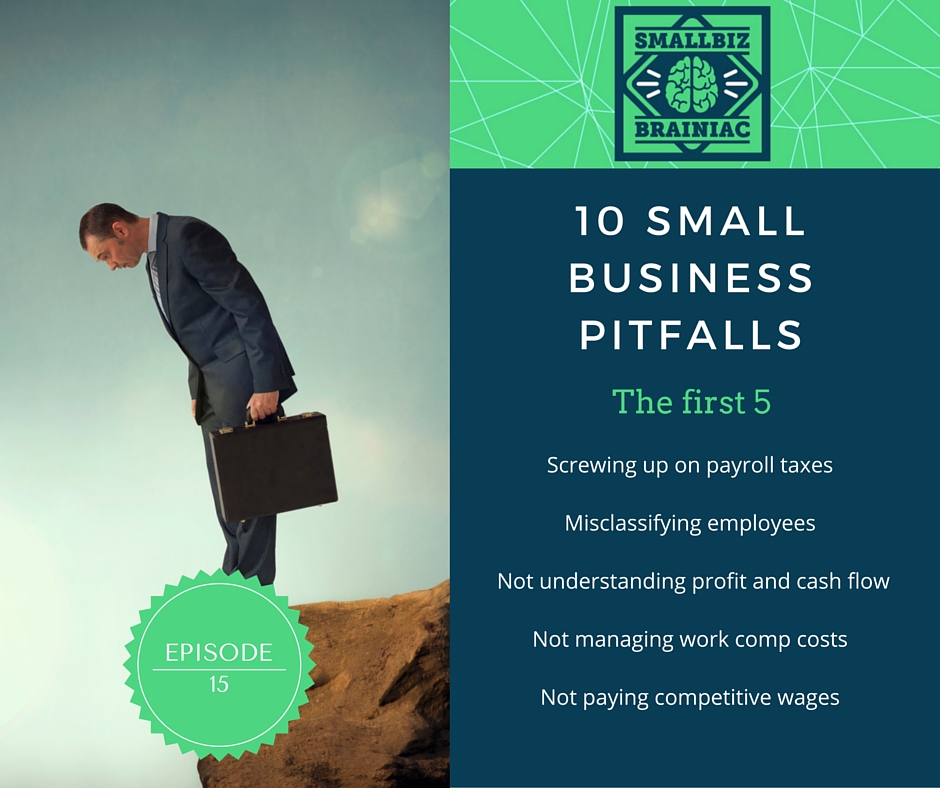 Don't let the day-to-day noise distract you from what's important.
Here are the first 5 of the 10 small business pitfalls you should avoid.
1. Screwing up on payroll taxes
If you don't have the time or the experience then outsource your payroll to a reputable payroll service provider.
2. Misclassifying workers as independent contractors
If you are paying an independent contractor you need to examine the IRS Common Law Rules and take the 11 point test to make sure you have them properly classified.
3. Not understanding the difference between profit and cash flow
If you don't know the difference between profit and cash flow, then go to www.khanacademy.com, create an account and search for these two videos and watch them:
Cash accounting | Cash versus accrual accounting (3:58), and
Basic cash flow statement | Three core financial statements (3:43).
4. Not managing your workers' compensation insurance costs
Work comp insurance is experience rated which means one of the cost factors is your past claims history i.e. your experience.
Over time, you develop what's called an experience modifier and this is used to calculate your premium.
There is a lot that goes into managing your experience modifier but at the end of the day, it is all about workplace safety, low claims frequency and avoiding large losses.
5. Not paying competitive wages
One of my favorite take aways from the book Good to Great by Jim Collins, is that you have to get the right people on the bus first.
What service or product you provide is less relevant to your success than having the right people in your company.
Resources
Online learning:
Book by Jim Collins