16: Ten Small Business Pitfalls – Part 2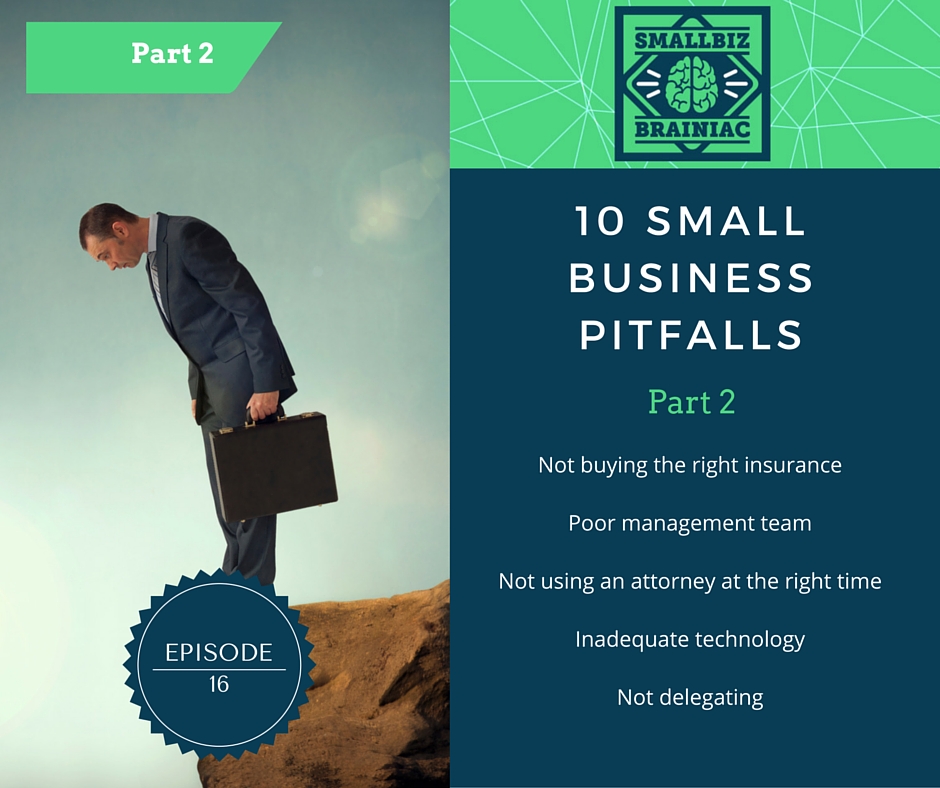 Delegation is vital to the success of your business.
In episode 15 we talked about the first 5 pitfalls and today we'll finish them off.
6. Not buying the right business insurance:
Get an agent who specializes in your industry.
Get an agent who is a Chartered Property Casualty Underwriter ("CPCU").
Only about 4% of all property casualty industry employees hold the CPCU designation. This is often referred to as the CPA of the insurance industry.
Don't use multiple agents. This is known as shotgunning, and insurance companies hate it when you do that.
Review your coverage annually with your agent and before making a purchase, have your agent give you a coverage comparison between the two best premium quotes you received.
Polices can vary as to the coverage they offer, so the lowest premium policy might not be the best value.
7. Poor management team:
If you thing hiring a professional is expensive, wait until you see how much an amateur costs.
Hire talented managers if you want to take your enterprise to the next level.
If you want to bring your A game, you'll need an A team.
According to Gallup, the analytics company, businesses fail to choose the candidate with the right talent for the job 82% of the time.
Be slow to hire and quick to fire.
8. Not using an attorney at the right time:
If you are in business long enough, you're going to need an attorney.
Get to know one now.
9. Inadequate technology and business processes:
With cloud based computing and software subscriptions you can run your business in a highly automated way at a low cost.
Hire a small business IT consulting firm to help you navigate the waters.
10. Not delegating:
According to North Carolina State University, delegation is assigning responsibility and authority to someone in order to complete a clearly defined and agreed upon task while you retain ultimate responsibility for its success.
Delegation improves organizational efficiency and development.
On Virgin.com, Richard Branson is quoted as saying:
"It's vital to the success of your business that you learn to hand off those things that you aren't able to do well. I'm not saying that you should never try your hand at a new skill – entrepreneurs are usually insatiably curious."
Resources
Why Great Managers Are So Rare