17: Exempt or Nonexempt From Overtime Pay?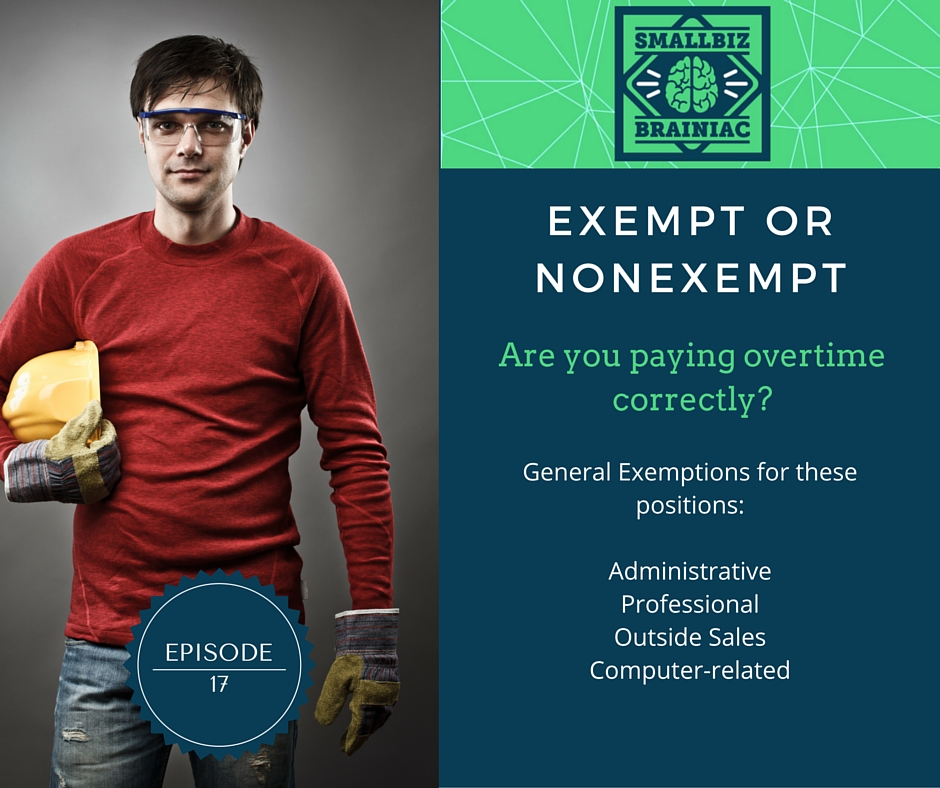 Do you know which positions qualify as exempt from overtime?
The Fair Labor Standards Act, or FLSA, is the body of law that establishes
The minimum wage
Overtime pay
Recordkeeping
Child labor standards
Exempt and nonexempt refers to which employees you are required to pay overtime wages to.
You have to pay overtime to a nonexempt employees.
You do not have to pay OT to exempt employees.
There are several specific industries that are exempt from the overtime pay requirement, under certain conditions;
Click here for a complete list from the U.S. Department of Labor's webpage that explains the exemption conditions.
Other than the specific industries and jobs that are exempt, there is a general exemption for bona fide executive, administrative, professional and outside sales employees; as well as certain employees in computer-related occupations.
The qualification for exemption includes both a salary basis test and a type of work test.
The Salary Basis Test:
For the executive, admin, and professional employees the salary must be $455 per week or more. This doesn't apply to outside sales employees, teachers, and employees practicing law or medicine.
For the computer related exemption to apply, you must pay them an hourly rate of $27.63 or more, weather or not you pay them a salary or on a fee basis. So if you pay a salary or a project fee, you still need to track the hours worked to make sure you're paying at least $27.63 per hour.
Being paid on a "salary basis" means an employee regularly receives a pre-determined amount each pay period. That amount cannot be reduced because of variations in either the quality or quantity of their work.
They must receive their full salary for any week in which they perform any work, regardless of the number of days or hours worked.
If you make a deduction from their salary then that employee is not paid on a "salary basis."  If the employee is ready, willing and able to work, deductions may not be made for time when work is not available.
However, there are some circumstances where you can reduce their earnings for missed days. They are:
Personal time off
Days off due to sickness or disability where an insurance policy is paying for the time off
You can take an offset for jury duty or military pay that they received while off work
For days missed while suspended for a safety violation of major significance
For days missed due to a good faith suspension for workplace conduct rule infractions.
For that part of the week involving their start or term date where they didn't work.
You need to beware of making improper deductions because they can void the exempt status.
There's also a safe harbor policy you can implement to protect you from inadvertent violations.
The Work Test:
To pass this test, the work must be:
directly related to the management of the business, or
directly related to your general business operations your clients operations, or
the work must require specialized academic training for entry into a professional field, or
the work must be in the computer field, or
they must be making sales away from the place of business, or
in a recognized field of artistic or creative endeavor.
For the Executive exemption
The employee's primary duty must be managing the enterprise, or managing a customarily recognized department or subdivision of the enterprise
The employee must customarily and regularly direct the work of at least two or more other full-time employees or their equivalent; and,
The employee must have the authority to hire or fire other employees, or their suggestions and recommendations as to the hiring, firing, advancement, promotion or any other change of status must be given particular weight.
For the Administrative exemption
The employee's primary duty must be the performance of office or non-manual work directly related to the management or general business operations of the employer or the employer's customers; and,
The employee's primary duty includes the exercise of discretion and independent judgment with respect to matters of significance.
For the Professional exemption
The employee's primary duty must be the performance of work requiring advanced knowledge, which is predominantly intellectual in character and which includes work requiring the consistent exercise of discretion and judgment.
The advanced knowledge must be in a field of science or learning; and,
The advanced knowledge must be customarily acquired by a prolonged course of specialized intellectual instruction.
For the Outside Sales exemption
The employee's primary duty must be making sales or obtaining orders or contracts for services from your client or customer; and
They must be customarily and regularly engaged away from your place or places of business.
For the Computer-related exemption
The employee must be employed as a:
 systems analyst,
programmer,
software engineer or
some other similarly skilled position performing the following duties:

The application of systems analysis techniques and procedures, including consulting with users, to determine hardware, software or system functional specifications;
The design, development, documentation, analysis, creation, testing or modification of computer systems or programs, including prototypes, based on and related to user or system design specifications;
The design, documentation, testing, creation or modification of computer programs related to machine operating systems; or
A combination of all these duties, and requires the same level of skills.
The DOL has definitions for all the key terms used like:
Primary duty
Customarily and regular
Particular weight
Directly related
Customer
Discretion and judgment, and
Matters of significance
For the DOL fact sheets for each exemption click the link below.
Other Noteworthy Exemptions
An employee who owns at least 20-percent equity interest in the business regardless of the type of its organization form, is considered an exempt executive as long as they are actively engaged in the management.
Highly compensated employees performing office or non-manual work and paid total annual compensation of $100,000 or more are exempt from the FLSA if they customarily and regularly perform at least one of the duties of an exempt executive, administrative or professional employee identified in the standard tests for exemption.
The DOL likes to remind everyone that each employment situation is evaluated on its own merits to determine weather or not an exemption applies. Job titles alone aren't enough. In fact, job titles have nothing to do with it.
And remember, state law my be more generous toward the employee and in those cases you have to go with what's more favorable to the employee.