23: Employee Engagement Ideas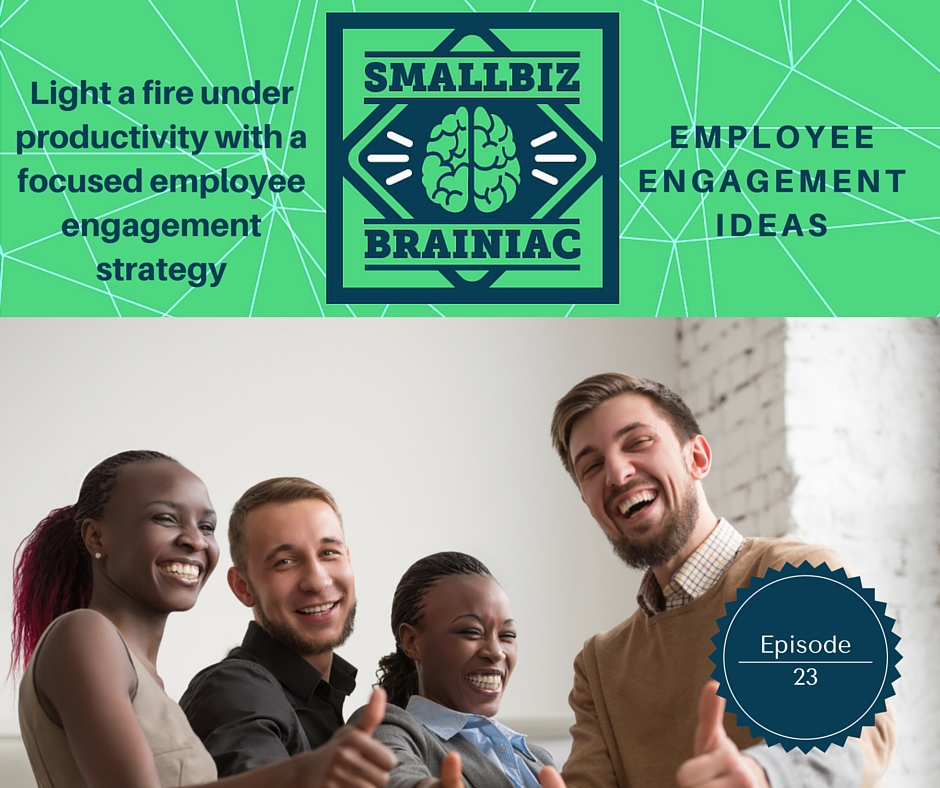 Fire up your employees. Get them engaged and watch productivity rise.
Created the environment where employee engagement practices can exist.
Employe engagement is about creating an environment of inclusion and participation. It's about your employee's sense of belonging and value. Successful employee engagement improves retention and attracts top talent. It increases productivity and improves the quality of your product or service.
Give your employees insider information
Everyone want's to be in the know.  Now obviously not every detail can or should be shared with everyone.  But there's a lot you could be telling them that they would be very interested in hearing. Things like, what projects are your working on?  Or share three or four key financial metrics each month – like your revenue growth rate, or your operating expense ratio.
I'm not suggesting that you disclose your profit or net equity in terms of dollars.  Just share percentages and ratios – they are a great way to paint a picture. And educate them on their meaning – you know? You can say something like "our operating expense ratio tells you how much it costs to run the business for every dollar of revenue."
Emphasize work-life balance and offer flexible work schedules
I've always told my employees that there are a lot more important things in life than work. When you are at the end of your life you won't be saying "gee, I sure wish I would have put more time in at work."  Burning out your employees isn't good for you so be flexible where you can and let people come in early and leave early. Or come in later and work later. Let them get in their weekly hours in four days and take Friday off once in awhile.
Or, if you are in the services industry, empower your employees to arrange their own shift swaps. Look, these ideas don't work for every situation. You don't want to allow non-exempt employees in California to work a compressed work week (unless they fall within one of the exemptions) because you'll end up paying overtime for hours worked in excess of 8 in the day. But you can get creative and find what works for your situation.
The point here is to give your employees as much freedom and flexibility as you can. If an employee abuses it, let them go, you have the wrong employee.
Give employees the ability to work from home on occasion
This isn't an option for every position but if an employee does the type of work that can be done away from the office then get set up with remote access and let them work from home once in a awhile. There are easy and secure ways to do this that don't cost a lot. For example, GoToMyPC, LogMeIn, Windows Remote Desktop, and TeamViewer. Having the ability to work remotely comes in handy when there are weather or traffic issues.
Say an employee has a child care issue surface at the last minute and they have to stay home – no problem, they can still get some work done by using their home computer to log into their office desktop. Or, an employee tears their achilles tendon and is out two weeks after surgery. No need to burn through all their PTO just because they can't make it into the office.
Speaking from my own experience, working from home can be very productive because you're not distracted by all the activity at the office. In fact, working from a few days a month can help you keep your head above water.
Create open lines of communication
You and your managers must set the tone by communicating often, and I'm not talking about email and instant messaging. You should have sort stand-up meetings, impromptu in person discussions and quick phone calls, on a regular basis.  Consider using a tool like SurveyMonkey or TinyPulse to conduct a monthly survey and then act on the feedback you get.
Use every opportunity to help your employees understand the "why" behind their jobs – what you want them to achieve and why their role is an important ingredient in the success of the company. And then encourage their feedback and listen to them. The more employees know about your company the better ambassadors the'll be for it.
Allow lateral movement within the organization
You want your employees to want to learn other areas of the business. This is good for everyone. Help them explore other positions so they don't feel trapped and start looking for another job. I recently had an employee move from one department to another and the experience they are taking with them into the new position is making them more effective. All departments are interconnected at some level.
If more of your employees understood the whole process, just like you do, imagine what you could accomplished! Allowing lateral movement, especially among younger employees who are still trying to figure out what they want their career path to be will help you retain talented individual who might otherwise leave.
Celebrate your employees
Birthdays, promotions, educational achievements, marriage, babies.  It seems like we've had a lot of baby showers at our office over the last two years. These events are a great way to add some fun and they bring everyone together in a good way. These are usually accompanied by an all-out decoration of the employees workstation. Here's an idea that I'd like to implement from an Inc. Magazine article.  Vinny Antonio of Victory Marketing Agency says they  bought a gigantic prize wheel labeled with prizes like "Extra PTO Day," "Half-Day Friday," and "Movie Day" (which – lets you watch a movie at a nearby theater during work hours) – and let the employee being celebrated, spin the wheel.
Share client accolades and acknowledge the employee who provided the excellent service
When a client compliments the great work of an employee, let everyone in the company know and show your appreciation by giving them a gift card or award them some extra paid time off. These people are keepers! It takes a lot for a customer to take the time to let you know about great service so you know these employees are awesome. Broadcasting the occasion and award to all your employees will motivate others to try harder.
Praise employees for a job well done
This so important, and so easy! Keep an eye open for opportunities to say "great job". Acknowledging a job well done goes such a long way to building morale.
Promote physical wellbeing
Encourage walks during breaks. Organize a company bike ride in a charity event. And my personal favorite, send employees with a cold home without reducing their sick or paid time off bank. Better yet, offer unlimited sick days for colds and flu. Employees coming to work sick and spreading the virus is only going to reduce productivity for several weeks to come.
Encourage and provide ongoing education and training
Reimburse your employees course tuition and study materials for classes that improve their work skills. Provide your employees with access to lynda.com, or use the Kahan Academy, and give them 30 minutes each week to learn whatever they want. They will appreciate the fact that you encourage learning and advancement.
Conclusion
Start small and find what suits your budget and objectives.
Document your strategy and get your front-line managers on board because effective execution depends on them.
As a small employer you have the advantage because it is easier for you to give your employees what they want. A connection to the company, a variety of work responsibilities, transparency and communication.
Take advantage of this and document your current strategy. You have one, but you might not realize it. Then pick a few new ideas and implement them.