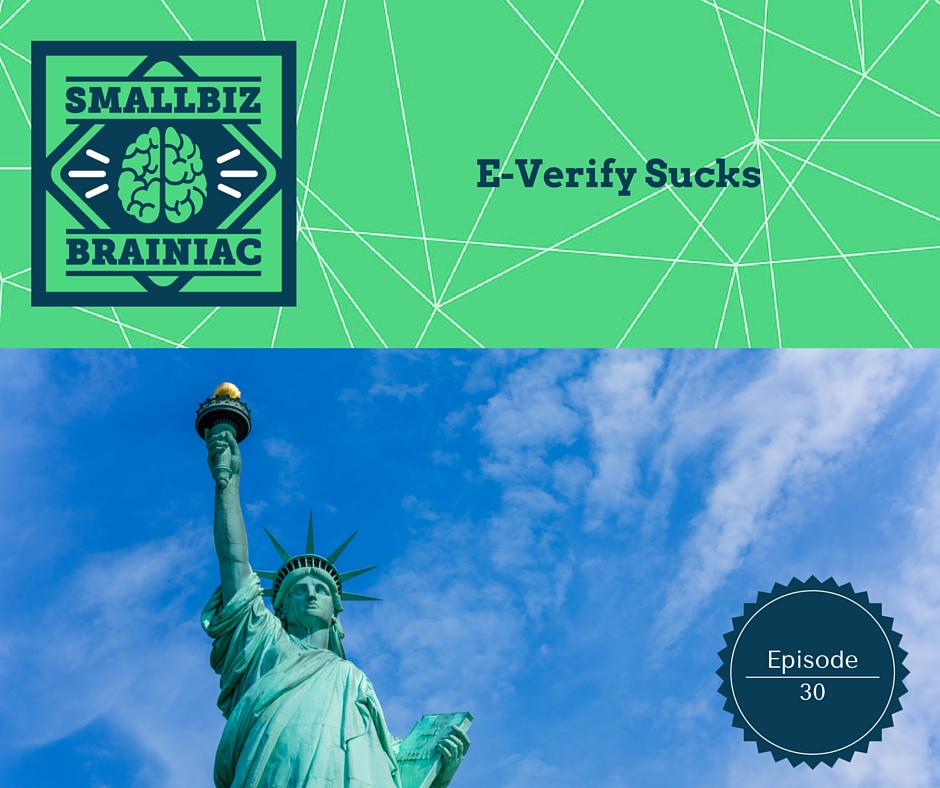 A big brother program resulting from a draconian policy.
The program was authorized by the Illegal Immigration Reform and Immigrant Responsibility Act of 1996 designed to drive away these illegal workers but employed illegal immigrants are net contributors and they help subsidize our largest social program…. Social Security.
Here is how the federal government sells it. They say that:
Its an Internet-based system that compares information from an employee's Form I-9, Employment Eligibility Verification, to data from U.S. Department of Homeland Security and Social Security Administration records to confirm employment eligibility.
E-Verify's most impressive features are its speed and accuracy. E-Verify is the only free, fast, online service of its kind that verifies employees' data against millions of government records and provides results within as little as three to five seconds.
Today, E-Verify is:
Used nationwide by more than 600,000 employers of all sizes
Used at more than 1.9 million hiring sites
Joined by about 1,400 new participating companies every week
One of the federal government's highest-rated services for customer satisfaction.
Five steps to enroll:
Visit the enrollment website
Answer some access questions
Sign the Memorandum of Understanding
Enter your company information
Print the MOU
You can't e-verify before you hire.
You can't use e-verify on existing employees, unless your a federal contractor (conditions apply)
Must perform the verification no later than 3 business days after hire.
You'll have to perform a "Photo Match" if your employee provided:
A permanent resident card,
An employment authorization document, or
An unexpired U.S. passport or passport card then, you'll have to make a copy of that document to keep with the I-9.
Your might get a tentative non-confirmation ("TNC").
If you do:
Meet privately with the employee to with a printed copy of the TNC from the system and go over it with them. The TNC tells them what their rights are and how to go about correcting it.
If they don't contest the TNC you can fire them and close the "case".
If they they want to contest it then you have to go back into the system and follow the instructions to refer the case to the authorities.
The system will provide a referral date confirmation – give that to the employee so they know who to contact and by when.
Not all states mandate the use of e-verify.
According to verifiedperson.com
Seven states require all employers to use e-verify. See the show notes for a link.
Eight States require E-Verify for state agencies, public employers and contractors:
Eight other states have some variation of e-verify requirements and
Three states have laws that have either expired or have been rescinded.
The system is fraught with problems according to an article on huffingtonpost.com, by David Bier, Director of Immigration Policy at the Niskanen Center.
Intel started using e-verify back in 2008 and 12% of their cases/employees weren't authorized.
P.F. Chang's was sanctioned for hiring workers who managed sneak through, forcing the closure of eight stores in Arizona.
According to a Weststat study, more than half of undocumented workers are cleared by the system.
Workers fled Arizona, Alabama, and Georgia because of their laws, and these states suffered considerable economic loss.
The University of Alabama found that the state of Alabama lost as much as $264.5 million in tax revenues.
Arizona's estimated economic loss was $48.8 billion, and Georgia had crops rot in the fields requiring the governor to use convicts for labor.
E-verify costs the federal government $100 million a year.
In a July 2015 article by Jim Harper of the Cato Institute, he says that e-verify is an intrusive labor market regulation that places the onus of immigration law enforcement on American employers. E-Verify is expensive, and it has a startling degree of inaccuracy.
Harper says the reasons for it's failure are:
The adoption/compliance rates have been low.
The system is easily defeated.
The cost in terms of dollars and freedom are too high.
Illegal immigrants are helping to prolong the life of the social security ponzi program. According to the Social Security Administration, unauthorized immigrants collectively pay as much as $13 billion into the Social Security system each year, while only receiving $1 billion in benefits.