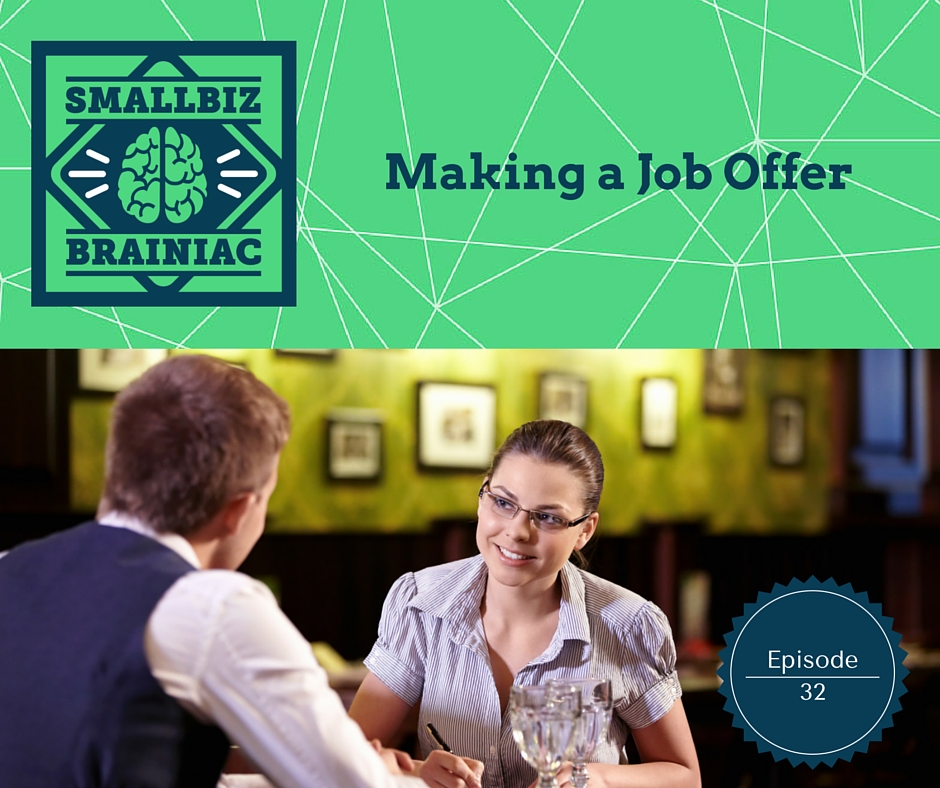 Follow this guide to make a job offer they can't refuse.
We've learned about the first 3 steps in the hiring process in earlier episodes.
In episode 2 – Creating a job description, we learned how to define the position.
In episode 12 – Where to find employees, we learned where to fish, and;
in Episode 13 – Applicant tracking systems, we learned how to mange the hunt.
After you have:
Created a job description.
Posted the job opening using your applicant tracking system.
Sorted through all the applications, and;
Found the best human for the job.
The next step is to make the job offer:
Pre-Offer interview questions:
Before making the job offer, ask these 5 interview questions during the final interview.
I came across these in an article on Monster.com written by Paul Falcone – Paul is the author of 12 HR related books including 96 Great Interview Questions.
Paul suggests that you don't make a job offer before asking these questions.
Question 1: What would be your next logical move in career progression if you remained with your current employer? And, how long would it take to get to that next step?
The answer to these questions may shed some light on why this person is leaving their current employer and weather or not your offer is going to be used to leverage a promotion.
Question 2: "Remind me again why accepting a position with our company would make sense for you from a career development standpoint. How would you explain this move to a prospective employer five years from now?"
This will get your candidate thinking about how awesome this opportunity is and it'll give you some leverage in the compensation negotiations.
Question 3: "If we were to make you a job offer today, when would you be in a position to either accept or reject it?"
In other words, pal, are you serious about wanting to work here or are you going to put me off while you wait for that other guy to call you?
Question 4: Again, if we were to make you an offer, tell me ideally when you'd be able to start. How much notice would you need to give your present employer?"
I like getting this out on the table and nailing down just how much time they'll need. You can be flexible but we don't want too much time to go by or they may bail on you.
Question 5: At what point dollar-wise would you accept our job offer, and at what point dollar-wise would you reject it?
This question is a doozy and it's the first serve in the wage negotiations process. If they stumble over the answer, Paul Falcone suggests you say something like
"I'm asking you this question because I'd like you to help me gauge your level of interest. Share with me the ideal salary offer you'd like to hear versus what that walk-away point might be for you."
The offer process and elements:
Be decisive and strike while the iron's hot:
You've made your decision, so get on it. Time is not your friend at this point. If you've made a good choice then you're competing against other employers. The early bird get's the worm.
Call them:
Don't make the offer contact via email. Call the candidate as soon as you have made your decision and let them know they're the lucky winner out of some really great prospects. Tell them that you're excited to be extending them an offer. Have a conversation and be enthusiastic.
Tell them what's next:
Let them know what the process is from here and when to expect the offer letter. You can play it by ear, but use the offer letter and these next points as your guide:
Tell them about the compensation. Go over the pay rate or salary and talk about the insurance benefits, the paid time off or vacation policy, the 401(k) plan, and whatever other perks you offer. You don't need to do a deep dive into the benefits….save that for the orientation.
Go over the details of when they can start and address any anxiety over giving their current employer notice.
Talk about your workplace culture and where they will be working.
Remind them of who their supervisor is (assuming it isn't you) and the name of the department they'll be working in.
Go over the dress code so they don't show up on day one looking like a fish out of water.
Tell them how the first day will go down. Show up a 9, fill out some paperwork – the orientation process….etc. We'll learn more about the orientation process in a later episode.
And finally, tell them what the deadline is for accepting the offer.
Ask them if they accept the offer:
Jeff Haden, an Inc Magazine contributor puts it this way – he calls it the "killer question".
"I interviewed two other good candidates for this job.  Can I tell them the job has been filled?"
Send a formal written offer letter:
It should be detailed. The more the better. This is your sales pitch and they are going to read the whole thing. It is important that all the benefits you told them about are in the offer letter. That's why you complete the letter before you call. Put all the elements I've told you about into the letter.
You'll also want to include at-will employment language and if applicable, the fact that you'll require them to complete a non-compete and/or confidentiality agreements, or any other conditions or contingencies.
And finally, the letter should require their signature and have a due date by which they need to return it.
Conclusion:
Before the offer, at the final interview, ask the Paul Falcone questions.
Once you've made a decision, call the candidate quickly and go over the key elements of the offer.
Get an acceptance or at least a tentative one.
Follow up with a formal written offer.