37: How To Get The Government To Pay You For Hiring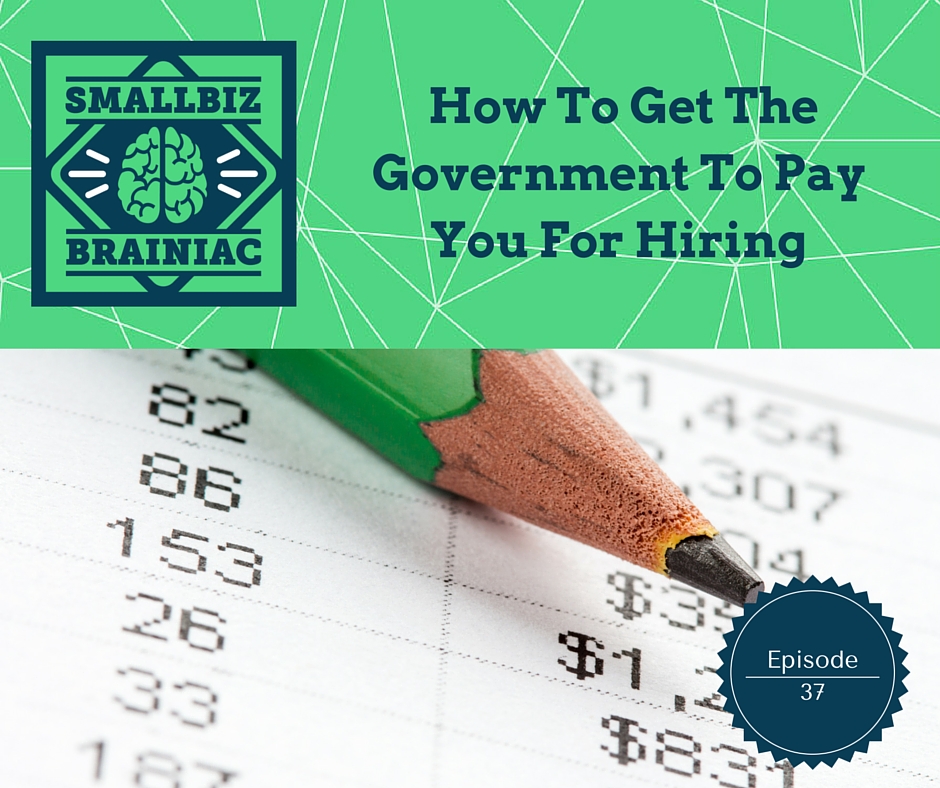 Are you taking advantage of employment tax credits as you hire new employees?
Are you even aware of these credits? If not, you're missing the chance to get some of your tax dollars back and significantly reduce your payroll expense.  Both the Federal and State Governments have billions of dollars set aside to pay you for hiring employees. These are your tax dollars and they are waiting for you to claim them. We'll learn more about these tax incentives on today's episode of SmallBiz Brainiac.
What are these tax credits?
There are thousands of federal and state tax incentives for employers.
At the federal level, the flagship program is the Work Opportunity Tax Credit, or WOTC. This is a federal corporate income tax credit designed to encourage the hiring of individuals from certain target groups who have consistently faced barriers to employment.
The Department of Labors says that: "WOTC helps targeted workers move from economic dependency into self-sufficiency as they earn a steady income and become contributing taxpayers, while participating employers are able to reduce their income tax liability."
Under the WOTC, you can get back as much $9,600 for each eligible employee. There's no limit on the number of individuals an employer can hire to qualify. That can add up quickly to some meaningful money.
The industries receiving the most credits are: healthcare, food prep and serving, building maintenance, landscaping, sales, office admin support, manufacturing, transportation and moving. And the top target group for whom employers are receiving credits is SNAP recipients (i.e. foodstamps). This isn't a surprise considering the jaw-dropping number of individuals on the SNAP program over the past several years.
According to the Center on Budget and Policy Priorities, the number of recipients peaked in 2013 at 43.3 million. The 2015 number is down to 41.6 million — so it's no wonder over 70% of the WOTC credits are for employees in this target group.
The history of the WOTC:
Theo WOTC program expired on December 31, 2014 but it was retroactively extended on December 18, 2015 when the President signed the Protecting Americans from Tax Hikes Act of 2015 (the PATH Act). Not only did this Act extend the program for 5 years, it extended the  empowerment zones through the end of this year and it added a new target group – qualified long-term unemployment recipients.
The stupid names they come up with for these Acts is unmatched. The Act enhances and extends a plethora of tax credits which are mostly for special interests groups, including the extension of the credit for 2-wheeled plug-in electric vehicles. Wow, what a relief. I was really worried about that one. Oh, and thankfully, the Act finally modifies the definition of hard cider… I'm not kidding.
How do you qualify?
In order to qualify for the credit, eligible employees must work a minimum of 120 hours, except for Summer Youth workers who must work at least 90 days, between May 1 and September 15. In this case, the credit is 25% of eligible wages
In order to claim the full tax credit of 40%, the employee must work 400 hours or more during the first year of employment.
The qualification rate, in other words, the number of employees that will qualify for the credit, will vary based on your industry.
According to People Matter, a workforce management technology company, the National Restaurant Association found more than one out of every four people in the restaurant industry qualify for WOTC incentives. They also say that despite these numbers, and according to TaxBreak — an industry leader in tax credit processing — 80% of eligible employers don't file for available credits.
How do you apply?
WOTC applications are processed through the States and their submission methods vary. The best way to figure out the process is to visit your state coordinator's website. You'll find a link to the US DOL's state directory in the show notes on smallbizbrainic.com/podcasts – click on episode 37.
Generally however, this is the process:
1. Complete IRS Form 8850 by the day the job offer is made.
2. Complete the Individual Characteristics Form – ETA Form 9061, or if the employee has been conditionally certified as belonging to a WOTC target group by a State Workforce Agency, Vocational Rehabilitation agency, or another participating agency, then complete the Conditional Certification Form – ETA Form 9062.
3. Submit the completed and signed IRS and ETA forms to your State Workforce Agency within 28 calendar days of the employee's start date.
4. Wait for a final determination from your State Workforce Agency. The determination will indicate whether the employee is certified as meeting the eligibility for one of the WOTC target groups.
5. After the target group employee is certified by the State Workforce Agency, file for the tax credit with the Internal Revenue Service.
But, there's more to the process. You first need to screen your employees. You need to comply with record keeping requirements and maintain an audit trail. You also have to actually work with the local state agency who administers the program. This involves back and forth communication to maximize your success. These tasks keep many employers from applying, leaving serious amounts of money on the table.
There are other tax credits available:
The WOTC is not the only tax credit available to you. As I mentioned, there are thousands of them, due to state level incentives, including programs like the California New Employee credit to the Tennessee Jobs Credit. Many of the state incentives pay you in cash rather than in the form of an income tax credit.
Navigating these waters is time consuming and requires expertise in order to maximize the return. Your best bet is to find a third party vendor who specializes in assisting companies to obtain these credits. If you are interested in learning more, I do have an affiliate relationship with a vendor who works on a contingency basis. They only get paid once you receive either the credit certification from the IRS or cash from the State. You have noting to lose by having them chase down money for you. Just go to smallbizbrainiac.com/contact and shoot me a message. Just say incentives in the message field and I'll know what you mean.
Conclusion:
There is a lot of money out there, your tax dollars, just waiting to come home.
The WOTC is a federal corporate income tax credit for up to as much as $9,600 per qualifying employee.
The program is designed to help get traditionally disadvantaged individuals back to work.
If you are in one of the industries receiving most of the credits then you are already employe qualifying employees.
There are many other state based incentives available and some of them pay you in cash rather than credits.