38: FreedomFest 2016 Las Vegas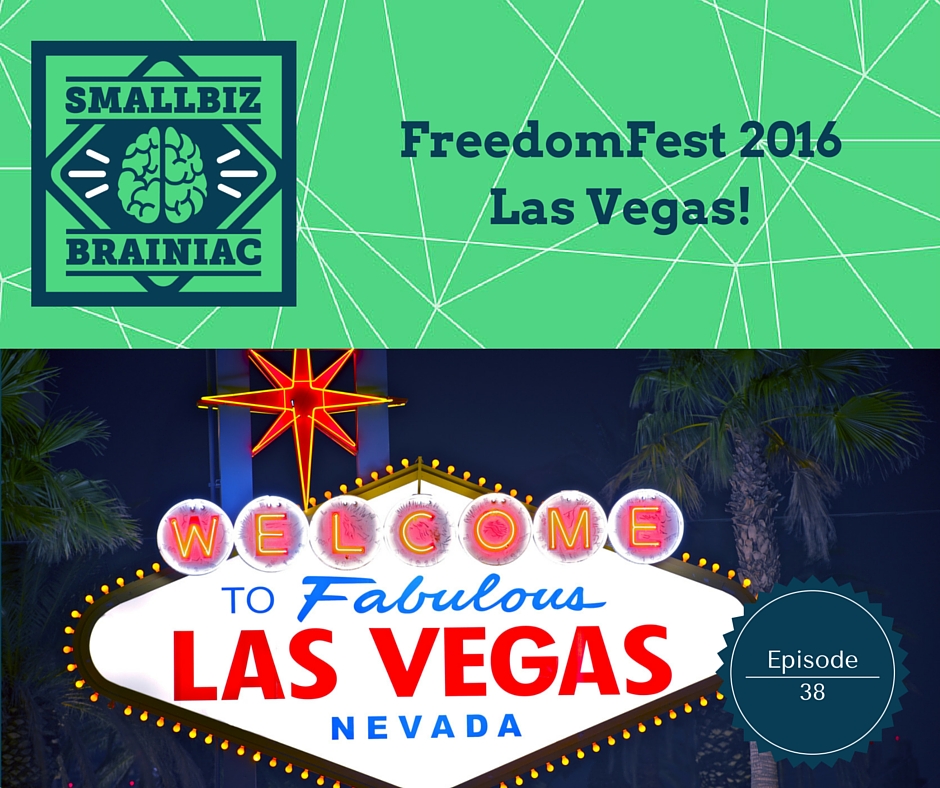 The United States remains mired in the ranks of the "mostly free," the second-tier economic freedom status into which it dropped in 2010.
Join me at FreedomFest 2016 in Las Vegas at the Planet Hollywood Resort from July 13th-16th.
Some of the excellent Speakers:
Learn from speakers like Judge Napolitano, Senator Rand Paul, Actor Ed Asner, Investor and Author Doug Casey, George Foreman, Nick Gillespie from Reason.com, Steve Forbes, Kennedy from Fox News, Peter Schiff – the list goes on and on…. and where with a little luck, I'll have the opportunity to interview some of them for SmallBiz Brainiac.
Let's meet up and have a SmallBiz Braintrust hangout!
Freedom Rising:
The theme of this years FreedomFest is Freedom Rising.  I'm not a terribly optimistic person but I love optimistic people. I want very much to believe that our least free days are behind us. I want to believe that our government will change, that laws restricting our personal and financial freedoms will be repealed. I want to believe that money, power and morally bankrupt narcissists will stop controlling government.
But from where I sit, I don't see our situation getting better before it gets worse. Our two party system doesn't offer anything different. It doesn't matter if Republicans or Democrats control the branches of government. Either way, government grows and freedom declines. They might take different paths, one might operate the train faster than the other or take an alternate route but the destination is the same.
There is no other gathering that I'm aware of, like FreedomFest. These are not just "thought leaders", these are actual leaders – in business, politics, media and education, who embrace freedom. They advocate against political oppression, burdensome regulation, civil injustice, unfair taxation and restrictions on the free market and individual choice. These are the things that matter most because these are what determine the conditions of our existence. Economic freedom allows us to choose our path in life. The more freedom, the more choices.
Business requires economic freedom to thrive:
Your businesses best chance for survival, and your ability to achieve you highest potential, can only occur in a free market. Yes, you can find successful businesses in almost every country on earth. But you will find more successful businesses in the freest countries. Both the Cato Institute and the Heritage Foundation publish an annual ranking of the economic freedom by country and you might be surprised to hear where the United States falls…. We are number 11. There are 10 other countries on earth that are freer than the land of the free. What's more surprising is who's ahead of us. The United Kingdom, Estonia, Ireland, Chili, Canada, and Australia.
The top four freest countries, economically, are Hong Kong, Singapore, New Zealand and Switzerland. And when it comes to business freedom specifically, the US drops to number 18! Two of the key measurements where the US scores so low are regulation and government spending.
We've piled on the regulations over the past 13 years and spending has exploded over the past 8 years. We are not better off as a result, no way, no how. Everything the government has done in the name of economic prosperity has produced the opposite result. This massive economy with all its ingenuity, resources, technology and creativity has not been able to grow because we are swimming up a 1,000 foot waterfall of bureaucratic sewage.
The Heritage Foundation has this to say:
The United States remains mired in the ranks of the "mostly free," the second-tier economic freedom status into which it dropped in 2010. America's historically vibrant entrepreneurial growth is significantly hampered by intrusive, expensive, and often ineffective government policies in areas ranging from health care to energy to education. Government favoritism toward entrenched interests has hurt innovation and contributed to a lackluster recovery and stagnant income growth.
The Heritage Foundation has an excellent website with interactive maps and a side-by-side comparison of whatever two countries you want to compare, and it includes 11 different graphs with a year-by-year score. This is a really cool tool and I've provided a link to it in the show notes. You should definitely check this out and play around with it.
I hope to see you there:
So, my friends, if you are passionate about freedom then consider joining me at this year's FreedomFest from July 13th through the 16th in Las Vegas at the Planet Hollywood Resort. You will hear from exciting speakers – experts in technology, civil rights, investing, geo-politics, libertarian and objectivist thought, economics, philosophy, history, education, healthy living, and even spirituality. You will also hear inspiring stories from individuals who've risen above their circumstances to achieve great success. These heroes stand in defense of liberty when most others in their shoes would be looking to government for aid.