40: The Workers' Compensation Insurance Assigned Risk Plan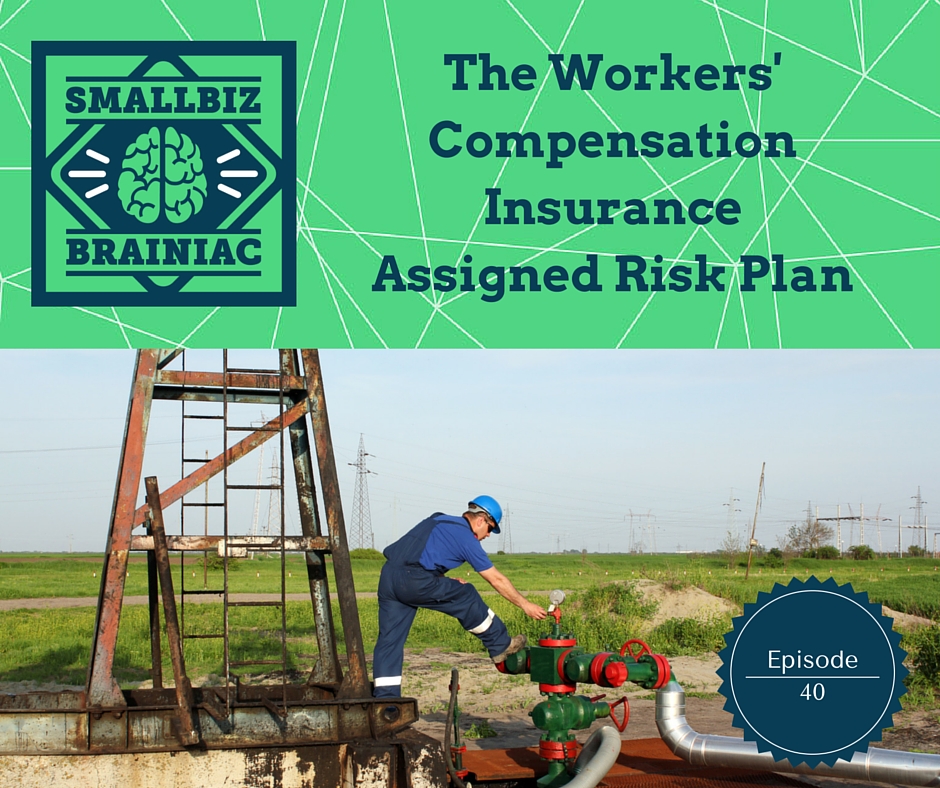 What is the Residual Market and how do get out? 
What if you can't find an insurance company who wants to offer you a workers' compensation insurance policy? You're required by state law to have it and you can't be in business without it. If you do go without it and one of your employees is injured, then in many sates you'll have committed a felony, and you'll be personally liable for the expenses. Pretty serious stuff.
Insurance companies aren't forced to insure everyone who applies. After all, they are private companies and in business to make a profit, so it's up to them to decide what risks they want to take.
The Residual Market:
But, if the state requires you to have it and no insurance company will sell it to you, then the state must provide a solution. The answer, the Residual Market, or the Market of Last Resort. This market is comprised of either a state fund, which is an insurance company chartered by the state, or what's called the Workers' Compensation Insurance Plan, which is also known as the Assigned Risk Plan or "the Plan", which is a system that distributes the risk among all the licensed insurers in the state based on their prior year's written premium. I'm going to refer to all the residual market options as the Plan.
So an insurance company that wants to do business in a state that uses the Plan method must participate in the program and potentially take on some business they don't want.
In order to protect all the players, the insurers may voluntarily participate in a sort of reinsurance arrangement, referred to as a Pool, where all the participants share in the operating results of the combined group.
Workers' compensation insurance pays for medical expenses and lost wages due to an injury, occupational disease, or death, arising out of and in the course of employment. Check out episodes 11, 27 and 28 for more knowledge about work comp insurance.
In order to apply for coverage through the Plan, you typically need to have received three declinations from the standard market. Meaning, you need to have had three insurers decline to do business with you.
The premiums are more expensive in the Plan then they are in the standard market. The State allows insurers to charge higher rates because of the increased risk of loss.
Reasons Your in The Plan: 
Your industry classification is one. You're in a high risk business and the exposure to loss that your company presents is outside all the insurance companies comfort zone, so they won't cover you on a voluntary basis. Let's say you are an auto recovery business – a towing company. This is very risky work and there are very few insurance companies that will write it. And if you don't meet the underwriting criteria of the few insurers who will write it, then you're going into the Plan.
Another reason is that your loss history is poor. You've had some large losses, year over year, or you have a very high frequency of claims. You're running a sloppy shop, hiring the wrong employees and basically ignoring safety. You're a bad risk.
Or, you're a new business and in a moderate to high risk industry. Since you don't have any past claims history the insurer can't reliably estimate your losses. You're a greenhorn and they don't know if you know how to run a railroad. The empirical data suggests they'll lose money on you.
How Do You Get Out?
If you find yourself in the Plan, you need to be looking for ways out. You might even be in the Plan and not know it. You should ask your agent. Maybe they told you when you purchased the policy but you've forgotten since then.
IF you're in the Plan simply because of your industry, then you might be able to find an industry association that has formed a risk pool or captive that you can join. Otherwise, you'll have to sit tight and hope the market's appetite for your industry changes or your risk profile evolves into one that's acceptable to a standard market insurer.
For the rest of you: there are two ways out
Keep your nose clean, mind your P's and Q's and get you experience modifier down, or:
Join a PEO.
A PEO acts like an incubator and can accelerate your recovery by:
Putting you back into the standard market.
Providing loss control services that address the issues causing your poor loss history.
Giving you an option to take some of the risk through a small deductible, and;
Aggressively managing  your claims to keep the cost down as much as possible.
To be competitive and win business, especially where workers' compensation insurance premiums are a high percentage of your labor costs, you need to get out of the Plan and lower your premium.
When I say keep you nose clean. I mean you have to keep your losses down. You need to create a safe work environment to avoid claims and minimize the extent of injury for claims you do have. In other words, you need to keep your claims frequency down and your severity low.
You do this by creating a culture of safety. You have to make it a priority. You need a safety program that identifies the workplace hazards and minimizes the exposure to those hazards. Your safety program needs to include the creation of an illness and injury prevention plan comprised of regular inspections, hazard corrections, training, and education.
When you do have a claim, you need to report it quickly, you need to investigate it and work with the claims adjustor at the insurance company to manage it. But don't just leave it up the the claims adjustor to deal with it. Focus on taking care of your employee and making sure there's a quick and frequent communication. You want to avoid your employee getting an attorney. Litigated claims are a lot more expensive and the main reasons an injured worker gets an attorney is because they don't know what's going on. There's a lack of communication.
I mentioned joining a PEO as a possible solution. In case you don't already know, PEO stands for professional employer organization. These are HR service providers that take over many of the employer responsibilities. They become a co-employer of sorts and handle the payroll, provide employee benefits, administer the garnishments, provide regulatory compliance assistance, workers' compensation insurance and …. they help you control your claims exposure. The list of services they provide is long and for a small employer, there is no better way to go.
Even large employers with up to 1,000 employees find great value in PEO services.
A PEO employs experts in all these areas and you can put those experts to work for you to lower your costs, improve employee satisfaction and increase your level of regulatory compliance. Let's face it, you've got better things to do! You need to be focusing on your customers, the quality of your product or service and sales. Let expert employers do the employer compliance.
Summary:
The Residual market consists of state funds and the Workers' Compensation Insurance Plan aka the Assigned Risk Plan and acts as the market of last resort providing coverage to businesses that can't find an insurance company to voluntarily insure them.
Premiums are much, much higher in the Plan and you need to try and find a way out.
If you're in there because of your industry, you'll have to keep an eye on the market and look for an association program or changes in insurer's risk appetite that will open the window for your escape.
If you're in there because of your claims history or lack of years in business then you have more control. You can clean up your act and/or join a PEO.
In any case, you need to make workplace safety a priority and implement an illness and injury prevention plan.
If you want to join a PEO and need help finding the right one for you, email me from the website smallbizbraniac.com and I will happily assist you.