42: Workplace Health & Safety, TQM and Six Sigma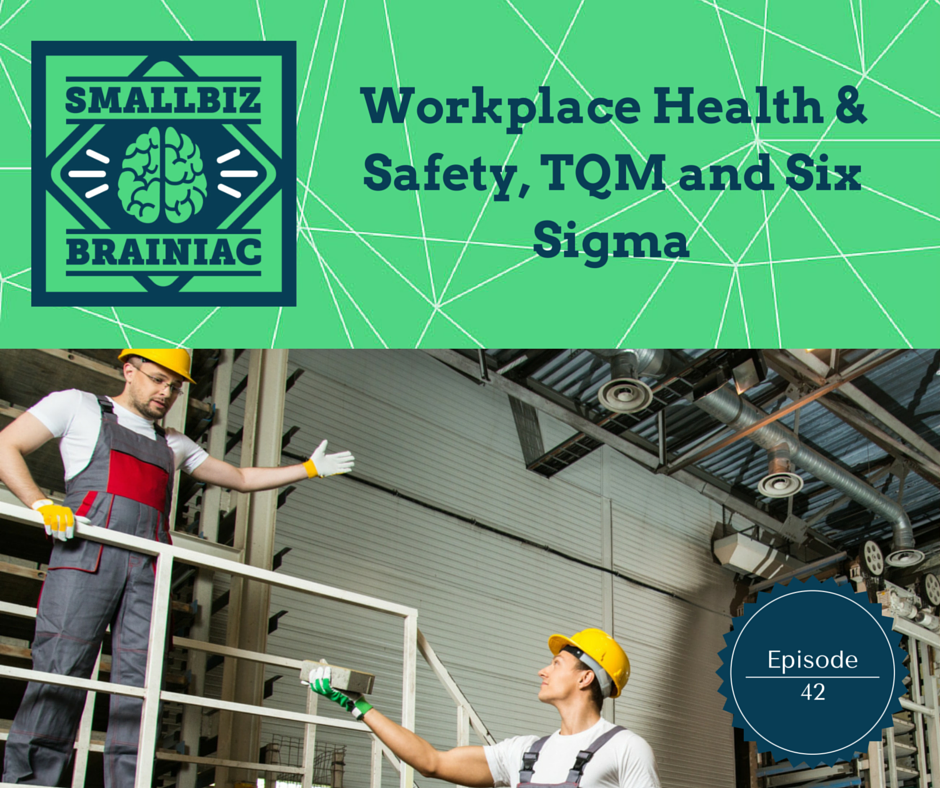 Can productivity and safety be friends?
In a recent survey by the National Safety Council, one-third of employees say that their employer values productivity over safety.
Do you have to choose between productivity and safety? Are they mutually exclusive?
I would argue that they go hand in hand.
An unsafe working environment is not productive in the long run but  there is a balance,  that happy ground between safe and sorry. You can achieve both. You can have a highly productive process that is safe for your employees – free from unnecessary hazards.
Total Quality Management:
This concept isn't new. It emerged in the 50's and Japanese manufactures began implementing it. It became known as Total Quality Management.
The original concept, TQM, has been defined as a management philosophy that produces continuous improvement of products and processes.
One of the most powerful tools that came out of TQM is the Plan/Do/Check/Act (PDCA) continuous improvement wheel.
Plan to do it
Do it
Check the effectiveness of it
Act on the results and keep doing this to continually improve.
The concept of PDCA is still just as powerful today as it was when first proposed.
Safety is a key element in each of these phases of the TQM process.
Six Sigma:
Six Sigma came along in 1986, a product of Motorola USA and made famous by Jack Welch when he adopted it for GE.
Today, the Six Sigma concept has become the standard process for quality improvement in many industries. The objective of Six Sigma is to improve the quality of processes by identifying and removing the causes of defects, and safety…. unsafe behaviors, equipment malfunctions and the like, all of which can result in injury.
Six Sigma uses DMAIC, a clearly defined five-step improvement process that consists of the following:
Define

Identify the process and define the scope of the project.
Clearly identify the inputs and outputs of the process.

Measure

Evaluate the measurement systems and resulting data.

Analyze

Determine cause-and-effect relationships.
Identify the root cause of the defects.

Improve

Develop and implement improvements.
Test effectiveness of improvements.

Control

Implement a system to sustain the improvements.
Occupational Safety and Health Act:
Workplace safety is regulated by the Occupational Safety and Health Act of 1970, regulates workplace safety. The Act says:
"To assure safe and healthful working conditions for working men and women; by authorizing enforcement of the standards developed under the Act; by assisting and encouraging the States in their efforts to assure safe and healthful working conditions; by providing for research, information, education, and training in the field of occupational safety and health; and for other purposes."
The Occupational Safety and Health Administration, a division of the U.S. Department of Labor, is responsible for enforcing the Act.
The individual states have occupational health and safety regulations of their own. Some have adopted the federal regs word for word and others, like California, differ significantly.
OSHA guidelines are mostly common sense practical rules. You might find a few that go overboard, but for the most part, they're rational and any intelligent business owner would adhere to absent the regulations.
Keeping an Eye Out:
Whenever I'm out and about I like to look for unsafe working conditions, snap a picture of it and send it to my brother and brother-in-law, both of whom are highly trained and skilled occupational safety specialists. They both run around the country inspecting, educating, training, developing and implementing safety programs for a variety of companies.
I love hearing their reactions to these situations and listening to stories of their own. Over the years, I've seen some pretty crazy conditions, ones that leave you scratching your head asking "what are they thinking"?