46: Mandatory Paid Sick Leave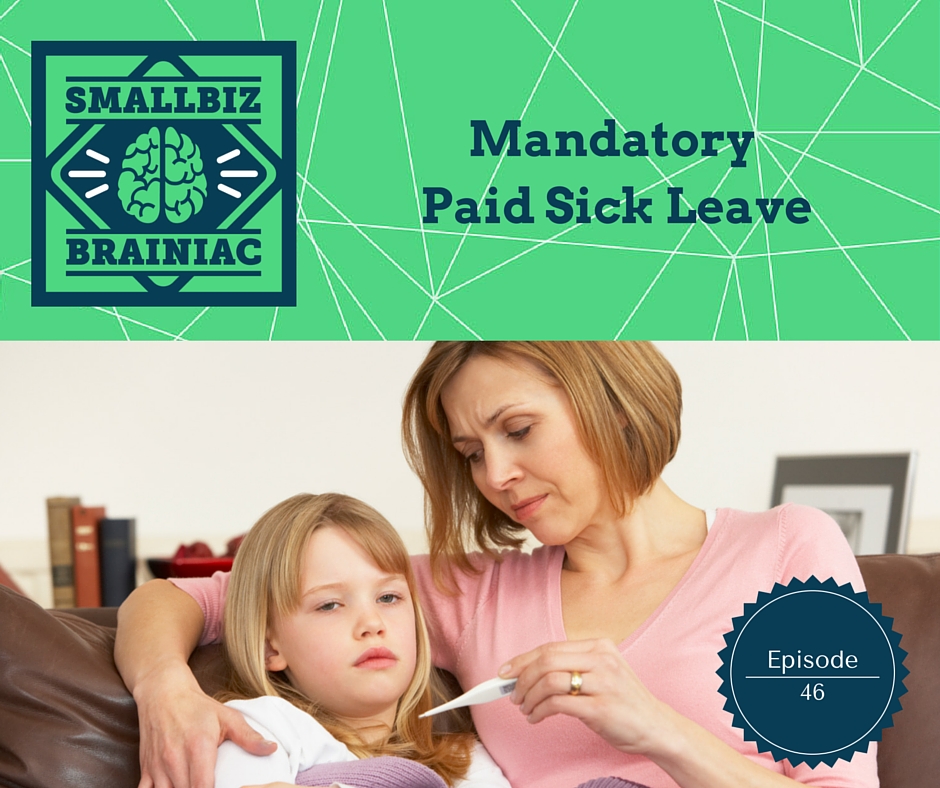 Chicago is now the 34th jurisdiction and the third most populous city to have a paid sick leave law.
If you have employees in one of the many jurisdictions with some form of mandatory paid time off, and you qualify based on your number of employees (which for example is every employer in California), then you must have at least the mandated minimum policy in place.
Do you have a paid time off policy comprised of either sick, vacation, personal and/or holiday time?
Do you split it up between each type or have you combined them into one paid time off policy?
If you've combined them and you're subject to a mandatory paid sick leave law then I suggest you separate them. You want the mandated paid time to be a separate policy with it's own accrual and tracking and you want it showing up on your employee's pay stubs apart from the vacation and holiday policies to ensure there's no confusion about which category the time off falls under.
It's difficult to manage all the requirements under one policy these days. Especially in California where there are laws regulating vacation time. You don't have to offer vacation time in California, but if you do, it's considered wages and once it has been accrued it must be either spent or paid out. Combine that with their paid sick leave law, and you can see how trying to manage it all under one PTO policy is too confusing.
This is frustrating because the reason many employers went to a single PTO policy in the first place was to simplify the administrative aspect of paid time off.
State Laws and Local Ordinances:
In the last episode I quoted the DOL as saying that:
California, Massachusetts, New Jersey, Rhode Island, Connecticut ave passed paid family and medical leave or earned sick days laws.
But I showed know not to trust a government website as being current so let me give you a more comprehensive look at the states and cities that have mandatory paid sick leave.
There are 9 states + the District of Columbia that have laws requiring you to allow your employees to use the paid sick leave that  you already offer in cases where a family member becomes ill; rather than just for their own illness.
Connecticut, California, Massachusetts and Oregon are the only states in the nation with a statewide paid sick leave law. These laws also include paid "safe" days which are days that can be used if your employee has to take time off to deal with the results of domestic violence, sexual assault, stalking or harassment.
There are 19 cities with paid sick leave ordinances that allow employees to use for recovery from short-term illness, care fora sick family member or get routine medical care. And 8 of those cities also allow for some version of the same type of "safe" days as the four starts I just mentioned.
San Diego recently passed paid sick leave ordinances that take effect later this year.
Pittsburgh passed an ordinance that was ruled invalid by a county court judge so that one is on hold pending appeal.
And then 8 additional jurisdictions have passed ordinances that take effect later this year and in 2017 and 2018, including Los Angeles and Chicago.
Chicago is now the 34th jurisdiction and the third most populous city to have a paid sick leave law.
The Impact:
So what is the impact of these state and local laws? Well, I've seen first hand how small businesses in California are dealing with their mandatory paid sick leave.
Many employers already have PTO policies that provide better benefits than the state and local laws require. So for them, it's not a big deal… yet. But if these laws continue to expand they'll have to start doing what some of the other employers are, which is to reduce the number of vacation days and re-designate them as paid time off days. That is until mandatory vacation time laws arrive. And, for those employers who don't already offer anything, they're struggling to afford the mandated minimums.
Usually, when an employer doesn't offer any kind of PTO it isn't because they're mean, it's because their financial situation doesn't allow them to. But, they'll have to find a way to afford it because non-compliance here will cost a lot more.
Compliance Nightmare:
Compliance can become very tricky when you have a state law plus local laws. Continuing to use California as an example, let's look at the difference between the state law and the city of los angels's ordinance.
The California state law took effective 7/1/2015 and the LA ordinance took effect last week on 7/1/16, if you have 26 or more employees and on 7/1/17 if you have 25 or fewer.
The state law excludes certain employers while the LA ordinance includes every employer.
Under the state law you can take the time off if someone in one of six relationship categories experiences a permitted use and the LA ordinance expands the definition of the relationships to include even more people.
The accrual and use methods and caps are different with the LA ordinance providing a more generous benefit.
Compliance is going to become very difficult as more and more cities and states following suite.
If you are effected by one one of these new laws or ordinances then you need to review your existing sick leave policy and either implement a new policies or revise your existing one.
You need to post the required notices in all applicable languages and provide them to your employees as required.
You need to train your supervisors and managers and you need to make sure your payroll system is tracking the accrual and use of the paid sick leave.
Conclusion:
With all of these new local and state paid leave laws coming into effect it's time review  your current policy, separate out the sick time from the rest of the PTO categories you offer and get your policy into compliance.
34 jurisdiction now have some form of mandatory paid sick leave and you can bet there will be more coming soon so keep an eye out for new laws in your city and state.
Be sure to communicate the new policy to everyone and don't forget to provide employees with the required notices.