49: Creating a Paid Time Off Policy – Part 1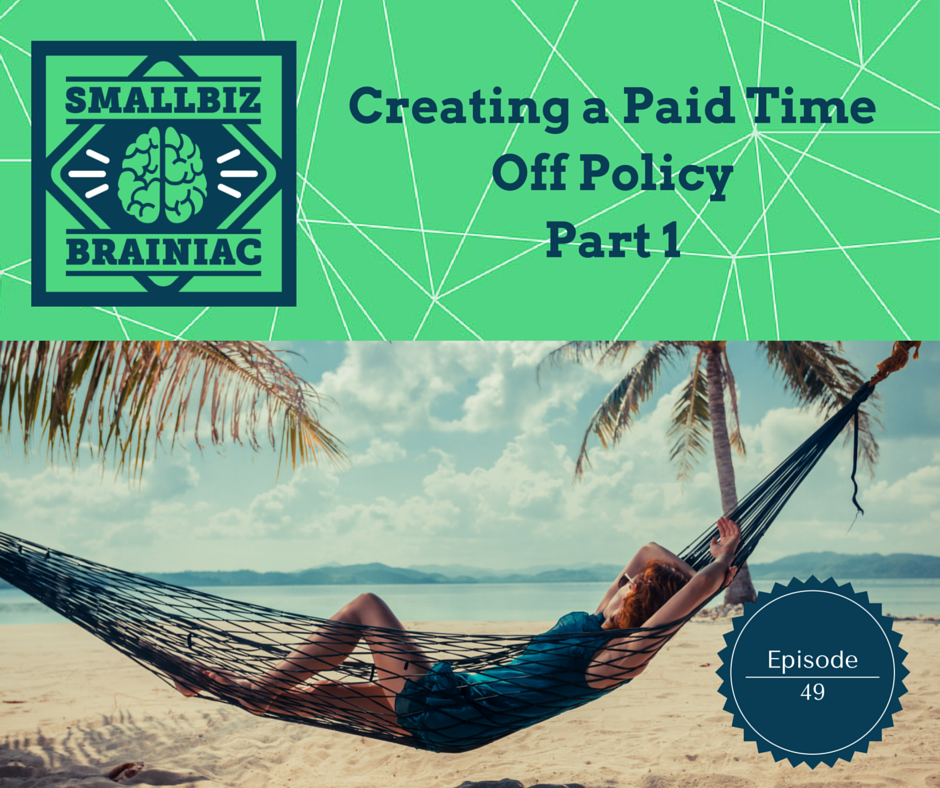 What is your philosophy about time off?
You might already have a paid time off policy. Maybe it's been in place for a long time now and needs updating. Maybe it isn't documented or even clearly defined. Whatever your situation, it's a good time to review it. If you don't already have a policy, then it's high time you created one.
Step 1 – Ask yourself these questions:
The first step to creating your PTO policy is to ask yourself these questions:
What's your philosophy? What is your company's culture surrounding paid time off? Do you believe it's good for employees to have time off to attend to personal matters and take regular vacations to avoid burnout and re-charge?  Do you believe that your employee's well-being and stress are improved as a result of taking time off. Or, do you have limited resources and a lack of cross-trained employees so you can't afford to have positions go unstaffed for more than a day or two?
Is taking time off a priority for you company or are you offering only a few days of paid time off each year?
Is it easy for your employees to take time off or do you discourage them from asking and even sometimes refuse their requested days off?
What attitude are you communicating to your employees by your words and actions? Do you glorify employees who sacrifice their personal time to work and make comments that contribute to your employee's anxiety about taking time off?
Are you and you managers taking time off?
You have to establish your corporate identity in this area. The tone you set through your words and by your actions should be aligned with your policy. Don't send mixed messages. Don't offer a generous PTO policy and then discourage employees from taking time off or reward and praise employees who don't use it pretending like they're indispensable.
Step 2 – Have a compliant policy:
The second step is to make sure you have a compliant policy in place if you have employees in one of the 34 jurisdictions that have a mandatory paid sick leave law, which we learned about in episode 46.
Other than these, there are no federal or state laws, or city ordinances, requiring you to provide your employees with paid time off. From here you can decide how much more paid time off you're willing to allow your employees to take.
According to a World At Work Research paper published in September 2014, the average total number of paid time off days ranges from 16 to 19 for 1st  year employees to 29 to 34 for those with 20+ yrs of service. These numbers don't include paid holidays.
By the way, all the figures I'm mentioning in this episode come from the World at Work Research paper. Which, by the way only 5% of the employers who responded to their survey had less than 100 employees. So this data is based on data from employers with between 100 and 5,000 employees. But, you have to compete with these employers for the best workers so knowing their policies is a good thing.
Step 3 – What type of PTO
The third step is to decide what types of PTO you're going to offer.
There are multiple types of both paid and unpaid leave. There's sick, personal, maternity (sometimes called parental), holiday, vacation, bereavement, jury duty, military, and family medical leave. Some large employers even have paid or unpaid sabbatical leave, winter leave or personal leave of absence.
If you want to combine the vacation, sick and personal time into one policy. You should only do this if you aren't subject to a mandatory sick leave law. Otherwise, it's best if you keep them separate. Over the past 15 years, a lot of companies have gone to a single PTO policy but that trend is slowing, according to World at Work. I believe this is due to the growing number of mandatory paid sick leave laws. If you do combine these three types of paid leave into one policy then I recommend you also create a policy that doesn't allow employees to come to work when they are sick and contagious. This way they won't save the days for vacation….they'll be using them as intended.
Let's look at the average number of days the World At Work surveyed employers allocate for vacation, sick and personal time when they have a separate policy for each type. The vacation average is from 9 to 22, and again that's for employees with years of service from 1 to 20. For sick time, the days range from 7 to 9, and for personal time, the average across the board is 3.
The number of paid holidays is usually 8 or 9 days, and most employers offer 3 days of paid bereavement time off when one of their employees immediate family members dies.
So after one year on the job, employees are generally receiving 24 to 25 days of paid time off  while those with 20 or more years receive 40. I'm not counting the 3 additional days in the event of a death in the family.
Costco for example has 8 paid holidays, 5 paid vacation days, 9 paid sick days and 3 paid bereavement days after one year of employment, and after 15 years, employees get 25 paid vacation days, plus the same holiday, sick and bereavement days. So not including the bereavement days, that's 25 paid days off after 1 year and 45 after 15. Their vacation time increases after 2, 5, 10 and 15.
I met an IT manager from Facebook at the FreedomFest conference last week and he confirmed that every employee at Facebook gets 21 days of vacation time immediately upon hire, plus 11 paid holidays and unlimited paid sick days. Facebook managers are reminded of which employees need to use their vacation time and the company actively encourages employees to use their time off.
As for extended leave or sabbaticals, only 14% of the surveyed companies offer this and of those companies 50% pay some or all of the time off while the other 50% don't pay any. As a small employer I wouldn't worry about having this type of leave since it is still relatively scarce among larger employers the being with.
We are out of time for this episode so we'll continue talking about jury duty, military leave, family medical leave, and the next steps in the PTO policy creation process in episode 50.
Summary:
The first step to creating a paid time off policy is to establish your philosophy – what is you belief system, what are your values – basically, what's your personal viewpoint.
The second step is to make sure you have a policy in place compiling with all the mandatory paid sick leave laws and ordinances.
And the thirds step is to decide which types of paid and unpaid time off you want to offer. Knowing what the big boys are offering will help you decide what can offer and hopefully you'll be able to use your PTO policy to compete for some of the same talent.