50: Creating a Paid Time Off Policy – Part 2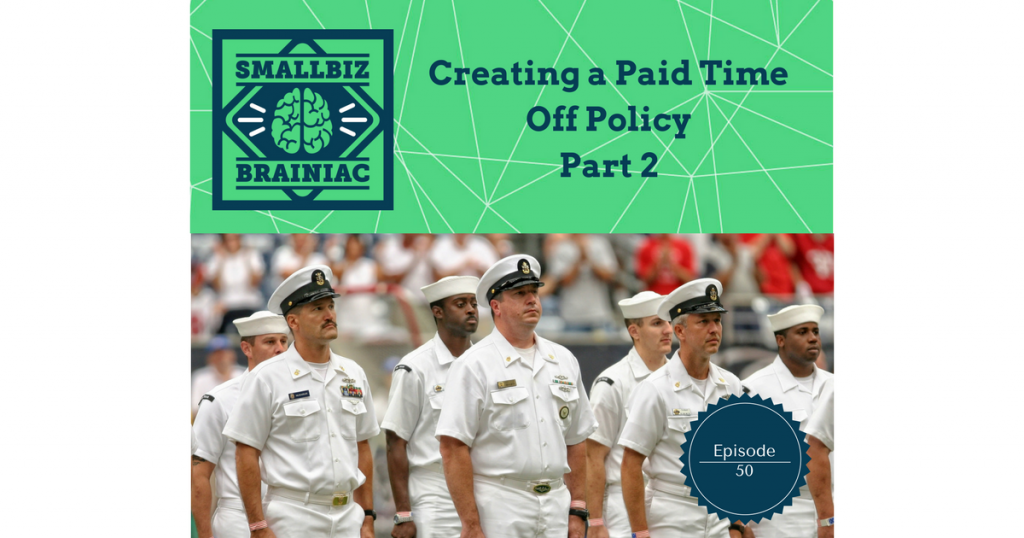 Unlimited PTO polices are like giant squid. You know they exists, but you've never actually seen one.
In the last episode we covered several types of both paid and unpaid leave: sick, personal, maternity, holiday, vacation, and bereavement. Today, we'll learn about jury duty, military, and family medical leave. These are typically unpaid and all three are mandated in way, shape or form.
Jury Duty:
Jury duty is an important role in our republic and we need smart jurors. Unfortunately, it is incredibly inconvenient and a lot of people can't afford to take the time off. Every state pays jurors for their service but the fees range from only $5 to $50 dollars per day. The rates and rules vary by state and even by county. This simply isn't enough, and taking unpaid time off would result in a financial hardship.
Time-off rules for jury duty vary from state-to-state. You can't terminate or discipline an employee who takes time off to serve on a jury, or as a witness, and in some states you don't have to pay for the time off, but you can reduce their earnings by the amount they're paid by the court.
Jury duty doesn't come around often but it's an incredibly important civic duty, so it would be very good of you to offer a few days of paid time off for jury duty.
Military Leave:
Military leave is regulated by The Uniformed Services Employment and Reemployment Rights Act – or USERRA and it applies to all employers.
USERRA requires you to retain and reemploy an individual who's absent from work due to military duty….for up to 5 years. Of course there are some exceptions, but in general, USERRA clearly establishes that reemployment protection does not depend on the timing, frequency, duration, or nature of service; as long as the basic eligibility criteria are met.
The law requires you to reemploy in the job they would have attained and they not been gone on military service. They must be returned to the same seniority, status, pay and benefits.
However, you may offer an alternative position if your employee can't meet the qualifications for the escalated position.
Family Medical Leave Act:
And finally, the Family Medical Leave Act which applies only to employers who have 50 or more employees within a 75 mile radius and requires you to allow an employee up to 12 weeks of unpaid leave every year to deal with a family or medical issue, either their own, or to care for a spouse, child or parent with a serious health condition. You also have to continue their medical coverage under the same conditions as if they were still working.
So, many of you don't have to worry about this unpaid leave although there isn't anything stopping you from having some sort of unpaid time off policy for these same situations, if you want to. Having a look-a-like FMLA policy will help you compete for labor.
Ok. We're done talking about step 3 –  deciding what types of PTO to offer.
Step 4 – Terms and Conditions:
The forth step is to decide on the terms and conditions of each paid time off type….and there are a lot of things to consider.
Is the time awarded as a lump sum at the beginning of each year or is it accrued as your employees work? According to the World At Work Research Study we talked about in the last episode, employers who offer sick, personal and vacation in a single PTO policy -18% award a lump sum while 82% accrue it. Of those employers who offer a traditional policy, with each type managed separately, 79% award personal time and 29% award vacation time, at one specific point in the year.
All the statistics I'm providing here are from the World At Work study.
Is the paid time off is lost if it goes unused, or does it roll over to the next year? 81% of employers in the study rollover either all or a portion of the unused time. More than half rollover all unused time. If you do rollover the unused time is there a maximum number of hours you can have in the "bank"?
May employees cash in their unused paid time off? Very few employers pay employees for unused time at the end of the year, which is a good thing. You want your employees to take the time off, that's what it's for! However, if terminated, 81% of employers pay out unused time. That is for those who offer a combined PTO policy….. which, is one of the reasons why combined PTO programs accrue less time overall compared to traditional policies.
Where sick, personal and vacation are three separate policies, 89% pay out unused vacation days at termination, only 4% pay out sick days and 17% pay out personal days.
The caveat here is that you have to look at state law to see if you are required to pay out unused time upon termination. For example, in California, accrued and unused PTO are wages and you have to pay it out when you let an employee go.
How long must employees be on the job before they can use their PTO? Is it based on time or hours? For example, your policy could say that employees begin accruing PTO after the first 30 days of employment or 173 hours of work.
May employees borrow against future accrued time? Only 19% of employers allow borrowing.
May employees donate some of their PTO to another employee?
What are the usage increments? In other words, how many days may an employee take off at a time?
Are there any PTO blackout periods, such as the holiday selling season, where no time off, other than legitimate sick days or maternity/parental leave days, may be taken?
So, as you can see, there are a lot of details to figure out.
Unlimited PTO?
But, we aren't done yet. Over the past few years there has been a lot of buzz among cutting edge employers about unlimited PTO policies. Sounds crazy, right? How could an unlimited PTO policy possibly work?
Well, unlimited doesn't really mean unlimited.
I've never seen an unlimited PTO in practice, but a company called MammothHR, a technology company and consulting firm in Portland, Oregon has. They tried it for one year, evaluated the results, made some modifications and then continued on with it.
In a FastCompany article we learn that
Nathan Christensen, the CEO of MammothHR decided to continue the unlimited PTO program after the one year trail by making some changes to it and he has 5 recommendations for anyone considering an unlimited policy:
Call it something other than "Unlimited PTO".
Anchor the policy to your company's core value.
Let your team members know it's a two-way street.
Provide guidelines for how time-off is approved.
Shift your focus from time at work to value of their contribution.
According to BuzzFeed News, Kickstarter employees are losing their unlimited vacation days. The company is now caping their vacation time at 25 days a year. They said they needed clearer guidelines. BuzzFeed News says that there is an unspoken rule at many companies that says you have to work long hours either before and/or after taking vacation time to make up for the time off. So I guess their company's culture was defeating the purpose it. Sounds like they may have a case of work martyr syndrome.
Other well known companies that offer unlimited vacation time are Evernote, Netflix, and Gusto (formerly ZenPayroll).
Anyway, I thought I'd mention the unlimited PTO policy concept so you know it's out there. This type of policy seems to be limited to technology companies that employe large number of millennials.
Conclusion:
Jury duty, military and family medical leave are all regulated in some way but all three protect the employee's job while off work. You should consider some form of a paid time off of jury duty because of how important this service is to our justice system.
The final step in creating your paid time off policy is to decide how it will function. There are a lot of details to work out but definition is critical to its success.
Unlimited PTO polices are like giant squid. You know they exists, but you've never actually seen one. And while I like the idea of them, they aren't for everyone.