51: Employment Records Retention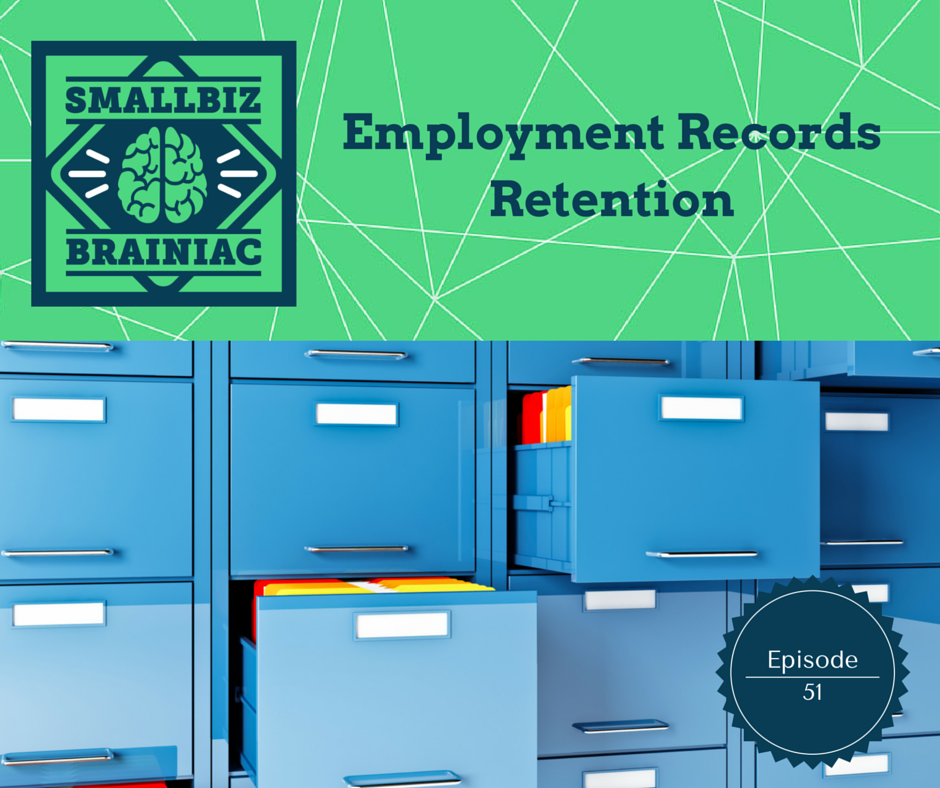 "Government Is Not Reason, It Is Not Eloquence — It Is Force"
Employers often overlook the area of records retention compliance, which can result in civil penalties. But what's more impactful is that you won't be able to defend yourself against certain employee accusations or government action if you discard these records too early. How hard could it be?
"Government Is Not Reason, It Is Not Eloquence — It Is Force" on this episode of SmallBiz Brainiac.
This quote is misattributed to George Washington. In fact, according to Mount Vernon's website, they don't know who said it. Regardless, the saying is true. Government tells you what to do, and no matter how nonsensical it is, if you don't do it, they threaten you with penalties and prison and they backup those threats with force.
The various federal employment records retention laws are a good illustration of the "government is not reason" statement. Every time the idiots in Congress pass a new federal law they turn it over the mindless bureaucrats who then write the rules. They don't bother to coordinate these rules with the rules from other bureaucrats in other agencies and so you end up with this mishmash of regulations that leave employer scratching their heads wondering what to do.
For example, if you only retain documents used in the hiring process for the 1 or 2 years required (based on certain conditions), and one of your employees files a complaint asserting a violation of the Equal Pay Act then thanks to the The Lilly Ledbetter Fair Pay Act, and depending on how far back the alleged violation began, you won't have what might have been a key document in your defense. Prior to the Lilly Ledbetter Fair Pay Act, The Equal Pay Act severely restricted the time period for filing complaints of employment discrimination concerning compensation. Now, each paycheck that contains discriminatory compensation is a separate violation.
What do you know about how these laws apply to you and how are you ensuring your compliance? Your document retention policy needs to take into consideration situations like this. If you just follow the minimum retention requirements you could be hanging yourself out to dry.
EEOC v Coca-Cola Bottling Company of Mobile:
To illustrate this, let me tell you about a Civil Rights violation law suit filed by the Equal Employment Opportunity Commission in 2015. The Civil Rights Act of 1967 prohibits employment discrimination based on race, color, religion, sex and national origin.  In this case, Martina Owes applied for two open warehouse positions at Coca-Cola Bottling Company of Mobile in June of 2010. During the investigation, the EEOC requested the company's employment applications for potential and actual hires dating back to February 2010… which they could not produce.
The employer lost the case and here is what the EEOC said in a press release earlier this year. It says, in part:
Coca-Cola Bottling Company of Mobile, a manufacturer, bottler and distributor of soft drink products, will pay $35,000 and furnish other significant relief to settle a sex discrimination lawsuit filed by the U.S. Equal Employment Opportunity Commission (EEOC), the agency announced today.
According to EEOC's suit, Coca-Cola Bottling Company of Mobile refused to hire Martina Owes, an applicant for two vacant warehouse positions, because she is female. While Owes had the required warehouse and forklift experience, the company chose to hire less qualified men for the available positions.
EEOC also charged that, by not preserving all application materials related to those positions, the company violated federal record-keeping laws. Although I'm not sure which record-keeping laws since the retention period had ended for the Civil Rights Act. I'm trying to get a copy of the complaint so I can find out. When I do, I'll let you know.
The EEOC statement goes on to say that the Company is required to conduct annual training of its employees on discrimination and retaliation for the next three years, develop a new or revise their existing anti-discrimination policies and hiring process, and designate a director-level employee to coordinate its compliance with anti-discrimination laws and compliance with the decree.
Federal employment laws with record retention requirements:
Here are some of the other federal employment laws that require you to keep specific information for a set amount of time, and make available to the government for inspection upon notice.
Payroll tax laws including the Federal Insurance Contributions Act and the Federal Unemployment Tax Act (all employers)
American's with Disabilities Act (15 + employees)
Immigration Reform and Control Act (all employers)
Age Discrimination in Employment Act (20 + employees)
Fair Labor Standards Act (all employers)
The Vietnam Era Veterans' Readjustment Assistance Act of 1974 (VEVRAA) – If you are a federal contractor or subcontractor.
Executive Order 11246 – Also if you are a federal contractor.
Family Medical Leave Act (50 + employees)
Occupational Safety & Health Act (11 + employees with exemption for certain low-risk industry companies)
Let's look at a few of these and then we'll talk about a maintenance program.
Payroll tax laws:
Retain for 4 years from the payment of payroll taxes the wage records including; federal taxable earnings, taxable basis calculations, actual taxes withheld, and the dates those withholdings; as well as form W-4.
Immigration Reform and Control Act:
Retain Form I-9 for either 3 years after the date of hire or one year after termination, whichever is later.
Occupational Safety & Health Act:
Maintain and retain the OSHA 300 log and Forms 301 for the present year plus the preceding 5 years. For the 300 log you have to keep information about injuries or illnesses if they result in death, days away from work, restriction of work, medical treatment beyond first aid, loss of consciousness as well as work related cases of cancer, chronic irreversible disease, fractured or cracked bone, or punctured eardrum. Additional criteria include any needlestick injury or cut from a sharp object that is contaminated with another person's blood or other potentially infectious material…and a few others but you get the picture.
For each claim not the 300 log you need a 301 form with name, address, age, date of hire, gender, name and address of physician or other health care provider who provided treatment, indicate whether employee was treated in an emergency room or hospitalized, the date, time and description of injury or illness and how injury occurred.
Fair Labor Standards Act:
Under the Fair Labor Standards Act you want to retain basic employee data for 3 years including name, address, Social Security number, gender, date of birth, occupation and job classification…. and compensation records: amounts and dates of actual payments, time and day of the week when the workweek begins, and total hours worked each day and workweek. Retain employees' tax basis and pay rates, including straight time and overtime hours and pay amounts; and all additions to or deductions from their wages. Also retain all benefits deductions including retirement plan contributions.
Keeping copies of your employees' paychecks isn't enough to satisfy these requirements. You have to keep timecards, the W-4, new hire paperwork, worksheets, pay rate change notices, benefit enrollment forms, and any deduction agreements. These records must be available for inspection by the Department of Labor within in 72 hours of notice.
Retention and storage policy:
So you can see how each of these laws requires you to retain overlapping information for varying amounts of time. Destroying one set of data in compliance with one law would result in tossing it out too early for another. For example you have to keep FLSA records for 3 years but since the passage of The Lilly Ledbetter Fair Pay Act, and the relevance of this data on the types of claims you can be sued for, my recommendation is to keep it for 7 years after termination.
You keep things simple, you can put every recored into three categories for retention timeframes – Keep Form I-9 for either three years after the date of hire or one year after termination, whichever is later. Keep medical, drug test results, and work comp claim records for 30 years (yes, 30 years), and keep all other files for 7 years after termination.
You should also segregate all the records into 8 different files and store them separate and apart from each other. Here are the 8 categories.
Recruiting and hiring decision files
I-9 form – all by itself
Promotion, discipline, performance and payment data (that isn't stored in the payroll system)
Garnishment files
Benefits information
Medical records including drug test results
Workers' compensation claim files
Investigative files – this would be for employee misconduct
Establish a clear policy on record retention and destruction, including schedule, file location and methods of destruction. Designate someone as your Records Administrator charged with oversight, compliance, and making file access determinations.
AND, of course, you also have to look at your state's records retention laws.