55: Massachusetts Act to Establish Pay Equity – Continued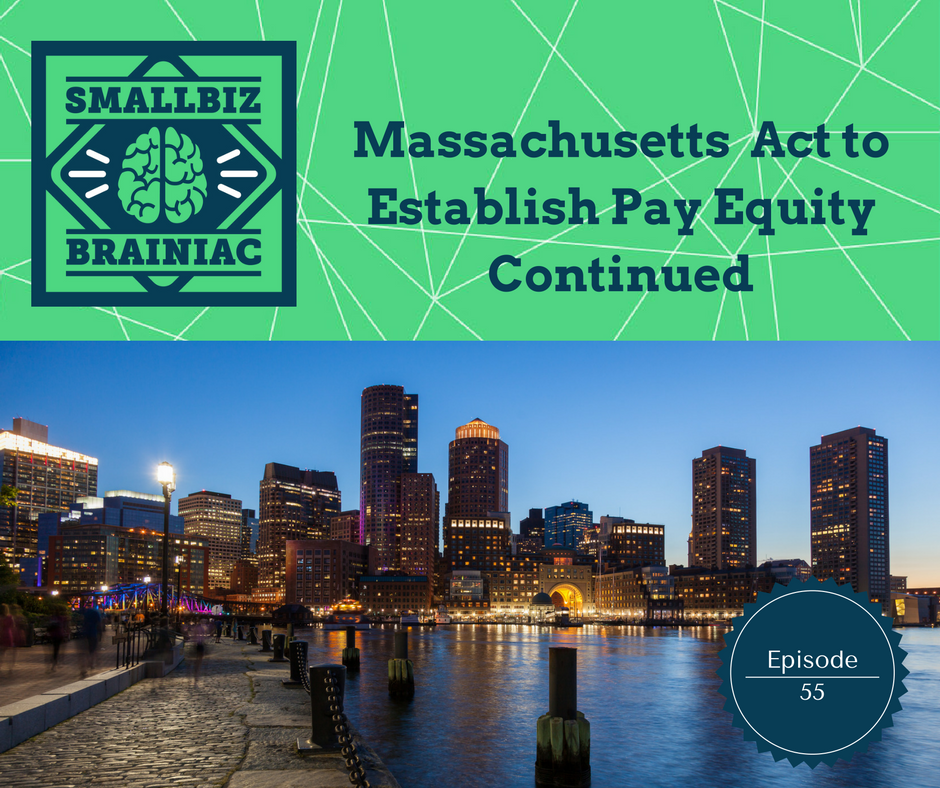 You may be sued within 3 years of the last payment of wages which were in violation of the law.
In the last episode we learned about Massachusetts Act to Establish Pay Equity.  We compared it to the long standing federal Equal Pay Act and saw how it broadens the scope thereby qualifying more situations as discriminatory. Since we didn't have time to finish our review of the new law, that's what we'll do on this episode of SmallBiz Brainiac.
Early 20th Century laws created discrimination:
Before we dive back into the Massachusetts law I want to mention the day after the last episode went live, the Foundation For Economic Education, or FEE, published an article by Jeffery Tucker, an author, speaker, founder of Liberty.me, Director of Content for FEE…and the list goes on, wrote an article called What Real Feminists Meant by "Equal Pay for Equal Work".
I actually met Jeffery at the FreedomFest conference in Las Vegas a few weeks ago so I thought it was fortuitous that I found an article written by him on a subject I had recently done an episode on.
In this article, Mr. Tucker points out that these equal pay laws are similar in nature to laws from the early 20th century that were based in eugenics and which feminists fought to have eliminated. Laws, like the one that almost every state had, which specifically limited when women could work: not before 6am and not after 10pm.
In his article, he says that:
"Feminists in those days were savvy: they saw exactly what was going on. They used the phrase "equal pay for equal work" to call for an end to these regulatory restrictions on women's work. It was a clarion call not for government but to allow the market to work! It was: let the market be permitted to pay women equal to man, because the law wouldn't allow it."
The Women's Equal Opportunity League had this to say of these laws:
"So-called welfare legislation is not asked for or wanted by real working women. These welfare bills are drafted by self-styled social uplifters who assert that working women do not know enough to protect themselves, aided by a few women who once worked but who are now living off the labor movement.
Are Women people? Women are no longer the wards of the State and a law that is unconstitutional for a man voter is equally unconstitutional for a woman voter…
My argument is that the current laws, just as those ridiculous laws from the early 20th century actually harm the very people they are intended to help, just like the minimum wage laws.
Penalties for violating Massachusetts Act to Establish Pay Equity:
Getting back to our review of Massachusetts Act to Establish Pay Equity….so if you didn't listen to the last episode, number 54, then you should go back and listen to that one either now, or immediately after this one.
The penalties for violating the law are that:
You'll pay the amount of the employee's unpaid wages, including benefits and other compensation. Meaning the difference between what you were paying and what the pay should have paid – which is the amount you paid to the similar position occupied by a man.
An additional equal amount in the form of liquidated damages.
Reasonable attorneys' fees and the costs of the action
Any agreement between you and your employee to work for less than the wage to which your employee is entitled under the law is not be a defense and neither is your employee's previous wage or salary history.
Even if your employee doesn't bring a claim, the State AG can also sue you on behalf of 1 or more employees.
You may be sued within 3 years of the last payment of wages which were in violation of the law.
Here are some other things you can't do now as a result of this new law:
You can't prohibit or prevent your employees from asking about, talking about or disclosing information about their wages and benefits or any other employees wages or benefits. Shouldn't this at least be limited to the same department? Is it ok for the warehouse supervisor to know how much your controller makes? Seriously!
You can't screen job applicants based on their current or previous wages, benefits or salary. You can't ask them about any of this and you can't make the interview contingent on providing this information or even before making the job offer.
You can't ask their current or former employer to give you their salary history until after the job offer has been made. And that job offer has to include the compensation info.
You can't fire, discipline or retaliate against an employee who made a complaint or is about to make a complaint or has caused or is about to cause any proceeding to happen under the law. Or who testified, is about to testify or assist or participate in an investigation or proceeding under this law.
You can't fire, discipline or retaliate against any employee who discloses their wages, benefits or other compensation, or who has inquired about or disclosed the wages of any other employee. However, any employee such as an HR manager whose job requires access to other employees information, may not disclose that information without written consent from the employee.
The law also allows the the State attorney general to issue regulations interpreting and applying this section so there will certainly be more to it later.
California Fair Pay Act:
Now in fairness to the Golden State, California has had equal pay laws on the books since 1949. And on October 6, 2015, CA Governor Brown signed the The California Fair Pay Act.
The main differences between their old law and the new one are that the new law:
Eliminates the requirement that the jobs that are compared must be located at the same establishment. It replaces a comparison of "equal" work with a comparison of "substantially similar" work, just like the Massachusetts law. It makes it more difficult for employers to justify unequal pay between men and women. It adds new express anti-retaliation protections for workers' that assist employees with bringing claims under the Act, and it provides that an employer cannot prohibit workers from disclosing their wages, discussing the wages of others, or inquiring about others' wages, just like the Massachusetts law.
I read the CA Fair Pay Act and Massachusetts law one up-ed them on several points thereby establishing the new gold standard.
There is no gender wage gap:
To end this series let me share with you what Diana Furchtgott-Roth, former chief economist of the U.S. Department of Labor, Director of Economics21 and senior fellow at the Manhattan Institute, has to say about the supposed pay gap. In a FEE article published on August 4, 2016, she says the DOL data is wrong, that "This statistic looks only at raw averages and does not take into account factors such as education, skills, and hours worked".
She says that there is no gender wage gap to close and that "The BLS statistic is misleading because it averages earnings for all full-time women — no matter their education, profession, experience, or hours worked — and earnings for all full-time men. As such, it is not an apples-to-apples comparison."
Even in President Obama's White House, women earn 84% of what men earn, according to published data analyzed by American Enterprise Institute scholar Mark Perry. This tells me that the pay gap is based on non-discriminatory factors.
Diana's article is the best I've read on the topic. Unfortunately it hadn't been published when I did episode 52, the first in the series. I highly recommend you read her article. You'll find a link in the show notes.