57: Workplace Anti-Violence and Firearms Policies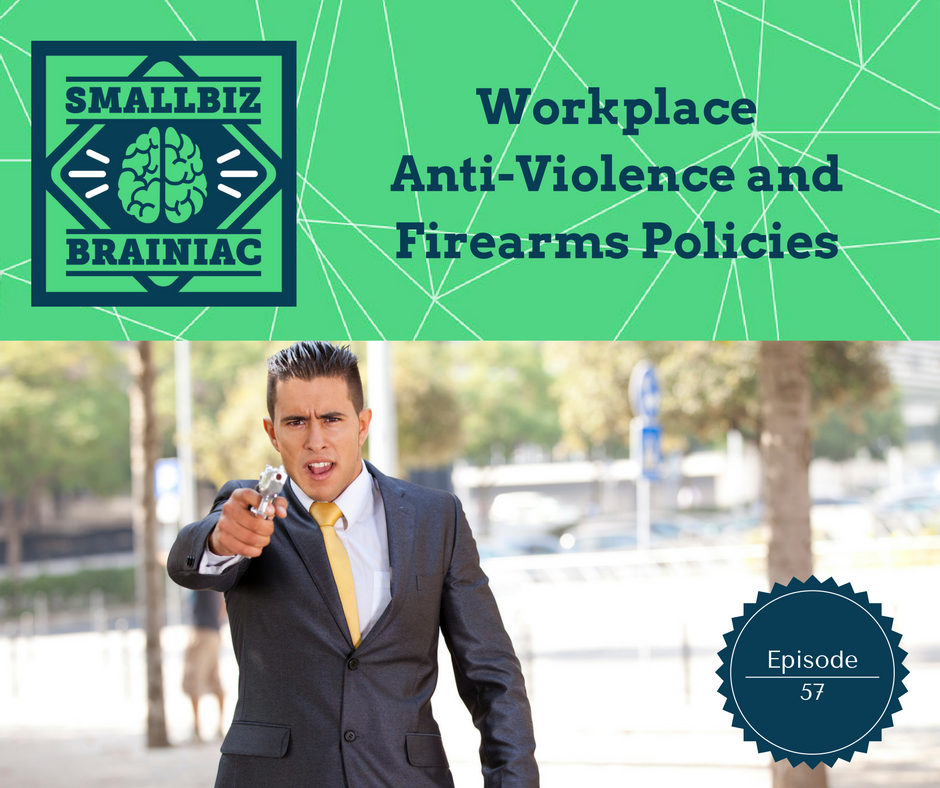 A safe workplace is critical to employee job satisfaction and productivity.
In the last episode we learned about guns in the workplace and I reminded you about your duty to maintain a safe workplace, one that's free from serious recognized hazards.
As part of fulfilling your duties you'll need a Workplace Anti-Violence policy and many of you will also need a separate firearms policy.
Workplace violence is a complicated subject because the definition is so broad. It includes physical threats, bullying, verbal abuse, and physical abuse, including homicide – the worst kind of physical abuse.
Clearly, a safe workplace is critical to employee job satisfaction and productivity.
Every employer should have a workplace anti-violence policy. and you'll also need a separate gun, firearm or weapons policy, depending on what you want to call it and depending on weather or not you have employees in a a state with a parking lot storage law.  If you want to ban all weapons and you don't have employees in a state with a parking lot storage law, then you can incorporate the weapons ban into your anti-violence policy.
Anti-violence policy:
First, let's talk about the elements of your anti-violence policy:
It should be easy to read and understand.
State your position on workplace violence. A no tolerance position is highly recommended and it should also apply to your customers and vendors.
Define it… what constitutes workplace violence?
Explain the process for reporting an incident.
Describe the disciplinary ramifications for violating the policy.
If you have an employee assistance benefit plan, explain the services that are available to an employee who is the victim of workplace violence.
It's really important you train employees on the policy, especially on how you define violence, how to report it, and what the ramifications are for an employee, customer or vendor who violates it.  You should also take a look at your employee termination process and add steps for dealing with employees who have violent tendencies.
As for your gun policy, you'll need to address the parking lot storage laws and either ban all other possession or permit legal possession, or permit only legal concealed carry possession. Let's look at the elements of a parking lot storage policy.
Firearms Policy – Parking lot storage policy:
According to a 50 state survey of workplace firearms laws I found on labor-relations-law-insider.com, there are 25 states with some form of a parking lot storage law. Most of these laws allow your employees to store a firearm in a locked privately owned vehicle parked in your parking lot. There many variations from state to state so you need to read the law which applies to you and create  your policy around it.
Let me give you an example of an employer that was sued for wrongful termination because they did not have a parking lot storage policy even thought the law existed.
Swindol vs Aurora Flight Sciences Corp:
Mississippi is an employment-at-will state and they also have a parking lot storage law.
Robert Swindol worked for Aurora Flight Sciences Corporation in Columbus, Mississippi. In May 2013, he parked his truck in Aurora's employee parking lot with his firearm locked inside. Aurora's management learned of the firearm and fired Swindol later that day for violating company policy prohibiting firearms on its property. Aurora's human resources manager then held a plant-wide meeting to inform employees that Swindol was a "security risk" and that they should call 9-1-1 if he was seen near Aurora's facility. Swindol sued Aurora, seeking damages for wrongful discharge and defamation under state law.
A circuit court dismissed his claims so he appealed the decision. In August 2015, the United States District Court for the Northern District of Mississippi asked the Mississippi Supreme Court to clarify a question of the effect of Mississippi Code Section 45-9-55, the parking lot storage law, and the court provided its answer on March 24, 2016.
On August 8, 2016, the District Court ruled that the dismissal of the defamation claim was upheld, but the dismissal of the wrongful discharge claim was reversed, thereby allowing Swindol's lawsuit to proceed. So, despite the fact that Mississippi is an employment-at-will state, the parking lot storage law creates a situation where an employer may be liable for wrongful discharge.
This is why you need a compliant firearms policy in place.
Firearms policy – possession:
Now if you are banning all other possession, then that's pretty straightforward and easy to explain, but you still need to spell it out, and don't forget to post the required conspicuous signage at all entrances.
For example, Tennessee's law requires you to conspicuously post specific signage in prominent locations, including all entrances used by individuals entering the property.
If you're going to allow permitted conceal carry employees to bring a gun to work then here are some elements to consider adding to your policy:
Require employees who want to carry to notify you and keep a log.
Require they provide a copy of their permit.
Prohibit them from showing their firearm to anyone in the workplace, unless there is a situation where they need to draw to defend life.
Let them know that this is a privilege you're allowing but that it may be revoked at any time
Require the firearm be maintained on their person and concealed or in a closed purse, briefcase or backpack that is stored where employees personal effects are normally kept, and not just left in a desk drawer or some other place where another employee might come across it.
Decide who you're going to share the information with…. supervisors, executives, and your HR manager.
Ros vs. Wells Fargo Bank:
In an article dated March 25, 2014, MarketWatch reported that Ivette Ros, a concealed carry permit holder and a branch manager at Wells Fargo Bank in Florida, would often take her gun to work. Sometimes she would leave it in her car and other times she would take it in.
Wells Fargo bans employees from bringing guns into the workplace except where permission is granted by a bank chief security officer. This policy is published in their employee handbook.
Wells Fargo's corporate security received a complaint that Ros was bringing a gun to work. So they came to her branch and asked her if she had a gun in her car and if she'd ever brought it inside the building. She said yes. The following week, she was fired.
Ros said she never displayed the gun at work and isn't sure how the bank knew about it – though she had told her boss that she had a concealed-weapons permit.
She's suing the bank, saying it violated her constitutional rights and other protections afforded under Florida law.
I could not find any news about the ultimate disposition of this case and I was only able to find in a discussion board that Wells Fargo branches in Florida do not post signs banning possession in the building.
So, did she bring the gun to work despite posted signs? Did the lack of posted signs make it ok for her to bring the gun inside, despite Wells Fargo's policy banning guns at work as published in their employee manual?
IN another story from the Chicago Tribune on January 14, 2016, an employee of a Chicago cellphone retailer with a concealed carry permit, foiled an armed robbery by shooting the two robbers. The store allows employees with concealed carry permits to have weapons at work, even though they have a no concealed weapons signed conspicuously posted.
The moral of these examples is have a policy that corresponds with the law and that's consistent, clear and well communicated.