62: Is McDonalds a Joint Employer of its Franchisee's Employees?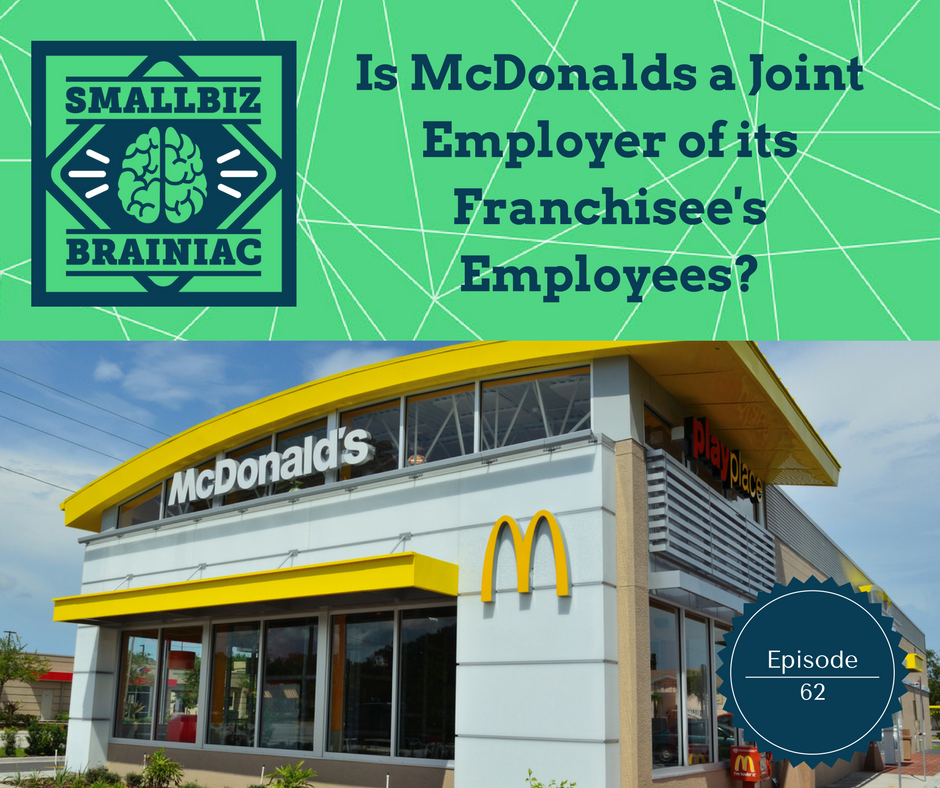 The NLRB and DOL are battling franchisors over joint-employer status.
I've been on this subject now for the past two episodes and I'm not ready to move on yet. The more I dig, the more I find. And what I've found is the National Labor Relations Board, or NLRB, is on a witch hunt to destroy a key component of the franchise business model, and they've set their sights on the grandaddy of all franchisors, McDonalds.
If you don't know who the NLRB is or what they do, go back and listen to episode 61 to put this all in perspective.
The DOL vs McDonalds:
This dirty fight began in earnest when the NLRB filed a round of claims against various McDonald's franchisees…. 30 to be exact. Only 16 of those claims have an alleged Discriminatee. In other words, 14 of the 30 claims don't have an employee making a claim. If an employee isn't making a claim, how does the NLRB assert a violation of the law?
The NLRB has spent a ton of time and money conjuring up these claims and consolidating them, alleging McDonalds USA, LLC is a joint-employer and chasing down hundreds of thousands of pages of discovery from them in order to prove it.
Yes, you heard right. The NLRB is seeking to have McDonalds USA, LLC designated a joint-employer and they're doing it without any explanation of the facts they're basing it on. When McDonalds asked for an explanation, it wasn't provided with one! The only thing they've been told is that it's rooted in the traditional test and, surprise, surprise, on the Browning-Ferris ruling from last year that we talked about in the last episode.
At least one of the NLRB members sees what's really going on, and in his dissenting opinion he had this to say about the case:
"The Board has never previously permitted a case like this one, which resulted from consolidating already consolidated cases that were investigated by six NLRB regional offices involving 61 separate charges and 181 alleged violations, with each violation being attributed to only one of the 31 separate respondents.  All the respondents have been made parties to this mega consolidated proceeding because the General Counsel seeks to establish that McDonald's — which is not alleged to have committed any violations of the Act — has joint- employer liability for whatever unauthorized labor practices were committed by the 30 franchisee respondents" So apparently the 30 alleged violations that made their way into the complaint giving rise to this action were plucked from a much wider pool.
He goes on to say:
"Everyone—including the Board—is operating at a disadvantage when attempting to discern the General Counsel's theories of joint-employer liability. The complaint contains only the most general allegations regarding alleged joint-employer status. We do not have more details about the basis for McDonald's alleged joint-employer liability because the judge and a divided Board previously denied a motion filed by McDonald's seeking this precise information. However, the General Counsel has indicated that he seeks to establish joint-employer liability based on at least two different sets of joint-employer principles argued in the alternative. One involves the Board's traditional joint-employer test,9  and another is based on substantially different joint-employer principles that the Board recently adopted in Browning-Ferris Industries"
The NLRB's own attorney won't explain the facts being used to assert joint-employer status! Instead, the attorneys want McDonalds to divulge hundreds of thousands of pages of confidential, non-related documents. That's the battle ground happening right now.
McDonalds USA, LLC is a subsidiary of McDonalds Corp. and it's the entity that franchises restaurants.
At the same time, while the NLRB is spending millions on this case, they are short on funds and they've advised the regional offices to settle claims quickly, which means  give cases less attention. So while they neglect other claims they charge full steam ahead to get a ruling that McDonalds is a joint-employer and wage a massive discovery war. Like I said, a witch hunt!
A McDonald's attorney made an excellent argument pointing out the absurdity of the consolidation aspect of the case and further proving this is a witch hunt. He said:
"In CNN America, Inc., the Board decided a far simpler and more conventional  set of joint-employer issues involving two locations and three entities (CNN and two vendors, with CNN alleged to be a "joint employer" of technical employees supplied by the vendors). Notwithstanding its relative simplicity compared to this proceeding, the CNN  case required 82 days of trial, more than 1,300 exhibits, more than 16,000 transcript pages, and more than 10 years of Board litigation, and the case still remains unresolved because of a pending court appeal. If the Board's finding that CNN was liable as a joint employer survives appellate review, remedial issues will require further Board compliance proceedings. Vast as it was (and still is), CNN America  is next to nothing compared to this proceeding, which involves 30 times the number of charges, 15 times the number of locations, and 10 times the number of respondents. The sheer size of the current litigation, standing alone, militates against it."
Get the picture?
The NLRB and the DOL want to hold any and all companies responsible for compliance with the laws they enforce by simply changing the rules themselves, completely disregarding contracts and business models upon which people's livelihoods have been built.
If you are a franchisor or a franchisee, if you use temporary employees or subcontractors, this case, the Browing-Ferris ruling and the DOL's adoption of the expanded definition of join-employer are going to change the way you do businesses in the near future.