63: Hidden Employer Costs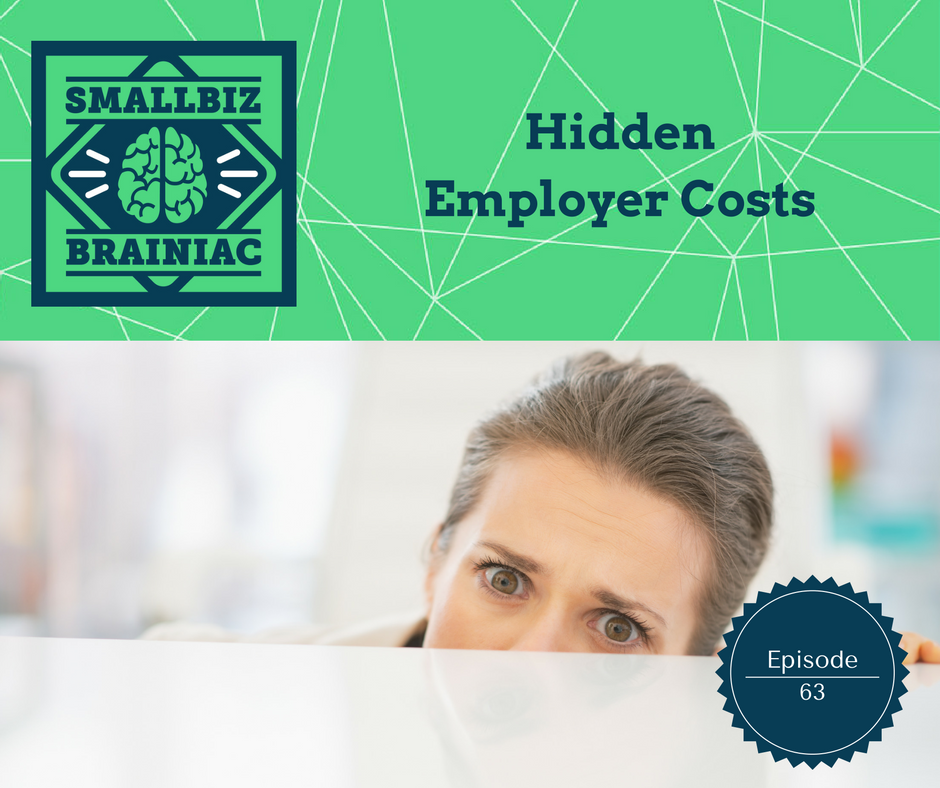 Your best option, as a small employer, is to join a Professional Employer Organization.
Do you know how much your "all-in" cost is to employ someone? It's much more than you think.
The obvious costs are wages, payroll taxes and insurance premiums. What's not so obvious are your administrative expenses. Even before you hire someone you have to pay for recruiting, and interviewing.
And after that, you've got ongoing costs like:
Training
Paid time off
Payroll processing
Wage theft
New hire reporting
Garnishments
Employment records maintenance
Unemployment claims management
Workers' compensation claims management
Workplace safety management
Benefit plan administration, which includes things like

Plan selection, and
Employee enrollment

Health insurance premium
Time and attendance management
Turnover, including

lost productivity
lost expertise

Temporary staffing fees
And compliance, compliance, compliance!
If you don't do everything correctly along the way, you could face penalties, fines, interest, civil lawsuits, and even criminal prosecution. Being an employer is serious business!
Besides the labor costs associated with performing all these tasks, you have expenses such as software, subscriptions, professional services, legal fees, premiums, and lost opportunity costs.
Lowering your overall cost of employment should be an ongoing priority for you. Identifying and accounting for these costs will help you figure out how to control them. Some of the ways you can reduce your costs are by process analysis and modification, outsourcing to a third party, vendor and system consolidation and integration, and providing employee self-service capabilities.
A good example of what I'm talking about is going from a manual paper-based time and attendance process to an automated system that integrates with your payroll software. Not only will you reduce the amount of time it takes to collect the hours worked AND process the payroll, but you'll most likely reduce the amount of your payroll because you'll reduce errors, including employee wage theft.
Since 2003, ADP has been studying what they call the "total cost of ownership", or TCO as it relates to employment costs. In their latest report from 2014 data entitled "The Importance of Total Cost of Ownership: How Midsized Companies Can Find Competitive Advantage", they conclude that most employers say they're confident in their understanding and management of their costs.
Yet, at the same time, they worry everyday about how to lower their labor costs. And when asked about their specific costs, they couldn't say what they were. Most didn't even consider all the cost areas.
The report says that "The result is that they tend to grossly underestimate these costs".
It also says "If human capital management TCO is as important to them as they say, we would expect that the way midsize companies handle their different human capital management functions would reflect this concern."
The ADP study included companies from 50 to 999 employees. Both the per employee per year costs of employment and the lack of understanding of what they are increases as company size decreases. In other words, the smaller the company, the higher the costs and the lessor their understanding of what those costs are.
Like I said, being an employer is serious business. You didn't go into business to be an employer and you shouldn't try and do it alone. You need to outsource.
According to a 2011 PwC study, organizations outsourcing multiple functions to a single vendor see even stronger cost efficiency— on average 32%—versus organizations using a multiple vendor or "best of breed" in-house approach.
Your best option, as a small employer, is to join a Professional Employer Organization, or PEO.
What is a PEO? A company which provides comprehensive HR solutions including payroll, benefits, HR, tax administration, workers'  compensation insurance, workplace safety, and regulatory compliance assistance
According to a recent study by noted economists Laurie Bassi and Dan McMurrer, small businesses that use PEOs grow 7 to 9 percent faster, have 10 to 14 percent lower employee turnover, and are 50 percent less likely to go out of business.
By using a PEO, you'll eliminate most of the hidden costs and gain significant advantages over your competition. The employee turnover rate for PEO clients is 10 to 14 percent lower comparable companies. You'll be able to offer better benefits at a lower cost. You'll increase your  level of compliance and lower your regulatory risk. You'll have more stability and greater cost predictability. Your workers' compensation costs will be lower, your workplace safer and your employees will be happier. The laundry list of advantages is long.
The ADP report I've mentioned concludes by saying, in part "Our study reveals that midsized companies have a long way to go with respect to HCM and understanding its associated costs. It would appear that these companies are not as educated as they need to be about the topic and despite feeling TCO is important, their behavior does not reflect their attitude."
You'll find a link to the ADP report in the show notes.
Being a small business owner is hard. You need every advantage you can get. Understanding, identifying and controlling your employer costs is critical to your success.