65: Living Paycheck to Paycheck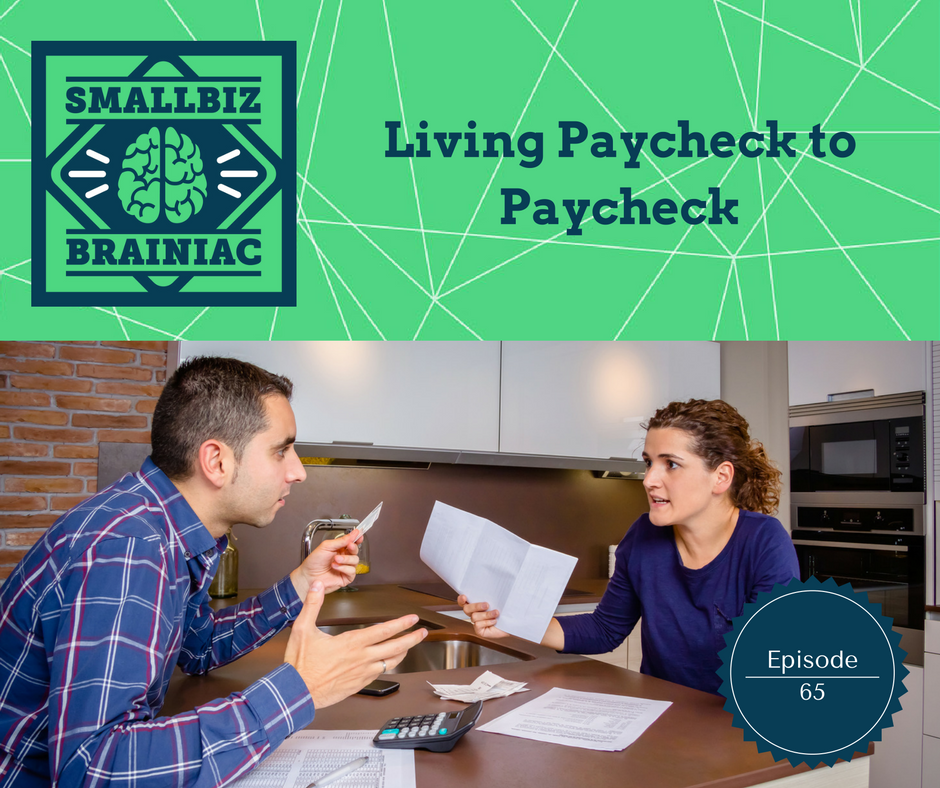 Household debt is a major reason why so many Americans are in the financial ditch.
It's no secret that the majority of your employees live paycheck to paycheck, and not surprising that they'd suffer a significant financial setback if they missed just one payday.
MarketWatch says most Americans have less than $1,000 in savings and the typical American couple has less than $5,000 saved for retirement.
CNBC says 66 million Americans have no savings, and Forbes says that 63% of Americans don't have enough savings to cover a $500 emergency.
This creates stress that bleeds over into the workplace and causes your employees to be less productive. But, you can help.
Household debt is a major reason why so many Americans are in the financial ditch.
In 2012, U.S. household debt was 83% of the gross domestic product, or GDP, while wage and salary income was 42.6%. So basically Americans, on average, owe twice as much as they earn in a year and to make matters worse, incomes have been stagnate for the past several years while household debt is going up.
Things are pretty desperate for the average worker in the U.S.
But how does this effect you? Does your employee's debt load and lack of savings impact their work? Do they work harder because they can't afford to lose their job or are they less productive because they are constantly worrying about making ends meet?
Hyperwallet, conducted a study called "Payday in America – a study of the behaviors and preferences of the American worker in 2016". They surveyed 2,000 workers for this study.
When asked how a delayed paycheck would impact them, here's what the workers said:
50% said they'd have to stop buying nonessential items"
50% said they'd have to delay payment on important bills"
43% said they'd have to stop eating at restaurants/ordering takeout"
40% said they'd have to limit my social life
36% said they wouldn't be able to buy" essentials like gas and groceries; and,
31% said they wouldn't be able to pay rent"
The Financial Education for Today's Workforce: 2016 Survey Results, from The International Foundation of Employee Benefit Plans, says that  personal financial issues have a significant impact on the overall job performance of participants, and one-third of respondents rate the overall stress level of their workforce as somewhat high or very high.
In addition to stress, employees with financial issues can't focus on their work. They also have attendance, morale and health issues.
CLEARLY, your employees need personal finance education. They need help understanding money and credit. They need help making a mental shift from a consumer to a saver. They need encouragement and support.
Should you help your employees? The answer is obvious. You absolutely should! But how?
By providing a financial wellness benefit.
According to the IFEBP study, some of the most frequently used methods of providing financial education are:
through classes and workshops
by giving them access to retirement income calculators so they can understand how much they'll need in retirement
by showing them what their projected retirement account savings could be
using online courses to deliver financial education
and through free personal consultation services
Whatever method you choose, customize your approach by talking to your employees first. Find out what's important to them, what they're interested in….what they're most in need of, and then pick one method to help them…. and get started.
You could contact an financial wellness provider like Four Seasons Financial Education at fsfe.com for their free website-only employee financial wellness program. They combine financial planning and technology to educate your employees and change their behavior.
I don't have a relationship with these guys and I can't vouch for their service but I was impressed with what I read.
They have a 5 step process beginning with an assessment. Then they design an educational program around the data. Their certified financial planners give their advice over the phone, follow up and provide ongoing monitoring and analysis.
There are other companies providing similar services, like:
National Financial Educators Council 
In a Financial Fitness white paper they quote the American Psychological Association as saying 77% of Americans live paycheck to paycheck, 40% carry credit card debt from month to month and 32% have no non-retirement savings. They also say that financial stress costs $300 billion a year in reduced productivity, turnover and medical expense.
The white paper goes on to say According to Human Resources Magazine, more than 53 percent of financially stressed employees spend hours on the clock dealing with their financial issues.
The white paper says that Dr. E. Thomas Garman, Professor Emeritus and Fellow at Virginia Tech University and a recognized leader in research into the impact of financial stress in the workplace, compared financially stressed workers to "a poison poured on the door of the workplace". Those who show up make more personal calls, talk about personal issues longer, and waste about 20 hours a month dealing with money problems.
Dr. Garman also says, according to the white paper that for every dollar you spend on employee financial wellness you'll save $3.00.
How? By reduced employer FICA taxes, increased employee productivity, lower medical and workers' compensation costs.
The lower taxes result from increased participation in tax free deductions such as health savings accounts.