68: Background Checks – Part 1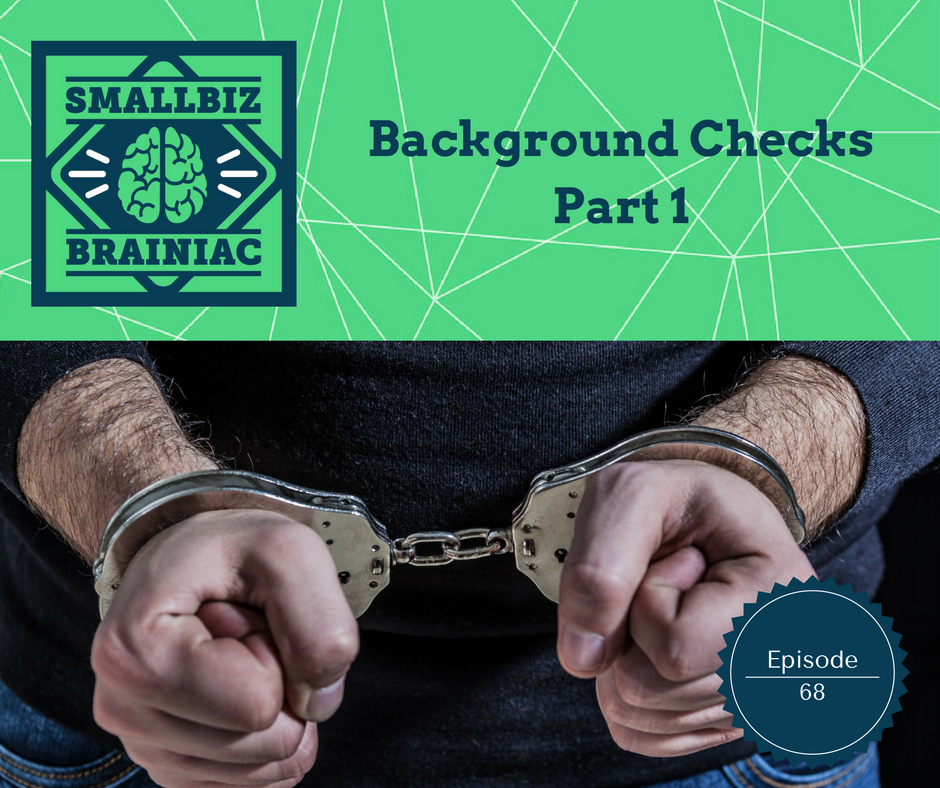 Once you decide to go into business, your rights are restricted and your responsibilities are rife.
Background checks can be a valuable tool in the hiring process. Unfortunately, they can also lead to you unwittingly discriminating and thereby violating any one of the many, many federal laws designed to protect individuals who've had some type of run-in with the law.
Not all crimes are created equal and not all databases are complete, or even accurate.
Before you decide to incorporate background checks into your hiring process you should decide which information is important to you. Then you need to understand what you're allowed to do under the law, and how to avoid discriminating.
You probably thought you could go about hiring however you want and hire whomever you want. Once you decide to go into business, your rights are restricted and your responsibilities are rife….that means abundant, plentiful or numerous.
What is a background check and should you use them in your hiring process?
A BC is the process of looking up and compiling criminal records, commercial records and financial records of an individual. You can use a BC to validate a social security number, past addresses, criminal and civil records, credit history, education and employment history, and driving records. A BC may even include a compilation of social media profiles.
A BC is a pretty good tool for helping you to figure out who not to hire. You can get some insight into a person's character which might help you dodge a bullet.
I said it's a pretty good tool, not a great tool, because BCs comes with certain risks. They aren't always accurate, and you might actually end up not hiring the right person for the job. What if the best candidate has a common name and someone else's history has nested in their record? What if they had a prior non-violent conviction when they were young, and even though they were innocent they took a plea bargain because they didn't have the money to hire a lawyer and the public defender graduated at the bottom of their class, had a monster workload and didn't even care if they were innocent?
It would be a shame to miss out on that person over bad luck, temporary stupidity and broken criminal justice system.
After all, we're all criminals at some level, be it misdemeanor or felony. With all the laws on the books we don't even know about, the only difference between you and them is that you didn't get caught. Have you ever gone 20 miles over the speed limit? Yup, you're a non-convicted felon…at least in Arizona.
On the other hand, if you're hiring someone for an accounting position and you find out they've been convicted of embezzlement, it won't matter what their story is.
When deciding weather or not to incorporate BCs into the hiring process, you should think about how you'll apply the results. What impact will the information have on your decision? Will you take the position that any blemish is a disqualifier? The Equal Employment Opportunity Commission thinks that harsh position leads to discrimination. More about that later.
Some businesses are required by either federal or state law (or both) to perform a BC on employment candidates. Like child care facilities and trucking companies.
For example, prior to employment, the Federal Motor Carrier Safety Administration requires trucking companies to obtain a three-year driving and employment history on each driver, and the U.S. Department of Transportation requires employers to conduct a pre-employment drug test and obtain a three-year drug and alcohol violation history.
Why you should conduct background checks:
If you aren't in an industry that's required to conduct BCs then why should you?
Well, you should conduct pre-employment BCs to protect your employees and customers from workplace violence. Remember, you have a duty to maintain a safe workplace, one that's free from serious recognized hazards, which includes dangerous co-workers. You're less like to be held liable for the employee's actions under the "negligent hiring" theory if you conducted a BC.
According to OSHA – there are 2 million victims of workplace violence reported each year. They say there are actually a lot more, that's just how many are reported. Not all of these incidents are caused by employees and wouldn't be avoided by a BC, but some of them would.
A BC will help ferret out the liar before you hire. You can validate the information your candidate gave you. You might end up saving yourself a lot of grief. It's better to find out before you hire them that they didn't actually work for Google.
You might avoid being robbed because of a BC. A bunch of websites and news stories are quoting a U.S. Chamber of Commerce stat saying 30% of small business failures are caused by employee theft. I find that hard to believe, and I was not able to verify it on the Chamber's website, so who knows if it's true or not.
Nonetheless, some employee theft might be eliminated if a BC were done. Besides the obvious theft of cash and inventory, you need to be aware of cyber-theft, like the selling of customer and employee data. Like I said earlier, a BC can help you identify people with questionable character and give you a chance to learn more about the candidate before you make the job offer.
Another reason for conducting BCs is to protect your company's reputation. Let's say your a bank and one of your employees opens accounts for customers without their knowledge just to charge extra fees and meet sales quotas. You later find out that your employee was once arrested for ID theft. If your customer finds out, that could ruin your banks reputation.
This example is not based on any real-life situation. Or is it?
Why you shouldn't conduct background checks.
Now to argue the flip-side. Here are some reasons why you might not want to conduct BC's.
Applicants have rights.
They have more rights than you do when it comes to hiring. Once you've taken an application, you have all kinds of obligations. As they relate to BC's, they all revolve around discrimination and the privacy of consumer information.
BCs need comply with:
The Gramm-Leach-Bliley Act (GLBA),
The Driver's Privacy Protection Act (DPPA),
The Fair Credit Reporting Act (FCRA),
The Health Insurance Portability and Accountability Act (HIPAA),
The Americans with Disabilities Act of 1990 (ADA),
The Genetic Nondiscrimination Act of 2008 (GINA),
And the anti-retaliation provisions of the federal civil rights laws enforced by the EEOC
According the U.S. Department of Labor, the DOL, arrest records aren't very accurate:
Arrests don't always lead to a conviction and an arrest without a conviction is meaningless. You've no idea what the circumstances were and you don't know what happened after that. Anything you conjure up is pure speculation and you shouldn't let it influence your decision.
You can if you want to, but you increase your chances of a discrimination claim. I'll tell you why in the next episode.
Arrest records are also often inaccurate.
Again, according to the DOL, Conviction records are more reliable, but they still have inaccuracies. They can be outdated. Their databases sometimes continue reporting expunged or sealed records and even mix up people, creating situations of mistaken identity.
The DOL also says these databases continue to report offenses that were downgraded from felony to misdemeanor or dismissed.
You can be sued for discrimination if you conduct BCs and rely on them when making a hiring decision. Seriously. Just ask BMW and one of the companies who performs BCs.
I'll tell you their stories in the next episode where we'll also go over the different types of BCs, the EEOC's position on the subject, Ban the Box laws and how to avoid discrimination.