69: Background Checks – Part 2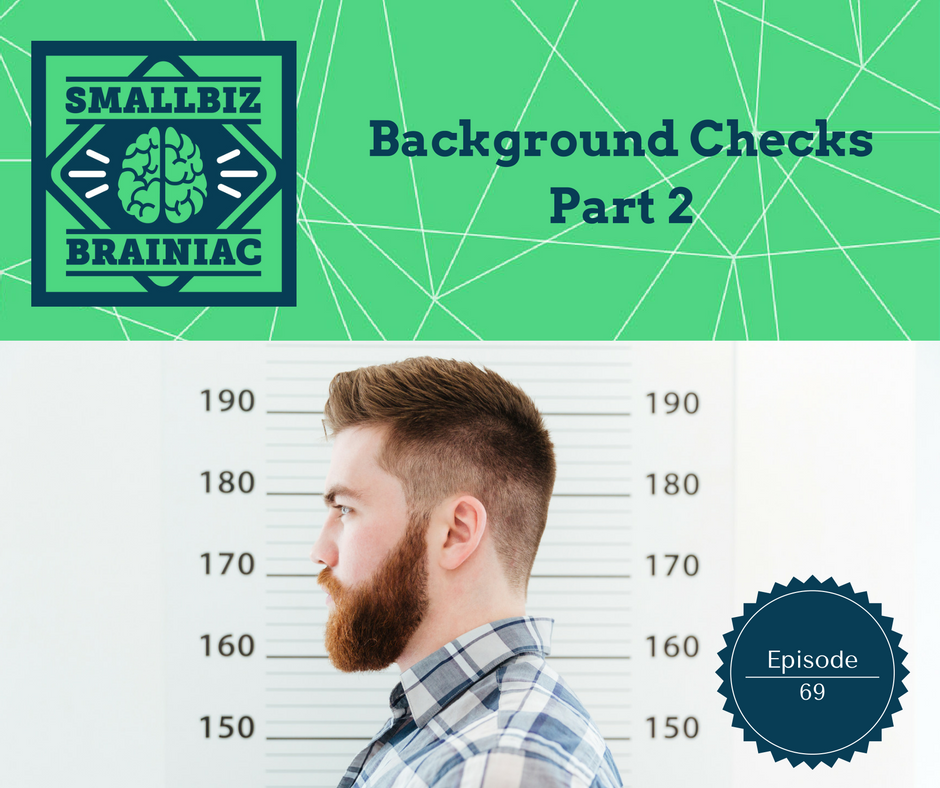 Use of a criminal history in making employment decisions, might violate the prohibition against employment discrimination under Title VII of the Civil Rights Act of 1964
In the last episode we talked about reasons why you should, and some reasons why you shouldn't, conduct background checks.
On this episode we look at the different types and what the government thinks about you using them.
And it looks like I'll need a third episode to go over ban the box laws, how conducting background checks can lead to discrimination lawsuits, and how to avoid them.
All background checks are not created equal.
But the EEOC and the DOL don't particularly like one particular variety, criminal background checks, and they warn employers that improper use can lead to discrimination.
Different types of background checks:
Background checks vary in scope. You can get a comprehensive screening or a simple ID verification.
A comprehensive BC taps into all available databases – from federal and county criminal, to Social Security Administration and motor vehicle records….and everything in between.
Deciding what type of BC check to conduct depends on what business you're in and what you're trying to accomplish.
If you just want to make sure your applicant is who they say they are, then go with an ID verification check and, aside from SSA and MVD records, your vendor may search other databases like federal and state licensing departments, Equifaxes' Work Number or The National Student Clearinghouse.
If you want to make sure your candidate isn't either a creep or a terrorist then you can do a registries search that will look at sex offender lists, the Office of Inspector General's excluded individual's list or the Office of Foreign Assets Control's list.
The excluded individual's list provides information to the health care industry, regarding individuals (and entities) currently excluded from participation in Medicare, Medicaid, and all other Federal health care programs.
The OFAC list is basically the US Department of the Treasury's list of terrorists.
There are also credit, civil action, bankruptcy, work comp history, global financial authorities, and healthcare fraud and abuse, databases, just to name a few.
Equal Employment Opportunity Commission:
The EEOC says that 
When making personnel decisions employers sometimes want to consider the backgrounds of applicants and employees.
Except for certain restrictions related to medical and genetic information, it's not illegal for an employer to ask questions about an applicant's or employee's background, or to require a background check.
However, use of an individual's criminal history in making employment decisions, might violate the prohibition against employment discrimination under Title VII of the Civil Rights Act of 1964.
Any time you use an applicant's or employee's background information to make an employment decision, regardless of how you got the information, you must comply with federal laws that protect them from discrimination.
To help you understand your obligations, the EEOC has a 26 page Enforcement Guidance document that focuses on the race and national origin discrimination issues involving background checks.
It talks about the differences between arrest and conviction records.
Like the fact of an arrest doesn't mean a crime has been committed. The EEOC doesn't think an arrest is job related or "consistent with business necessity". But you can make a decision based on the conduct underlying the arrest. So put on your detective hat and figure out if that conduct makes the person unfit for the position. That's what they say.
In contrast, a conviction record will usually serve as sufficient evidence that a person engaged in particular conduct. In certain circumstances, however, there may be reasons for an employer not to rely on the conviction record alone when making an employment decision, they say.
The Guidance also discusses the disparate treatment and disparate impact analysis under Title VII.
They say a violation may occur when an employer treats criminal history information differently for different applicants or employees, based on their race or national origin. That creates disparate treatment liability.
The EEOC doesn't like what they call an employer's neutral policy (excluding applicants from employment based on certain criminal conduct) because that may disproportionately impact some individuals protected under Title VII, and may violate the law if not job related and consistent with business necessity (disparate impact liability).
Let's look at the data:
One in three adults now has a criminal history record – which often consists of an arrest that did not lead to conviction, a conviction for which the person was not sentenced to a term of incarceration, or a conviction for a non–violent crime.
On any given day, about 2.3 million people are incarcerated.
Each year 700,000 people are released from prison.
One in 106 white men, one in 36 Hispanic men, and one in 15 African American men are incarcerated.
On average, one in 31 adults is under "correctional control" (i.e., probation, parole, or incarceration).
That's one in 45 white adults, one in 27 Hispanic adults, and one in 11 African American adults.
Here is another way of looking at it. African Americans constitute approximately 13 percent of the overall population but they account for 28 percent of those arrested, and almost 40 percent of the incarcerated population.
Blanket prohibition:
A blanket policy prohibiting anyone with an unclean criminal record is discriminatory…according to the EEOC.
It's ok if there is a job related reason consistent with business necessity.
You'll have a defense against a discrimination lawsuit if you:
Validate the criminal conduct exclusion for the position in accordance with the Uniform Guidelines on Employee Selection Procedures, or;
If you develop a targeted screening process that considers at least:
the nature of the crime,
the time elapsed,
and the nature of the job
You could go the extra mile and conduct an individualized assessment to determine if the offense is job related and consistent with business necessity.
The EEOS says although Title VII does not require individualized assessment in all circumstances, the use of a screen that does not include individualized assessment is more likely to violate Title VII.
The Uniform Guidelines on Employee Selection Procedures were put together In 1978 by 4 government agencies and it serves as a uniform federal position on how you can avoid discrimination. It also outlines the requirements for you  to legally defend your employment decisions
The Guidelines are not part of the law but several court decisions have referenced them as technical information which has established it as a precedent employment discrimination lawsuits.