70: Background Checks – Part 3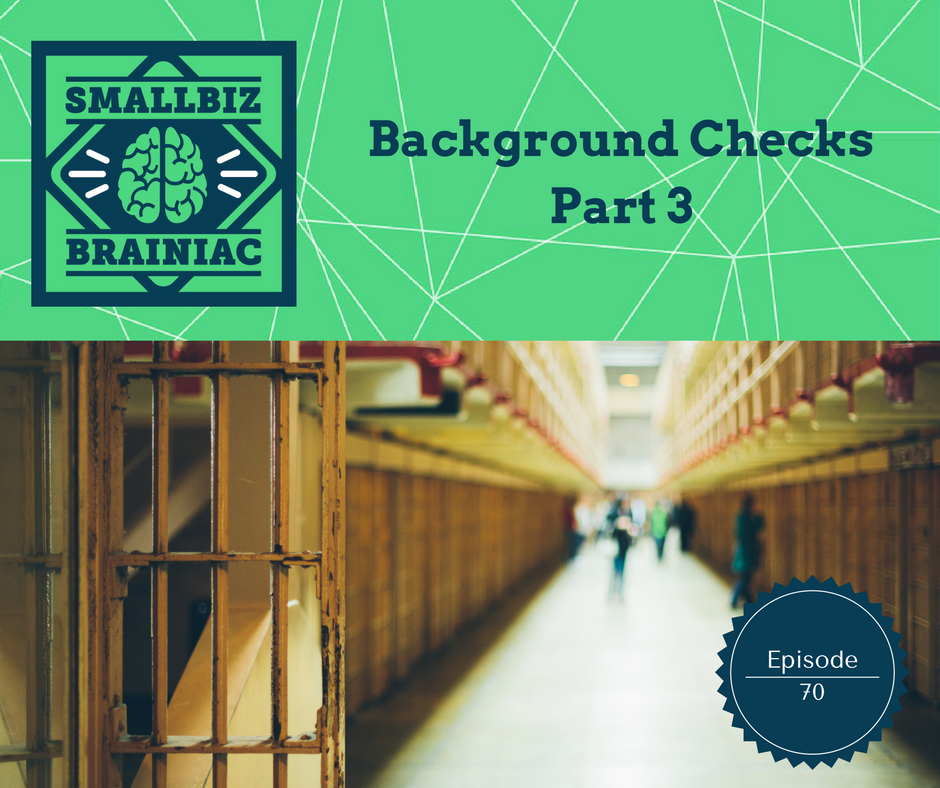 Ban the box laws and fair chance hiring legislation is sweeping the nation and pretty soon, you'll be told who you'll hire. Think I'm crazy? I am….but I'm not wrong.
If you are going to do background checks despite the risks, you'd better know the best practices so you don't get sued!
What is "Ban the Box"?
It's a way of saying that it's illegal to ask an applicant about their criminal history record at the point of application. The actual application for employment, be it a piece of paper or digital, you can't ask the question…. do you have a criminal record?
President Obama signed ban the box legislation saying any employer who provides services to the federal government can't ask applicants if they have a criminal record.
24 states and several cities and counties have adopted a ban the box law for private employers.
The National Employment Law Project says it's over 100 jurisdiction.
In some cities, ban the box is just one aspect of a broader law called "The Fair Chance Act". Places like San Francisco, Seattle, DC, New York City and Pennsylvania are passing "fair chance hiring" laws where ban the box is just one aspect of it.
Generally, the ban the box laws make it so you can't ask about a criminal record or do a background check until after an offer of employment has been made. Is it just me or is this nuts?
The New York City law:
Bans job ads that say things like "no felonies" or "must pass background check".
Bans any questions about criminal history on job applications.
Bans any questions about criminal history during job interviews.
An employer can check your criminal record history only after a conditional job offer.
If you rescind the job offer or terminate the your newly hired employee because of their criminal record, then you have to explain why, in writing.
Why using a background check to make hiring decisions can lead to discrimination: 
So you've decided to use background checks….not a bad decision.
BMW does background checks.
Oh, but wait just a minute, they ended up having to pay $1.6 million to settle a discrimination lawsuit and two other pending charges having to do with their criminal conviction records guidelines.
The EEOC alleged that BMW excluded African-American workers from employment at a disproportionate rate.
Remember in the last episode I told you about the incarceration rates and how more African American males are in prison verses other minorities and white males?
The problem surfaced for BMW when they hired a new logistics contractor to manage their employees and that contractor came in and applied BMW's criminal conviction records guidelines to current employees; and let a bunch of them go, presumably because they had something on their record. I guess the previous contractor either didn't do the background checks or they didn't apply the blanket rule once they did.
So now, in addition to the $1.6mm penalty, BMW had to offer re-employment to the discharged workers and new jobs to 90 African-American applicants who weren't hired based on BMW's previous conviction records guidelines.
BMW also has to provide training on using criminal history screening in a manner consistent with Title VII of the Civil Rights Act, and  agree to reporting and monitoring requirements for the term of the consent decree.
It isn't just background check users that can get in trouble. The EEOC went after The Cole Group insisting they revise their policies and practices to be sure their pre-employment screenings comply with the Americans with Disabilities Act of 1990 (ADA), the Genetic Nondiscrimination Act of 2008 (GINA), and the anti-retaliation provisions of the federal civil rights laws.
How do you avoid discrimination:
It depends on your situation. The way I see it, there's three sets of rules. Private employers in NON-ban-the-box jurisdictions, private employers IN ban-the-box jurisdictions and private employers with federal government contracts.
But I'm just going to explain the most restrictive rule set – what private employers with federal contracts should do.
Put a policy in place to determine what positions you'll screen, and what you'll check for. In other words, what type of background check will you conduct?
Don't adopt a blanket policy that denies employment to anyone with a criminal or arrest record. The policy should outline a process for performing an individualized assessment and complies with The Uniform Guidelines on Employee Selection Procedures.
Choose a vendor, like the Cole Group, who's compliant with all the applicable laws. You know the Cole Group is because they were essentially audited by the EEOC.
Decide how to enforce your policy.
When you advertise your open position don't use these phrases:

"No criminal background"
"Have no criminal history"
"Clean criminal background"
"No felons!"
"No arrest records"
Make sure your application doesn't ask any form of the question…. Do you have a criminal history?
Let your applicant know that a background check will be done; but not until after you've determined if the applicant meets the minimum qualifications for the job.
Get written permission to conduct the background check
Conduct the background check ONLY AFTER you make the offer of employment.
If they don't pass and you decide not to hire them after all, give them written notice explaining why (but be careful). Include the name of the reporting agency you used to conduct the background check and notice of their right to a free copy of the report.
And finally, treat everyone the same! That's the key point! Be fair.
If you don't want to, if you just can't, or you find it too overwhelming, then don't do background checks. If you screw up, you might get sued and have to pay penalties, actual damages, punitive damages, and attorneys' fees.