73: Seattle's Secure Scheduling Law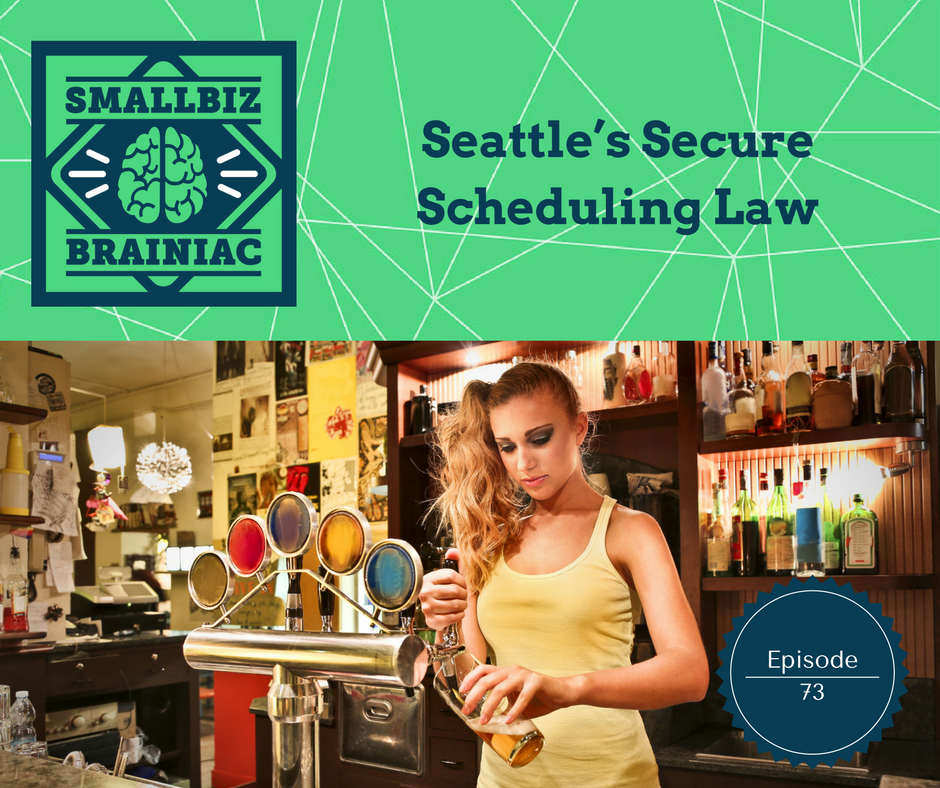 Unintended consequences will soon follow implementation of this job killing law.  
The incredibly astute and highly skilled business savvy City Council members of Seattle continue to outdo themselves with their utopia building.
These geniuses have produced yet another set of handcuffs to shackle the greedy business owners and keep them from taking advantage of what they must think are the blabbering infants they employ.
All 9 Council Members voted for this Secure Scheduling law.
It takes effect on July 1, 2017.
Their tagline is "Adding stability and predictability to Seattle shift workers' hourly incomes and schedules."
Now, I know you aren't a large employer in Seattle, but just like the minimum wage and fair pay laws that are popping up all over the U.S. at the city level, this is a sign of things to come.
This law applies to you if you have hourly employees in the Seattle city limits and you have 500 or more employees throughout the world and you are a retail, food service or drinking establishment; or, if you are a full-service restaurant with 500 or more employees throughout the world and 40 or more full service locations worldwide.
Obligations:
Provide a good-faith estimate of the work schedule:
For new and existing employees, you must provide a written good faith estimate of the median number of hours and whether they will be expected to work on-call shifts. You provide this when you hire them, 1 time every year and whenever there's a significant change.
You have to provide an estimate of the work schedule as part of the "notice of employment information" that's required by the Wage Theft Ordinance and must provide it in English and primary language of the employee.
The good faith estimate isn't a contractual offer and you're not bound by the estimate. But, you have to initiate an interactive process to discuss any significant change from the good faith estimate, and if applicable state a bona fide business reason for the change.
2. Employees have the right to request input into the work schedule:
They can make a request at hire and during employment.
You must engage in a timely, interactive process to discuss the request.
You must have a "bona fide business reason" for denying requests that are related to a serious health condition, caregiving, education, or second job responsibilities/conflicts.
For these requests, you must provide written response.
3. Employees have a right to rest between work shifts:
You can't schedule an employee to shifts that aren't more than 10 hours apart – unless, the employee has requested or consented to it.
If your employee requests or consents to it, you'll have to pay them at 1.5x the regular rate of pay for the hours worked less than 10 hours since the previous shift.
This does't apply to split shifts.
4. You have to provide advanced notice of work schedule:
For existing employees, you have to give 14 days advance notice.
For new employees, and employees returning from a leave of absence, you have to give notice through the end of the currently posted work schedule.
5. Work schedule changes:
For employer-initiated changes you have to provide timely notice by in-person conversation, telephone call, email, text message, or other accessible electronic or written format.
Your employee has the right to decline any shift not on the posted schedule.
For employee-initiated changes they have to provide you with notice per your usual and customary requirements for foreseeable changes, or as soon as practicable for unforeseeable circumstances, and shall generally comply with your reasonable normal notification policies and/or call-in procedures. You may ask, but you can't require your employee to search for or find a replacement to cover any hours during which the employee is unable to work a scheduled shift.
6. Compensation for work schedule changes – predictability pay
If you make a change to an employees schedule inside the 14 day notice period and the change does not result in a reductio of hours then you have to pay your employee an extra hour of work.
If you are making a change that reduces the number of hours worked or cancels a shift then you have to pay your employee for the missed hours at half their pay rate.
There are some exceptions like if the reduction in hours is related to a disciplinary action.
7. Access to hours for existing employees:
You have to offer additional hours to existing employees before you can hire a new employee or use temporary employees from a staffing firm.
You have to post notice of additional hours in conspicuous place.
The notice has to be posted in English and the primary language of the employees.
If an employee wants the additional hours and they have the skills and experience to do the job you have to offer them the work.
You have to give two days to accept.
If no one responds to the written notice of additional hours of work then you can hire new employees from an external source.
There is a way around all this BS if you maintain an access to hours list.
Non compliance penalties:
There are also posting and records retention requirements. If you fail to retain the records there is a presumption that you violated the law….even if you didn't!
Liquidated damages can be up to 2 times the unpaid wages.
Civil penalties for violation go as high as $20,000 per person or 10% of the unpaid compensation.
You can also be subject to fines and interest.
There are hundreds of questions that will be answered as the regulators create the administrative rules and regulations.
For example, does this apply to joint employers? And who makes the joint employer decision? Or does this only apply to franchise locations owned by the same individual or group? In the case of multiple owners what's the percentage of common ownership that qualifies it for inclusion in the count?
According to a Fisher and Phillips post on their website: Oregon, California, New York, North Carolina, Connecticut, Washington D.C., and Illinois are among those jurisdictions currently considering similar legislation.
You can bet the politicians, the regulators at the DOL, and worker advocates will be pushing secure scheduling laws in 2017.