77: Health Savings Accounts (HRA)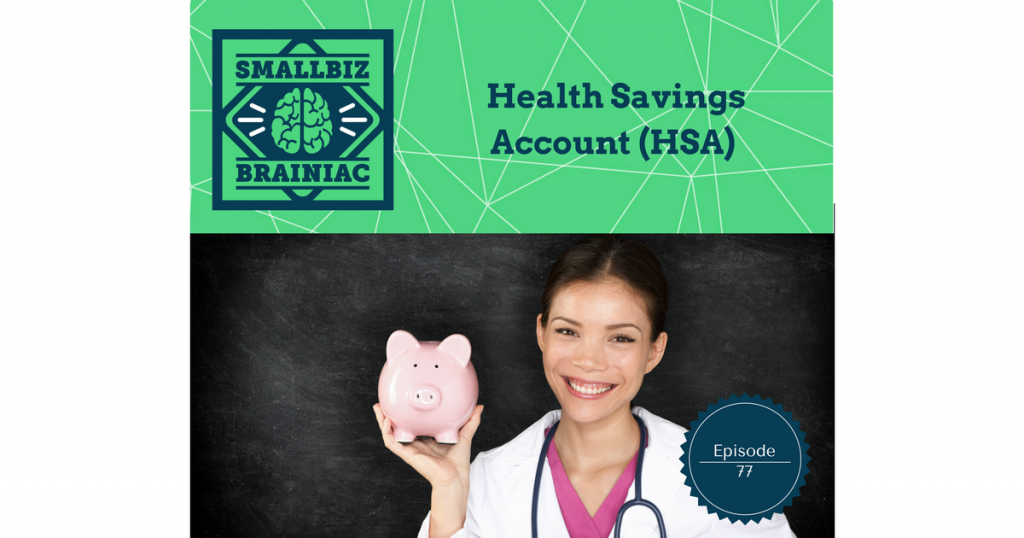 One of the best ways to lower your group health insurance costs is to incentivize your employees to change their behavior.
On the next two episodes I'm going to teach you about Health Savings Accounts and Health Reimbursement Arrangements….two great tools for controlling group health costs.
They are a little bit different from each each other and so are the results, and therefore your objective will dictate which one you'll use. These vehicles have been around since 2002/2003 so they aren't new but they've grown significantly in popularity
In fact, according to an EBRI/Greenwald & Associates Consumer Engagement in Health Care Survey, the number of accounts has grown from 1.3 million in 2006 to 11.8 million in 2013.
One of the best ways to lower your group health insurance costs is to incentivize your employees to change their behavior.
And one of the best ways to do that is by giving them a vested interest in how they use medical services.
And a health savings account, or HSA, is a great tool for doing just that.
What are Health Savings Accounts?
An HSA is a tax-exempt trust or custodial account you set up with a qualified trustee to pay or reimburse certain medical expenses your employees incur.
The funds in their HSA belong to your employees.
The funds are either contributed by you, your employee, or both; and they're tax free. In fact, family members, or any other person can make contributions on behalf of an eligible individual.
The funds may be spent on qualified medical expense or saved.
And they may accumulate year over year. In other words, there isn't a forced distribution.
Qualifications:
To qualify for an HSA…
1. You must be covered under a high deductible health plan or HDHP.
2. You can't have any other health coverage EXCEPT for a plan that pays for:
A specific disease or illness.
A fixed amount per day (or other period) for hospitalization.
Accidents.
Disability.
Dental care.
Vision care, or;
Long-term care.
3. You can't be claimed or be eligible to be claimed as a dependent on someone else's income tax return.
Limits: 
A high deductible health plan has a higher annual deductible than an average health plan and it has a max limit on the combined total of the annual deductible and out-of-pocket expenses. Out-of-pocket expenses don't include premiums.
For 2016, the out of pocket maximum limits are $6,550 for individual coverage and $13,100 for family coverage.
And the minimum deductible that and health plan can have and still qualify as a high deductible plan is $1,300 for individual coverage and $2,600 for family coverage.
The most you may set aside in your HSA for 2016 is $3,350 for individual coverage and $6,750 for family coverage.
THE ONLY DIFFERENCE between the 2016 and the 2017 min and max limits is the maximum contribution for individual coverage plans which increases $50 to $3,400.
So as you can see, an HSA is a fantastic tool for saving with tax free money, especially if you have a high deductible health plan with the minimum deductible and you contribute the maximum amount.
For family coverage that means you could be contributing $6,750 even though your maximum out of pocket cost is $2,600….
Comparable contributions:
Contributions you make to an HSA on behalf of your employees need to be "comparable".
They either need to be for the same amount or percentage, for all employees in the same class, for all eligible employees within that class.
Classes can be things like employment status – full vs part time, hourly vs salary, by plan coverage type – individual vs family, or some other organization level like departments.
You can keep accumulating this money in your HSA account year over year and if you find a trustee like HSA Bank (which who I use) you can invest those funds in different investments through a TD Ameritrade brokerage account.
The Last-Month Rule:
This is a great rule – and it says … if you're eligible on December 1st and you enroll in an HSA then you're considered eligible for the entire year and you may contribute the full amount.
You are treated as having the same HDHP coverage for the entire year as you had on the first day of the last month.
There is a caveat however, there's a testing period that applies in this situation.
Basically, if you fail to remain an eligible individual during the next calendar year then your contribution for that prior year becomes taxable income and there's a 10% penalty tacked on.
So you have a few weeks to get an HSA in place for 2016 and if you do, you can contribute the max up until about April 15, 2017.
Qualified medical expenses:  
Qualified medical expenses are those expenses that would generally qualify for the medical and dental expenses deduction.
Non-prescription meds (other than insulin) are not considered qualified medical expenses unless it's available without a prescription and you actually get a prescription for it, or
Medical expenses are the costs of things like diagnosis, cure, mitigation, treatment, or prevention of disease, and the costs for treatments affecting any part or function of the body. These expenses include payments for legal medical services rendered by physicians, surgeons, dentists, and other medical practitioners.
They include the costs of equipment, supplies, and diagnostic devices needed for these purposes.
They must be primarily to alleviate or prevent a physical or mental defect or illness. They don't include expenses that are merely beneficial to general health, such as vitamins or a vacation.