78: Health Reimbursement Arrangements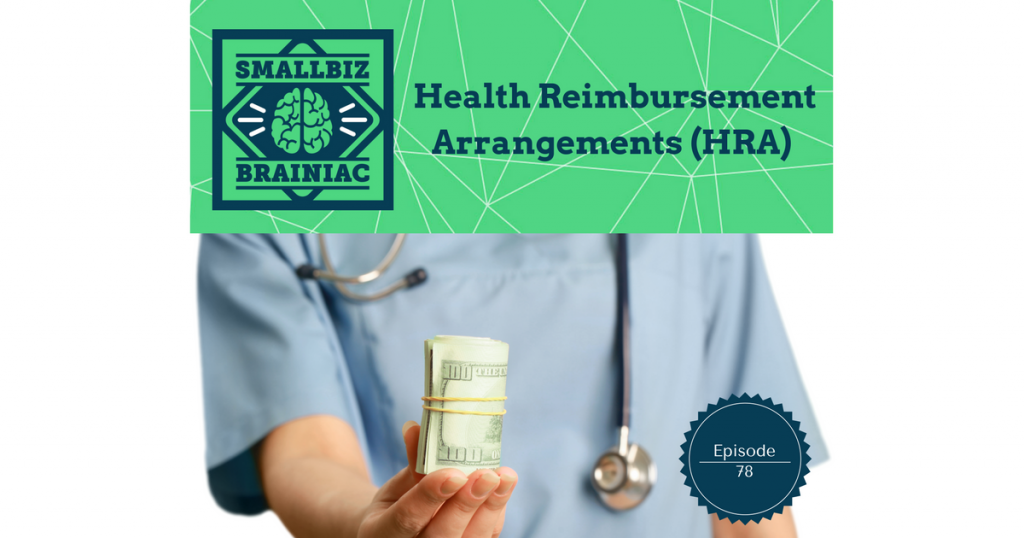 HRAs are funded exclusively by employers.
In the last episode I taught you a little bit about Health Savings Accounts.
I said they're a great tool for lowering your group health insurance costs and I explained how they work… but, I didn't explain how they actually lower your costs
A Health Reimbursement Arrangement (HRA) is a vehicle that you can use to reimburse your employees' healthcare expenses. You set aside a designated amount for each eligible employee and use that money to reimburse their qualified medical expenses.
HRAs are funded exclusively by employers. Your employees can't contribute to the HRA and you can't reduce their earnings in order to fund it.
The reimbursements are tax free as long as they are for qualified medical expenses up to a maximum dollar amount for a coverage period. In other words, if you reimburse more than your HRA has established those excess amounts are taxable income.
Generally, your employees can't participate in an health savings account at the same time. There are a few limited exceptions. Like, you could sponsor a Retirement HRA for your employees at the same time you sponsor a health savings account. The retirement HRA only reimburses medical expenses incurred after retirement.
Design flexibility:
You have a lot of flexibility in the design of you HRA.
For example, there is no limit to how much you may contribute. And you may define what type of expenses get reimbursed, as long as they generally qualify for the IRS medical and dental expenses deduction. But, just like with the health savings account, you may not reimburse non-prescription medication….unless it's insulin, or your employee has a prescription for the medication even though it's available without one.
An HRA doesn't have to be tied to a group health plan let alone a high deductible health plan, but they usually are.
You may use debit cards, credit cards, and stored value cards to make the reimbursements. But again, any reimbursements or distributions which aren't for qualified medical expenses are taxable income and must be reported as such on their W-2.
So after listening to episode 77 you now understand a little bit about health savings accounts and health reimbursement arrangements so how are they similar, how are they different and which one is best for your situation?
Similarities between the HSA and HRA:
First let's talk about how they are similar.
They are both an employee benefit.
They both allow for the payment of qualified medical expenses with tax free money.
They both encourage more educated buying decisions.
That's pretty much it.
Differences between the HSA and HRA:
How are they different?
Both you and your employees can contribute to a health savings account.
Only you, the employer can contribute to a health reimbursement arrangement.
The funds in the HSA belong to your employees. Each employee has their own account
The funds in the HRA belong to you. If an employee terminates, they forfeit the money.
There is a limit to the amount of money that can be paid into an HSA each year.
There is no limit to the amount of money you can set aside in an HRA.
HSA's can only be used with a high deductible health plan.
HRA's can be used with any health insurance plan or even without a health insurance plan.
Which is best for you?
HRA's are much easier to manage and they are arguably better at employee retention but if I were an employee and had the choice between two employers where one offered an HSA and the other offered an HRA, then I'd go with the HSA.
It's not that simple however, because you have to look at how much the HRA will reimburse vs how much the employer is contributing to the HSA and how much the max out of pocket costs are on the high deductible health plan. The reason I like the HSA so much though is because the money belongs to me and I'm not going to use 100% of it every year. Also, I can contribute and take full advantage of the max contribution. So if my employer contribute 25% of the max and I contribute the rest, I'm avoiding payroll tax on those contributions and my employer is avoiding the FICA match.  Over time, it can grow into a nice little sum.
Also, with the HSA employees are more diligent consumers than they are with the HRA and that will typically result in lower future premiums.
Clarifying Comparable Contributions:
One last thing I want to clarify as it relates to your contributions to your employees HSA. In the last episode we talked about making comparable contributions to all employees in the same class and how classes can be things like employment status – full vs part time, hourly vs salary, by plan coverage type – individual vs family, or some other organization level like departments.  That's only if your contributions are made through a Section 125 cafeteria plan. If you not, the only way contribution are comparable is if they are the same amount for each employee based on their coverage type. So, I just wanted to clarify that.