80: The EEOC 5 Year Strategic Enforcement Plan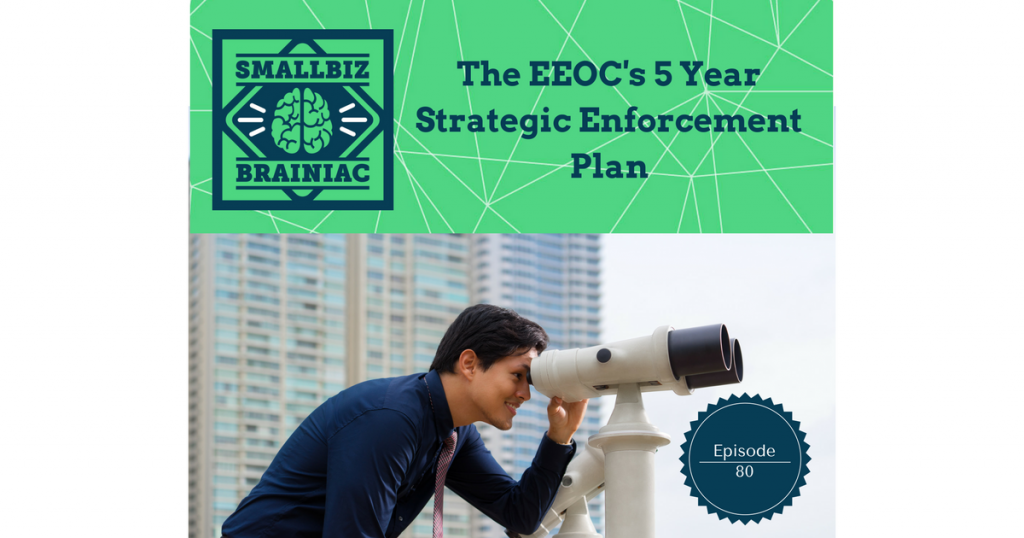 This is important information for you. It's like checking the weather report before you head out on vacation. 
The EEOC released their Strategic Enforcement Plan, or SEP, on October 17, 2016.
This SEP declares what areas of compliance they're going to focus on for the next 5 years.
They call these "substantive area priorities" and it's where they are going to spend most of their time and money. Their goal is to reduce the number of discriminatory incidents by increasing the penalties (well, they call it "strengthening the law"), and improving working conditions.
This is important information for you. It's like checking the weather report before you head out on vacation so you know what to be prepared for.
EEOC to eliminate barriers:
Their first SAP in the SEP… that's "substantive area priority" in the "strategic enforcement plan", is the Elimination of barriers in recruitment and hiring.
"The EEOC wants to focus on class-based recruitment and hiring practices that discriminate against racial, ethnic, and religious groups, older workers, women, and people with disabilities."
They're talking about policies and practices that cause certain jobs to be filled with a specific ethnic group, and restrictive application processes using things like pre-employment tests and background checks that discriminate against protected classes.
They want to create diversity in industries and workplaces like technology where they apparently believe there are too many people from one race working as software developers and network administrators.
What are they talking about? I've worked with male cubans, female Italians, a man from South Africa with a cool accent, a woman of unknown descent, 2 caucasian males – one who loves all things marvel and another who's tattooed and barbecues, and a male from one of those former Soviet countries (who I always suspected was a covert agent). I've seen more diversification in technology than any other field I've been associated with.
But, I suppose they have all the necessary data to support their concern.
So how do they plan on doing this? Things like:
Telling you what questions you CAN NOT ask during the application process. Restricting your use of background checks, AND eliminating your use of pre-employment physicals.
I've talked about application questions and background checks in many of my past episodes – in fact 7 episodes 52 through 55, and 68 through 70.
They'll also try to get some of the same rules that already apply to government contractors to apply to EVERY employer. Like making sure people with disabilities have a full access to the application process.
For example, if a contractor only uses an online application system they have to make sure it's accessible to the disabled, that means making sure the online system incorporates the Web Content Accessibility Guidelines, which are industry guidelines for making web content accessible to people with disabilities. Otherwise, you have to provide additional means of application that are treated equally.
EEOC to protect workers:
The second SAP is: Protecting vulnerable workers, including immigrant and migrant workers, and underserved communities from discrimination.
For example an employer might only hire U.S. citizens based on form I-9 or they might have a blanket no arrest or no criminal record hiring policy even though they don't have a viable reason for it …. one that's consistent with a business necessity.
I talked about that in episode 69. If you listened to it you'll remember the statistics on arrests and incarcerations by race; and therefore the EEOC thinks a blanket policy is discriminatory towards those races that have a higher percentage of arrests and convictions.
This SAP also includes English only rules. The EEOC says such rules violate the law unless you can show a justified business necessity. You can't outright ban your employees from speaking another language at work, but you may require English only when it comes to things like safety, emergencies or customer interaction.
The EEOC also explains that this SAP includes employment practices that discriminate based on national origin from… wait for it…. minimum height requirements! The EEOC says that such a requirement may discriminate against Hispanics and Asians.
Now this particular one is near and dear to my heart which I carry around in my 5'7" frame. I spent 2 years in Mexico many moons ago and I'll be honest with you… I felt normal there. I can't help but laugh at this one. I even researched height discrimination to see if this is a real thing. As it turns out, it's called "heightism"…
Isaac B. Rosenberg wrote a lengthy article on this in 2009.
He said that "This Article looks critically at heightism, i.e., prejudice or discrimination against a person on the basis of his or her height. It specifically focuses on heightism in the workplace, particularly prejudice against short people because of the unique disadvantages they face compared with their taller counterparts."
Well, as a vertically challenged person myself, I say to the EEOC, bugger off. I'm not a vulnerable worker who needs your help!
EEOC emerging issues:
The third SAP is: Addressing Selected Emerging and Developing Issues.
and focusing on things like job segregation, harassment, pay discrimination and retaliation against vulnerable workers
I wonder if short people get paid less for equal work?
They say that immigrants and migrant workers are often unaware of their rights under the equal employment laws, or reluctant or unable to exercise them.
They currently have 5 issues they consider emerging or developing.
But the one I want to elaborate on is this one: "Clarifying the employment relationship and the application of workplace civil rights protections in light of the increasing complexity of employment relationships and structures, including temporary workers, staffing agencies, independent contractor relationships, and the on-demand economy."
What they mean is they want to make sure no matter what you do or what the working arrangement is, there's always someone who can be deemed the employer. They also want to designate more than one employer. If you haven't already listened to episodes 60, 61 and 62, I recommend you do because I talk about the Department of Labor's view of the workplace and about their joint employer war.
I believe this is the EEOC's highest SAP (strategic area priority) and they aren't going to stop until they are able to hold someone or two someones i.e. employers, responsible for EEOC compliance.
In fact OSHA is even in on the joint employer war – they want to hold franchisors responsible for the safety at their franchisees workplaces.
Gloria Gonzalez reported for Business Insurance on October 26, 2016 that the U.S. House of Representatives is trying to get the Labor Department to produce documents related to the U.S. Occupational Safety and Health Administration's efforts.
An internal OSHA memo last year brought this issue up and the DOL is refusing to provide information about it. They are hiding this information from not just you and me but our elected representatives in Congress!
These Agencies have run amok!
EEOC equal pay protection:
Forth is: Ensuring Equal Pay Protections for All Workers.
This is another big SAP – their second highest priority – and they mostly mean equal pay for women. The EEOC is pushing for the passage of the Paycheck Fairness Act and encouraging states, counties and cities to pass equal pay laws of their own. I cover this topic in episodes 52-55.
I didn't realize just how many episodes I've done on EEOC related matters. It goes to show you just how massive the regulations are and how much impact they have on you as an employer.