81: Is you Wellness Plan Sick?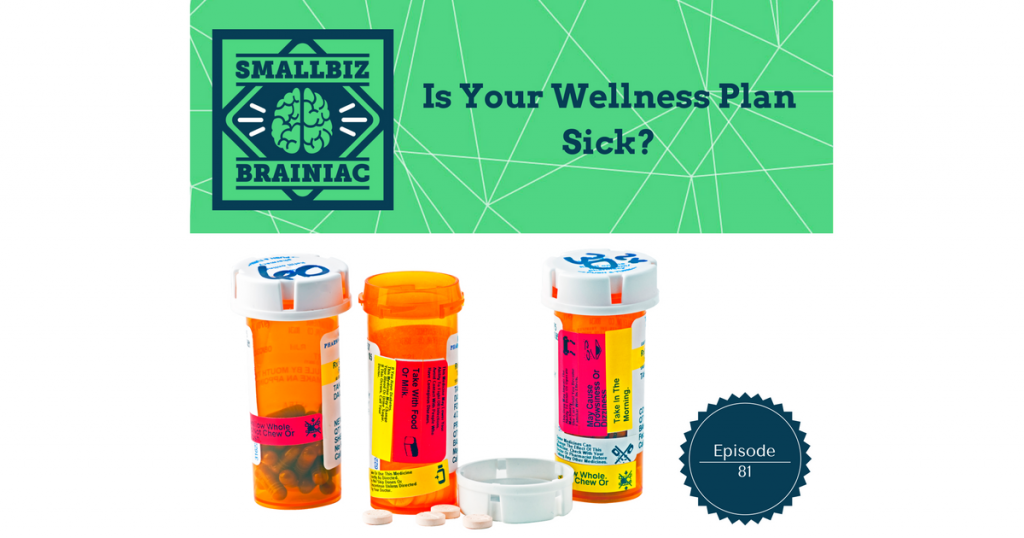 If you have a wellness plan or you're thinking about implementing one, you want to make sure it focuses on disease management.
In May 2016 the IRS issued a memorandum about the tax treatment of wellness plan benefits and premium reimbursements. And there are new EEOC compliance rules taking effect on January 1, 2017.
What is a wellness plan?
A wellness plan is an employee benefit that encourages healthy living and disease prevention.
Wellness plans provides access to resources, services, and information to help your employees change their behaviors and diagnose and manage disease.
The disease prevention services are designed to both prevent the onset of diseases and diagnose and treat disease at an early stage before they get too complicated and start costing the health insurance a lot of money.
For example, the wellness plan might provide nutrition classes, weight loss and smoking cessation programs, or even coaching to help your employees meet their health goals.
It can be provided as part of a group health insurance plan or on its own, as a standalone benefit.
Some wellness plans use financial incentives to encourage employee participation. These incentives can be in the form of cash, cash equivalents, novelty items and health insurance premium discounts or surcharges.
The premium incentives are either positive or negative. A positive incentive is a reduction in their employee paid health insurance premium and a negative incentive is an increase in their premium. These incentives might only apply to employees who are either at risk of, or currently dealing with a health issue.
Prior to 2007, incentives could only be tied to participation. So if an employee participated in the plan they were entitled to the premium incentive. Now, incentives can be tied to outcome. So even if an employee participates, they have to achieve the desired outcome to be eligible for the incentives.
Plus, the incentive increased from 20% of the total premium to 30%. In other words, employees who don't achieve the desired outcome could have to pay an additional portion of the premium… 30% of the total premium on top of what they already had to pay.
Most wellness plans require an annual health risk assessment or biometric tests, and it's this collection of this "personal health information" and the payment of cash, or the receipt of non-medical related cash-equivalents, where these plans get complicated from a compliance standpoint.
Despite the significant growth in wellness plans since the passage of the Affordable Care Act, most small employers don't offer them. According to the Kaiser Foundation, only 18% of employers with less than 200 employees have a wellness plan.
How does a wellness plan save you money?
A wellness plan is supposed to lower your health insurance premium, reduce absenteeism and decrease health-related productivity losses.  When employees are healthy, they are more productive. And benefits are still the most valuable form of employee compensation after good-old hard cash, so offering a wellness plan can help improve job satisfaction, which in turn, helps lower turnover.
However, there isn't any solid evidence to prove this.
In 2013 Rand Corporation published a research report sponsored by the U.S. Department of Labor and the U.S. Department of Health and Human Services. Based on their survey, less than half of the employers who offer a wellness plan actually evaluated the impact and only 2% had even just estimates of their savings.
In fact, none of the 5 Rand case studies conducted a formal evaluation
Most of those savings that were identified seem to be coming from the disease management aspects of the plans. For example, plans that offer programs which target diabetes, heart disease, chronic lung disorders, depression, and cancer.
According to the report the fitness programs hardly prove effective.
So, if you have a wellness plan or thinking about implementing one, you want to make sure it focuses on disease management.
Not everyone thinks wellness plans save money:
One journalist for The Slate, Ms. J.V. Anderson, calls workplace wellness programs a sham
Alfred Lewis and Vik Khanna, both of whom are authors, bloggers and lawyers – they are excellent writers – and funny too. Anyway, they are anti-wellness plans. These two guys are legit and I look forward to reading more of their work.
To sum up their position, I'll use a quote from their website by Mark Twain. "It's easier to fool people than to convince them that they have been fooled."  They make no bones about their belief that most wellness vendors are liars and they refer to a particular group of promoters as the "Wellness Ignorati".
Alfred Lewis, along with three other collaborators, came up with a minimum set of standards to help vendors "live up to the expectation that employees and employers have for wellness programs."  They call it the The Employee Health Program Code of Conduct… and so far, several vendors have stepped up and adopted those standards.
IRS tax treatment of wellness benefits:
The IRS released a memo on May 27, 2016 addressing the taxability of wellness benefits and premium reimbursements. Some employers who pay cash, cash equivalents, including premium reimbursements, exclude these payments from their employees taxable income.
If your plan pays cash rewards or provides benefits that don't qualify for the IRS's medical expense deduction, things like a gym membership, those benefits are taxable income. De minims fringe benefits like t-shirts, are not taxable.
The memo says "An employer may not exclude from an employee's gross income payments of cash rewards for participating in a wellness program"; and, "An employer may not exclude from an employee's gross income reimbursements of premiums for participating in a wellness program if the premiums for the wellness program were originally made by salary reduction through a section 125 cafeteria plan."
The new EEOC rules:
And finally, this brings us to the new EEOC rules.
Several federal laws regulate wellness plans: The Health Insurance Portability and Accountability Act (HIPAA), the Affordable Care Act, the Genetic Information and Nondiscrimination Act (GINA) and the Americans with Disabilities Act (ADA), as well as state laws.
EEOC issued a new rule on May 17, 2016 providing guidance on employee incentive limits involving programs that ask disability-related questions or require employees to undergo medical examinations.
The rule also explains the differences between the ADA's requirements for voluntary health programs verses other federal laws.
Basically, aside from clearing up a lot of confusion about how all the federal laws work together, the new rules establish the following incentive limits:
For a plan that's offered as part of a group health plan, the limit is 30% of the lowest employee only premium.
If you offer wellness but don't have a health insurance plan the max incentive is 30% of the cost that a 40-year-old non-smoker would pay for self-only coverage under the second lowest cost Silver Plan on the state or federal health care Exchange in the location that the employer identifies as its principal place of business.
If you have a wellness plan, call your insurance agent and make sure they know about these IRS and EEOC rules. Have them confirm with your wellness benefit provider that the plan will be compliant on the first day of the new play year beginning  on or after January 1, 2017.