84: Federal Child Labor Laws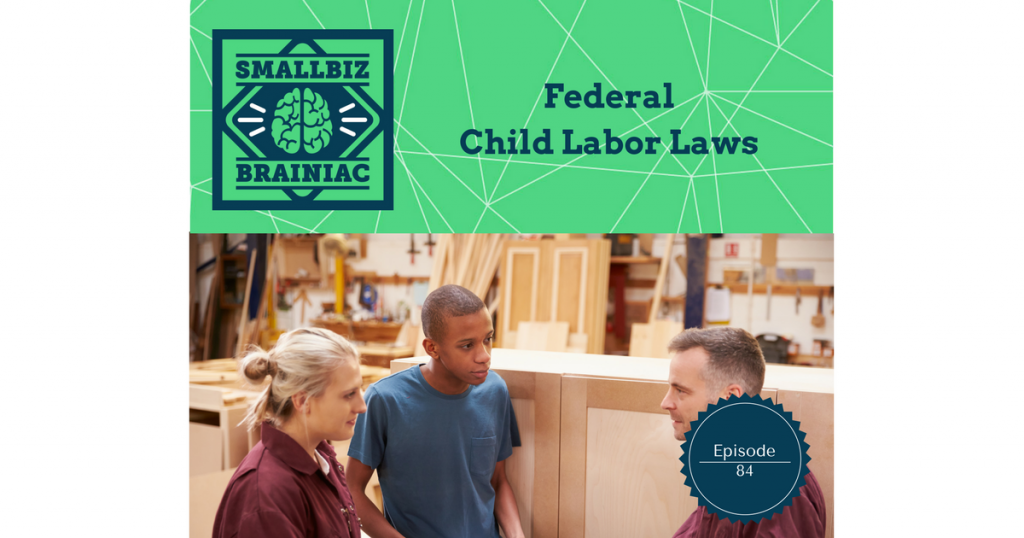 "Never let school get in the way of your education."
The child labor laws are made possible by the Fair Labor Standards Act. The purpose of the child labor laws are to keep children safe and prevent work from jeopardizing their education. I think that's ironic because for many, myself included, work is a better educator than school.
My Uncle Doug use to tell me Thomah… "Never let school get in the way of your education".
I was 14 in 1983 and living in Juneau, Alaska. I got a job at McDonalds. I loved that job. I made minimum wage and I took pride in what I did. I tried to be the best at whatever position I was working.
I won fry-maker of the year award at the company Christmas party. I'm pretty sure they made that award up just for me but I was proud be recognized for my exceptional fry making skills. I made them just right. I let the grease drain enough…that's important, I salted them to perfection, and I could load up the container so all the fries were in line. I also keep the rack full of the right amount of small and large sizes so orders could be immediately filled.
Under today's child labor laws, I could not have been the fry maker because the baskets had to be manually raised out of the grease vat. Today, a 14 and 15 year old can only cook fries if the baskets automatically lower and raise into and out of the oil.
At least the federal child labor laws don't apply to young entrepreneurs who use the family lawnmower to cut their neighbor's grass or perform babysitting on a casual basis.
Federal Child labor laws don't apply to everyone:
Here are some other situations where the laws don't apply:
Children 16 and 17 years of age employed by their parents in occupations other than those declared hazardous by the Secretary of Labor.
Children under 16 years of age employed by their parents in occupations other than manufacturing or mining, or occupations declared hazardous by the Secretary of Labor.
Children employed as actors or performers in motion pictures, theatrical, radio or television productions.
Children engaged in the delivery of newspapers to the consumer.
Homeworkers engaged in the making of wreaths composed principally of natural holly, pine, cedar, or other evergreens (including the harvesting of the evergreens).
The federal laws don't require minors to obtain "working papers" or "work permits," though many states do;
They don't limit the number of hours or times of day that workers 16 years of age and older may legally work, though many states do.
Minimum wage and hours worked: 
There are situations where you don't have to pay "children" minimum wage.
Why does the DOL use the term "child labor" to regulate  14 to 20 year olds?
Employees under 20 years of age may be paid $4.25 per hour during their first consecutive 90 calendar days of employment with an employer. Certain full-time students, student learners, apprentices and workers with disabilities may be paid less than the minimum wage under special certificates issued by the Department of Labor.
You aren't allowed to employe 14 and 15 year olds during school hours unless it's part of an approved school supervised program. They can't work before 7 am or after 7 pm. But from June 1st through Labor Day they may work until 9 pm. They can't work more than 3 hours on a school day, including Fridays, more than 8 hours a day on a non-school day, more than 18 hours a week during a school week or more than 40 hours a week during non-school weeks.
Now remember… state law is often more restrictive and you must follow whichever one is most restrictive.
For example, federal law says they can't start work before 7:00 am, but in Arizona, they can't start earlier than 6:00 am. So the Arizona law is overridden by the federal law.
At the bottom of the Arizona statute, it says: Please Note: The Federal Child Labor Laws restrict anyone under 16 years of age from working past 7:00 p.m. during the school year and 9:00 p.m. during the summer months. They also can not work before 7:00 a.m. year round.
Excluded jobs:
And finally, federal law establishes, as I've already mentioned, jobs they can't do. They provide a non-exhaustive list of specific jobs  14 and 15 year olds can't do and there is a list of things they can do. Anything not on the list they can do is specifically prohibited….which includes the jobs on the non-exhaustive list….obviously.
For 16 and 17 year olds, The Secretary of Labor has 17 seventeen Hazardous Occupations Orders, or HOs that apply either on an industry basis, specifying the occupations in the industry that are not permitted, or an occupational basis irrespective of the industry in which found.
Some of the HOs contain limited exemptions.