9: Can't Pay Your Federal Payroll Tax! – Part 5 of Federal Payroll Tax Series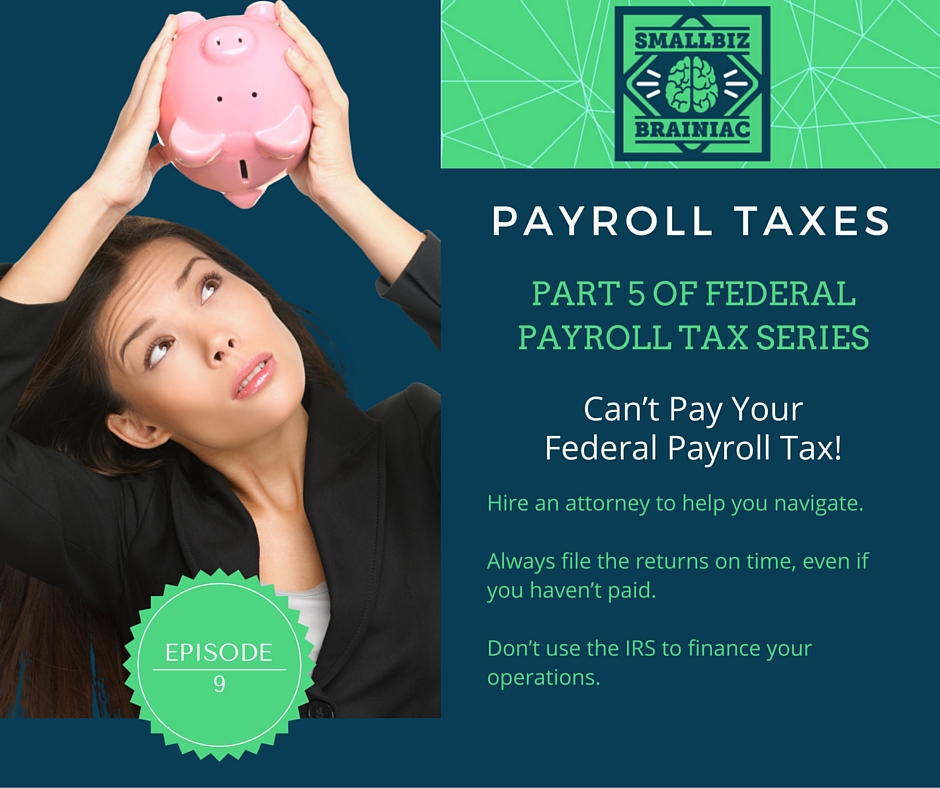 What Should You do if You Can't Pay your Federal payroll Taxes?
This is the fifth episode of a six-part series on Federal payroll taxes. If you haven't listened to the first four episode in the series, I recommend that you go back and listen to episode 5.
I am not an attorney, the information I am providing in this podcast is not legal advice. I am giving you my opinion based on my experiences and research. If you have a problem paying your payroll taxes, get an attorney.
Get Creative 
Take a second look at your situation and try to find a way to make the payment.
 Accelerate a receivable.
Delay a vendor payment.
Call a client and offer a discount for early payment.
Take a cash advance on a credit card.
Borrow from your grandma.
Get creative!
If after exhausting your creative abilities you still can't pay the tax on time, contact a tax attorney right way, I mean like right then.
Trust Fund Recovery Penalty (TFRP)
The trust fund recovery penalty is the amount of the trust fund taxes which consists of the federal income, social security, and medicare taxes, that you withheld from the employee wages.
The TFRP can be assessed for the:
Willful failure to collect tax – meaning you didn't withhold the taxes from the  employees gross earnings.
Willful failure to account for and pay tax, or
Willful attempt, in any manner, to evade or defeat tax or the payment thereof.
The TFRP is a personal liability and it is assessed against "responsible persons."  If you are deemed a responsible person, the liability is personal, not just business. In other words, your personal assets are exposed and you generally can't discharge the liability in bankruptcy.
Responsibility is a function of duty, status and authority. A responsible person is one who has the duty to perform or the power to direct the act of collecting, accounting for, or paying over trust fund taxes.
What else should you do?
Contact an attorney
Always report the the liability on time even if you can't or haven't paid
Don't use the IRS as means of financing your business.
Summary
If you find yourself in the unfortunate position of not being able to make your payroll tax payments, retain a tax attorney.
The Tust Fund Recovery Penalty is made up of the federal income tax, social security and medicare taxes withheld from the employees earnings.
If you are deemed a responsible person, the liability is personal.
Always file the returns on time, even if you haven't paid.
Don't use the IRS to finance your operations.
Overhaul of the tax system and the removal of the employer from the role as a tax collector.
Resources