90: Employee Performance Reviews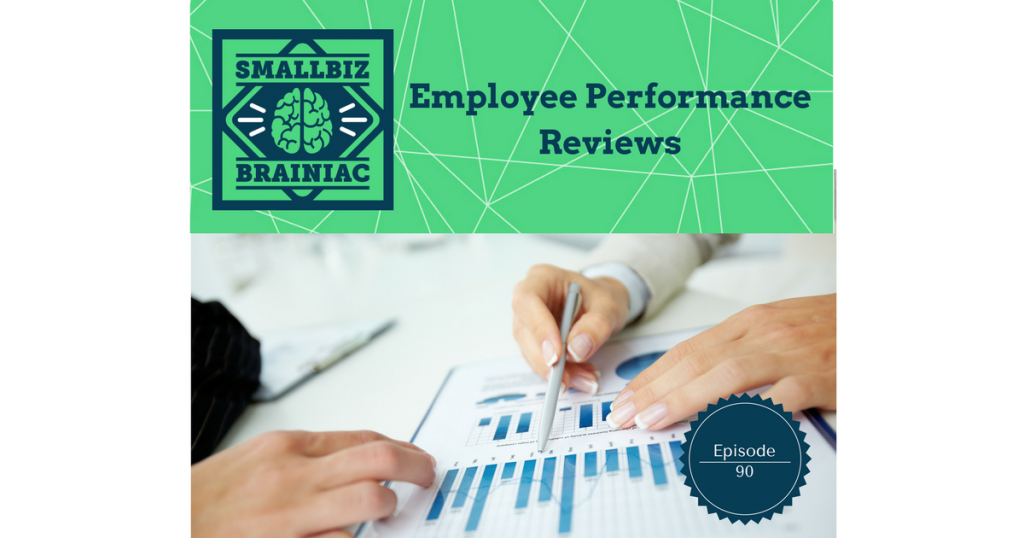 Employee performance reviews are an important engagement tool.
Employee performance reviews are super important to the success of your company because the success of your company, depends on the success of your employees.
Employee physiological well-being, productivity, and job satisfaction, depends in part on knowing where they stand with you, with their employment, and what opportunities they have ahead of them. Over the last few years there's been a lot of talk about employee engagement, what it means and how to achieve it. I've done 4 episodes on employee engagement, talking about everything from compensation to office design, but I can't find where I talked about the role of the performance review in the engagement equation.
In episode 22 I gave you the Dale Carnegie Training definition of employee engagement:
"as winning the hearts and minds of employees and helping them believe in—not just understand—what they're doing. Actively engaged employees believe in their company's mission and are loyal to their employer, and they promote that feeling among their peers."
I would add that your employees won't live up to their full potential without purpose.
In fact, I just read an article in Carrier Management, written by Jon Picoult of Watermark Consulting wherein he quoted a report from the journal Prospectives on Psychological Science where the researchers concluded that happy and engaged employees precede the success of the business.
In other words, engaged employees come before the business succeeds.
To accomplish this, you have to communicate with your employees. It helps to have policies and benefits that your employees find valuable but the underlying ingredient in successful engagement is communication… transparent communication and policies and practices that empower managers to make employees feel valued and appreciated.
So that is why employee performance reviews are important. They are an important employee engagement tool.
Types of reviews:
To be effective they don't have to be formal, they don't need to be annual, or held only on your employee's work anniversary. In fact, the review should just be an overview of your interactions of the past year.
I say they don't need to be formal, but they do need to be structured and there are several types of reviews out there, but I'm going to tell you about 4 of them:
Rating Scale
Objectives
Critical Incidents
360 Degree Feedback
Let's go over each of them.
The Rating Scale is simple, so it's widely used. The scale is usually between 1 and 5 or 1 and 10 and what you'll do is create several categories and a group of questions for each. Your employee's supervisor or manager will complete the evaluation form and your employee will complete a self-evaluation version. Then, before the reviewer meets with the employee the from will be scored. Each category contributes to an average score for the category and then each category's score rolling up into a total score. This makes it easy to compare one employee to another, set minimum standards, and track progress based on year-over-year scores.
The Objectives type review is also pretty straight-forward. It's based on goals and deadlines which make it easy to measure success and identify failure. For this to be effective you've got to work with your employee ahead of time to set crystal clear goals…and deadlines and then you have to track the results.
The Critical Incidents type tracks specific events. For this to work well, you've got to collect details, not just generally what happened, and that's best done immediately after the incident. This isn't one you can just prepare for a few days ahead of the employe meeting. You need real-time journaling of these critical incidents. You'll also have to define what constitutes a critical incident. The last thing you want to do is be inconsistent and end up with a discrimination claim.
The most comprehensive type is the 360 Degree Feedback. The goal here is to get feedback from coworkers, customers, vendors and anyone else who interacts with your employee. Just like the Critical Incidents this one is hard to do all at one time, just ahead of the review. You'll need to be more organized if you use this type. You've got to gather data throughout the review year. Obviously this method is more telling. You're going to learn a whole lot more about your employee this way, as long as you're asking the right questions.
Whatever type you use, whatever process you follow, whatever the setting or frequency, what matters most is that you're consistent.
And another thing I want to say here, regardless of the review type or method, have your employees keep a performance journal, a file, throughout the year with their accomplishments. This will help them stay focused on achieving results and not just doing the minimum work required to stay off your radar.
It's all in the presentation:
The hardest part about a review is that actual employee meeting. This can be uncomfortable for both of you. But it doesn't have to be as long as you're prepared and follow these simple rules.
Be candid, not shy or indecisive
Be specific and clear, especially when criticizing.
Keep it as simple as possible. Don't over complicate matters.
Make it a conversation, not a lecture. That means you have to listen to what your employee is saying.
Cover one topic, one point at a time. Identify it, make your statement, ask for feedback and then discuss it. Then move on to the next point.
Provide constructive criticism.
Don't end up with a long list of things your employee needs to work on. Identify two or three very specific things and keep it at that. Your employee's chance of successfully achieving those goals will be significantly better.
Avoid confrontation.
Use the opportunity to find out what's important to them.
A successful review is one where there aren't any surprises. Neither of you should be shocked by what comes up. That's because you'll have been communicating all year long and basically conducting mini reviews throughout the year. Most of the review meeting time should be spent establishing new goals and talking about the future.
Show me the money:
The majority of employees will tell you the most important aspect of a review is for the promotion and the pay increase aspects… and honestly that's what I've always used them for. Not entirely, but largely. Yet, that might not be the right time for that discussion.
It might be better to make the salary review separate but do it within a few weeks of the performance review. This way the performance review is about performance and not overshadowed by the expectation of, and anxiety that comes along with, a compensation review. f
And since I've mentioned compensation, I'd like to make a few points.
A merit increase in compensation isn't always justified or available. There comes a time when an employee has reached the max pay for their position and the only increase is a slight cost of living adjustment. If an employee is good enough to keep, then you should at least provide a cost of living increase. If they aren't worth it, let them go. Set them free…they're in the wrong position working for the wrong company. Stop wasting their time and more importantly, your money.
And finally, you need to have a job description for every position in your company, complete with a salary rage. That will help you maintain control over the negotiations. Employees either need to perform well or have tenure to step their way through the positions salary range. Once they've reached the end of that road they'll have to expand their skills and shoot for other positions within the company that have higher pay.