Demystify the Hiring Process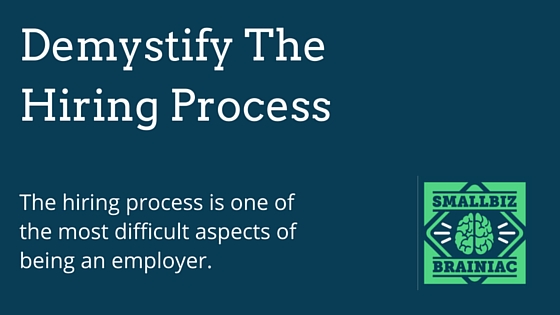 The hiring procedure is complicated. It's made up of several daunting processes.
For me, hiring has always been one of the most difficult aspects of being an employer. There is so much to do. Everything from defining the position, to on-boarding. And, when I've been in a hurry, or desperate for help, I've been sloppy and skipped critical steps. Like not doing background checks or rushing through the interviews.
And that, my friends, is how you end up selecting the wrong person for either the job or your company. If you don't stick to the procedure, you're odds of hiring a dud skyrocket.
The solution to this problem is an Applicant Tracking System, or ATS. A good ATS provides a start-to-finish roadmap that guides you through the journey, ensuring you don't miss a turn.
It's a recruiting platform that dramatically simplifies the procedure and does it all within the self-contained ecosystem. Here is what a good system will do for you.
Posting:
You'll create the position details using the software and choose which job board and search engines you want to advertise on. You can manage your paid services and post your open position with one click.
Online Application:
The ATS will create an online application and a careers page for your website. Job seekers will be able to check out your company's website and apply while there.
Promotion:
Promotion of the position via social media is a great way to get the word out. You'll be able to manage your posts from within the ATS.
Intake:
Applications completed through the job boards, search engines and your website will appear within the ATS. You'll also be able to intake applicant data from any other source so you get all your candidates into a single system, regardless of what avenue they arrived on.
The best source for new hires is employee referrals, so those may not arrive on your virtual doorstep.
Filter:
You'll accept, sort and rate applications within the ATS. You can also tag, code, label and filter them to help you separate the wheat from the chaff.
Screening:
With integrated background checks, the ATS makes criminal history verification a snap. You're able to coordinate drug testing and reference checking as well, which for me is a huge help just for the fact that you don't have to work outside the ATS.
A few systems even incorporate the ability to create questionnaires and personality assessments. You're able to send out a questionnaire before your candidate arrives for an interview.
Speaking of the interview, video interviewing capabilities are build into the ATS which makes consideration of out of town candidates a real possibility.
Communicate:
Communicating with candidates is very important for both of you. Using the ATS's functionality will reduce the stress on everyone and move the process along much quicker.
For example, you're able to thank a candidate for their application and let them know what to expect next so they aren't left wondering if you received it or what your timeframe is for filling the position.
Onboarding:
Once an offer has been accepted, the ATS will automate the on-boarding by helping you manage the process of completing all the steps required to get your new employee setup in payroll and past all the government paperwork.
This is the icing on the cake! If you payroll system doesn't have an on boarding module then this feature is great to have built-in to the ATS.
Conclusion:
A good ATS will allow candidates to apply via mobile devices. Most job seekers today are using mobile tech to search for jobs and a good percentage of them also apply via a mobile device.
There are several fantastic ATS options out there. For a great overview go to softwareadvice.com's comparison of some of these systems.
Consider an ATS even if you only hire a few employees per year. The cost is well worth the return and it gives you the best chance of hiring a superstar because by looking like an organized successful employer you'll attract a higher quality candidate. You'll be using the same tools and following the same procedure that large employers use.
At a minimum, you'll impress your friends and make your competitors look like they brought a knife to a gun fight when competing for talent.