124: Puerto Rico Labor Laws – Part 1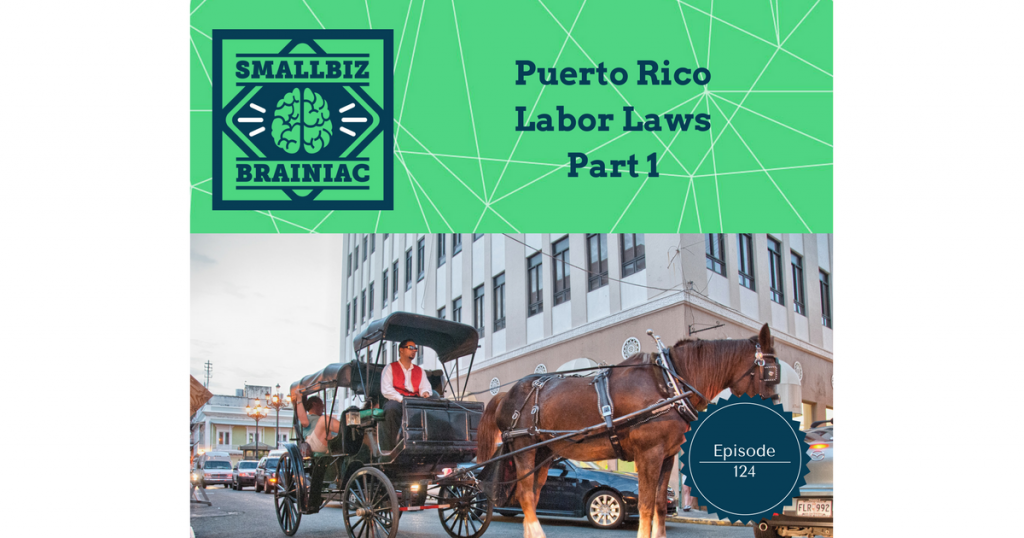 Under Puerto Rico's labor laws you may only terminate an employee for just cause, unless you terminate them during the statutory probation period.
Although Puerto Rico is a U.S. Territory, and travel to and from the island does not require a passport, it's a very unique place… very different from the rest of the United States, both culturally and regulatorily, especially when it comes to the labor market and labor laws.
I recently covered some of the changes in their labor laws resulting from the largest labor reforms ever, with the passage of the Labor Transformation & Flexibility Act ("LTFA") on January 26, 2017.
So, in this episode I want to provide even more information about Puerto Rico's labor laws. I guess I could call it an in-depth overview. Still an overview but a little deeper? Does that make sense?  Even if I cover some of the same information from episode 106, definitely go back and listen to that one after this one.
What's motivating this episode, aside from my recent trip is the opportunity to help businesses that are moving to Puerto Rico as a result of the passage of Act 20 in 2012. Many businesses are moving to the Commonwealth to take advantage of the incredible corporate and personal tax rates resulting from Act 20. In most cases, those businesses will be hiring employees, and in fact, they're required to employ five full-time equivalents within the first 6 months of operations. Although, I'm told there are efforts underway to eliminate that requirement.
Act 20 doesn't actually require this, it's the Department of Economic Development and Commerce ("DEDC") that came out with the rule after the Act was passed. Originally they only required 3 employees, but now it's 5. But, at least now, owners who are paid a market rate salary, can be counted toward that number.
I couldn't find any recent statistics measuring the success of Act 20. However, according to a study commissioned by the DEDC, In 2014 alone, Act 20 created 3,713 direct, full-time jobs with an average salary of $45,000 a year. That's pretty awesome because the average annual salary in Puerto Rico was only $27,500 in 2014.
Employment contract:
The first thing you need to understand about Puerto Rico is that it's NOT an employment-at-will jurisdiction. Which is unfortunate. This means that you may NOT terminate an employee unless you have just cause.
By law, when you hire someone you're entering into a contract. The employment contract is defined as any oral or written agreement by which the employee binds himself or herself to execute work, perform labor or render a service for you in exchange for wages or any other economic remuneration.
And, if you have an employee handbook, it also becomes part of the contract.
So unless you have a written contract specifying the term or length of employment, then the term is considered indefinite, and again, you can only terminate an employee for just cause.
Probationary period:
Thankfully however, there is a probationary period of 9 months, except for executives, admin and professional employees (as classified by the FLSA), for those employees the probation is 12 months. During this probationary period you may terminate your employee without cause. So basically, Puerto Rico is at-will for the first 9 to 12 months… after that, you're in it until you have just cause to let them go.
That's actually a huge change from before the Labor Transformation & Flexibility Act.  Before this reform, the probationary period was only 90 days, and it had to be a written agreement. If your employee worked at all before the agreement was executed then it wouldn't apply. So now it's either six or nine months longer and it no longer has to be in writing.
Just cause:
So after the probationary period you can only terminate for just cause…But what is just cause? Well, generally, it's when your employee either:
Engages in a pattern of improper or disorderly conduct;
Is not efficient, or works belatedly and negligently, or in violation of the quality standards of the product produced or handled by your company; or
Has repeatedly violated the reasonable rules you established for the operation of your business… as long as you gave them a written copy of those reasonable rules before the violation.
Now, there are situations where you have to terminate employees and it's not because you want to or because of misconduct, behavior  or performance issues. You might have to close your doors for whatever reason. You might have to reorganize to stay in business or maybe new technology eliminates the need for certain positions. Or, business just isn't going as well and you have to cut back.
In these cases, you have just cause as long as you make the terminations by seniority, in accordance with Act 80…. which I won't get into, just know that if you find yourself in this situation you'll need to make sure you're following the rules set out by Act 80.
Severance: 
So, as you can see, documentation of these causes is VERY important because guess what happens if you don't have just cause and you terminate your employee?
You get to pay them a lot of severance. I'm talking about big time severance.
How much severance? There are two different formulas for calculating this statutory severance thanks to the Labor Transformation & Flexibility Act.
For employees hired after January 26, 2017, you have to pay "mesada" (that's Spanish for severance) of 3 months + two weeks salary for each year worked. But only up to a max total of 9 months salary… that's all.
Employees have up to one year from termination to make a claim. However, employees terminated before the LTFA, have three years to make theirs.
Before the LTFA, there were 3 different calculations based on how long they've been employed and in cases where employees have been employed up to 5 years the new formula actually pays more.
At least the new law has a cap, unlike the old law. Plus, now you can negotiate a lower amount with your employee in lieu of having to fight over it. Plus, you, as the employer no longer have the burden of proof like the old law placed on you. IN other words, you're no longer presumed to have discriminated. The burden shifts to the employee to prove you did. This is in line with federal anti-discrimination law.
Remember though, if you have employees hired before the LTFA, the old laws still apply to them. So much fun keeping track of two sets of laws, right?
I'm almost out of time here and we've only covered the employment contract, probationary period, just cause terminations, and severance. I think I can get in the minimum wage then we'll punt the rest to episode 126.
 Minium wage:
The minimum wage in Puerto Rico is the federal minimum of $7.25 an hour.
Prior to 1974, Congress kept Puerto Rico's minimum wage below the federal minimum. And then by 1983, it moved in sync with the federal minimum. Over time, the effect on the economy has been devastating. At the current rate, the minimum wage in Puerto Rico is 77% of the median wage. That's huge… what do you think happens to unemployment when you price the most rudimentary or labor that high? It goes way, way up!
The ratio of this minimum wage to median income in all other states is between 35% and 50%.
A study by Alida Castillo-Freeman (NBER) and Richard Freeman (Harvard) concluded that subjecting Puerto Rico to the federal minimum wage reduced employment in the territory by 8 to 10 percent. More recently, the inability to find jobs has driven Puerto Ricans to emigrate in search of employment. According to the Pew Research Center, Puerto Rico has experienced net emigration of 144,000 people, equivalent to 13 percent of the labor force, since 2010, with 42 percent of emigrants saying their reason for leaving was "job-related."
I got all that information from Policy Analyst Preston Cooper's article on economics21.org and his source was the Bureau of Labor Statistics and the Freeman report.
I've said it before… minimum wage laws are job killers. The history of minimum wage is exactly that.. it was used to keep certain people unemployed… a practice called eugenics, which I learned from Jeffery Tucker of the Foundation for Economic Education at last year's Freedom Fest. He gave a speech on eugenics which shocked me. After his speech we talked about minimum wage and he told me minimum wage laws were started as a eugenics policy.  Jeffery has a great article on this subject called The Eugenics Plot of the Minimum Wage – you should check it out.